June Weekly Recap 1
May 26th - June 1st, 2020
Welcome to our 1st weekly recap for June.
Overview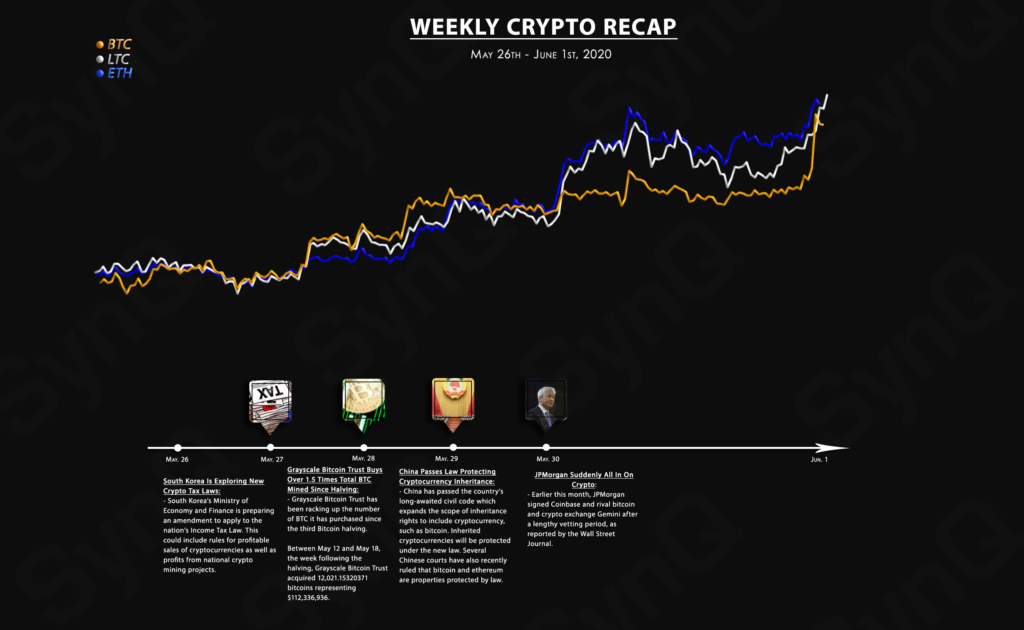 Crypto News
South Korea's Ministry of Economy and Finance is preparing an amendment to apply to the nation's Income Tax Law. This could include rules for profitable sales of cryptocurrencies as well as profits from national crypto mining projects.

Grayscale Bitcoin Trust (GBTC) has been racking up the number of BTC it has purchased since the third Bitcoin halving. During the two-week period, Grayscale Investments bought a total of 18,910.47949263 bitcoins.

The third session of the 13th National People's Congress (NPC), China's top legislature, voted on and passed the "Civil Code of the People's Republic of China" on Thursday. In addition to general and supplementary provisions, the civil code "includes six parts on real rights, contracts, personality rights, marriage and family, inheritance, and tort liabilities," Xinhua News Agency reported.

The new civil code states that the property rights of individuals are equally safeguarded to those of the State and collective, and online virtual assets are protected, too.

Earlier this month, JPMorgan signed Coinbase and rival bitcoin and crypto exchange Gemini after a lengthy vetting period. JPMorgan approved the two bitcoin exchanges' accounts last month and is already processing transactions, potentially signaling the end of the crypto industry's banking woes.