April Weekly Recap 4
April 21th - April 27th, 2020
Welcome to our 4th weekly recap for April.
Overview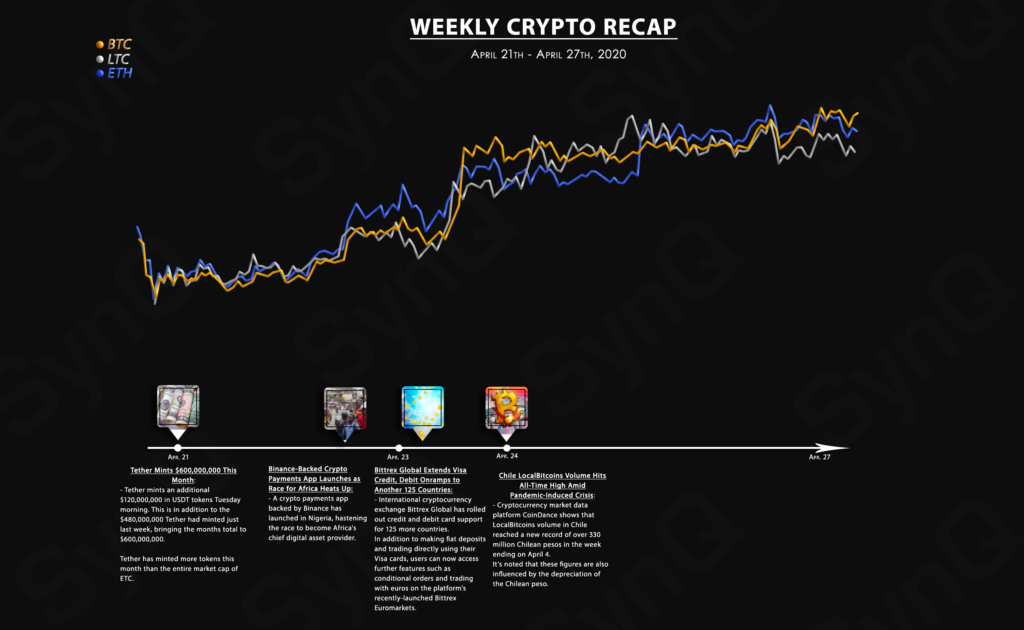 Crypto News
Tether mints an additional $120,000,000 in USDT tokens Tuesday morning. This comes after Tether minted $480,000,000 last week, bringing the months total to $600,000,000. Tether has minted more tokens this month than the entire market cap of Ethereum Classic.

Tether CTO, Paolo Ardoino claims that these new tokens are for "inventory replenishment" and will be used for future demand.

Binance said its social payments app Bundle would provide users across Africa with a fee-free means to store and transact in both cash and cryptocurrencies, through a new digital wallet that can be downloaded on their phones.

Bittrex Exchange announced its significant global extension of Visa support accross 125 countries on April 20.

In addition to making fiat deposits and trading directly using their Visa cards, users can now access further features such as conditional orders and trading with euros on the platform's recently-launched Bittrex Euromarkets.

Cryptocurrency market data platform CoinDance showed that LocalBitcoins volume in Chile reached a new record of over 330 million Chilean pesos in the week ending on April 4.

It's noted that these figures are also influenced by the depreciation of the Chilean peso. According to data from foreign exchange website XE,  the currency fell by over 6.45% against the dollar in the last two months alone — and has lost a whopping 27% over the last year.