April Weekly Recap 1
March 31st - April 6th, 2020
Welcome to our 1st weekly recap for April.
Overview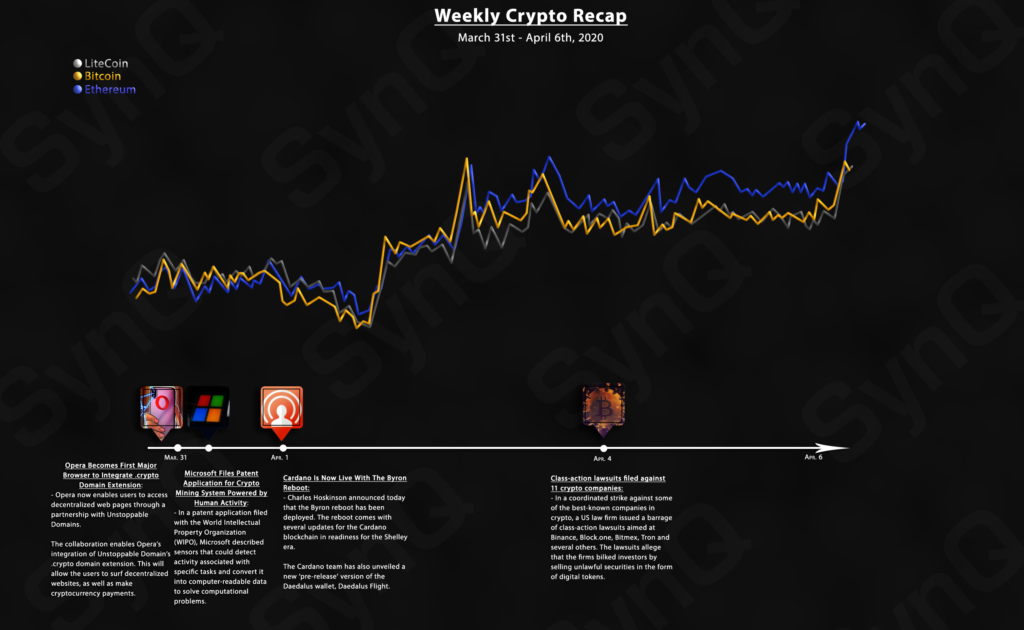 Crypto News
Opera now enables users to access decentralized web pages through a partnership with Unstoppable Domains.

The collaboration entails Opera's integration of Unstoppable Domain's .crypto domain extension. This will allow the browser's users to surf decentralized websites, as well as make cryptocurrency payments.

Microsoft has proposed a system that can mine cryptocurrencies using data collected from humans as they exercise or read an advertisement.

The system could use physical exertion to mine cryptocurrencies: sensors could detect when the body is doing a physical task, such as a faster pulse, and use that data to unlock blocks. Scanners connected to the head could even use brainwaves, signals sent out during mental exertion, to mine for cryptocurrencies.

After more than 18 months of work, the Byron reboot was officially launched on the Cardano network. This reboot entails a number of updates to the Cardano network including the Cardano node, the Cardano explorer, the wallet backend and Daedalus wallet.IOHK stated that the revamped design is modular. This means that it will differentiate the ledger, consensus and network components making it easy to upgrade any of them without affecting the rest.

n a coordinated strike against some of the best-known companies in crypto, a US law firm issued a barrage of class-action lawsuits aimed at Binance, Block.one, Bitmex, Tron and several others. The lawsuits allege that the firms bilked investors by selling unlawful securities in the form of digital tokens.