March Weekly Recap 4
March 23rd - March 30th, 2020
Welcome to our 4th weekly recap for March.
Overview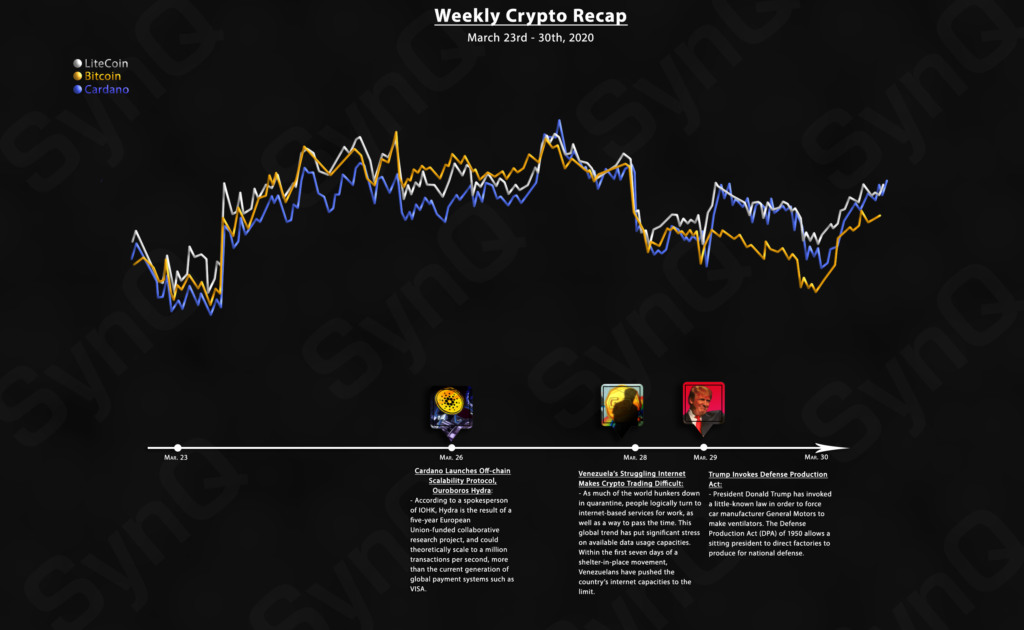 Crypto News
Cardano launched its off-chain scalability protocol, Ouroboros Hydra, on March 25th, after 5 years of development.

The protocol claims vastly increased scalability and low latency for the Cardano blockchain while using little storage on the network's nodes. The solution also allows for applications such as micropayments, voting, insurance contracts, and other uses that require low fees or instant transactions.

According to IOHK, Hydra could theoretically scale to a million transactions per second.

In Hydra, each user who connects to the network generates 10 heads, which are throughput lanes for data and transactions. Because of that, the system reportedly gets faster and decreases its latency as it scales.

The global coronavirus lockdown has put a strain on Venezuela's internet, which could logically make crypto participation difficult.

Already, within the first seven days of a shelter-in-place movement, Venezuelans have pushed the country's internet capacities to the limit.

As the crypto space is largely an internet-based industry, digital asset trading and usage might logically become difficult for Venezuelans.

Trump's use of DPA represents the depth of the problems facing the US economy. Additional stresses to the economy will continue to unfold as supply chain concerns and stock sell-offs have continued. As pressures increase, the need for the production of medical supplies has increased as well.