Polkadot / Kusama
Polkadot
Polkadot is a blockchain platform that was founded in 2017 by Dr. Gavin Wood, co-founder of Ethereum. It is an open-sourced project with over 100 participating developers across multiple teams, assisted by institutions such as Inria Paris and ETH Zurich.
The platform was the result of Dr. Wood's desire to support and advance the "Web 3.0" vision of a decentralized web. Along with the Web3 Foundation, the Polkadot whitepaper was published to address the lack of critical technology and the solution, interoperability.
Para-chain and Relay Chain connections.
This is achieved through the concept of para-chains, in which multiple chains can communicate with a core main chain known as the relay-chain. Any blockchain platform that is compliant with the Polkadot Relay Chain API can be a para-chain. Others that aren't natively compatible can be connected through "bridges". Platforms can utilize the para-chain mechanic to run their own transactions and communicate with other chains through Polkadot. There is a support limit of 100 para-chain, and the slots will be auctioned off in un-permission candle auctions, one at any given time.
There are also para-threads, which are lower throughput, pay-as-you-go model para-chains.
Polkadot/Kusama Structure Overview
Validators are the stakers of the network and works to secure the Relay Chain by validating proofs from collators and participating in consensus with other validators in the network. Information within exchanged para-chain blocks are first verified, and Relay Chain blocks are produced based on validity statements from peers within the network. Validators are recompensed with block rewards, including transaction fees, in DOT. Non-compliance with the consensus algorithms will result in the removal of all of the offender's staked tokens.
Polkadot natively supports Substrate, a modular framework that was developed by Parity Technology, to assist in the creation of blockchain products and is quickly becoming a standard in the industry. Any Substrate-based project can be supported as a para-chain, allowing for ease of adoption.
The project raised several hundred million dollars in their series of sales and ICO, which has provided the funds required to build and foster the development of the platform. The Web3 Foundation, Parity Technologies developers, and capital partners such as Polychain Capital will also be supporting the project. Polkadot's platform officially launched on 26th May 2020, and its token listed soon after in August 2020.
Kusama
Kusama is a cousin-chain of the Polkadot network, founded in 2019. Aptly dubbed as the canary-net, Kusama's intended purpose is to serve as Polkadot's experimental community research and development network. It is where developers and teams can test Polkadot functionalities such as runtime upgrades, on-chain governance, para-chains, para-threads, and etc. in a live environment.
Upgrades to the Polkadot platforms are also likely to be deployed to Kusama before the Polkadot mainnet. Kusama has a modified governance parameter with shorter time gaps between governance events, allowing faster growth.
As a parallel of Polkadot, Kusama is built using Substrate and uses nearly the same codebase as Polkadot. Both act as their own independent networks, but will be likely bridged together in the future for cross-network interoperability.
Fundamentals
DOT is currently trading at $4.48, with a market cap of $3,936,269,055 USD. The current circulating supply is 877,680,090 DOT coins and the max. supply is not available.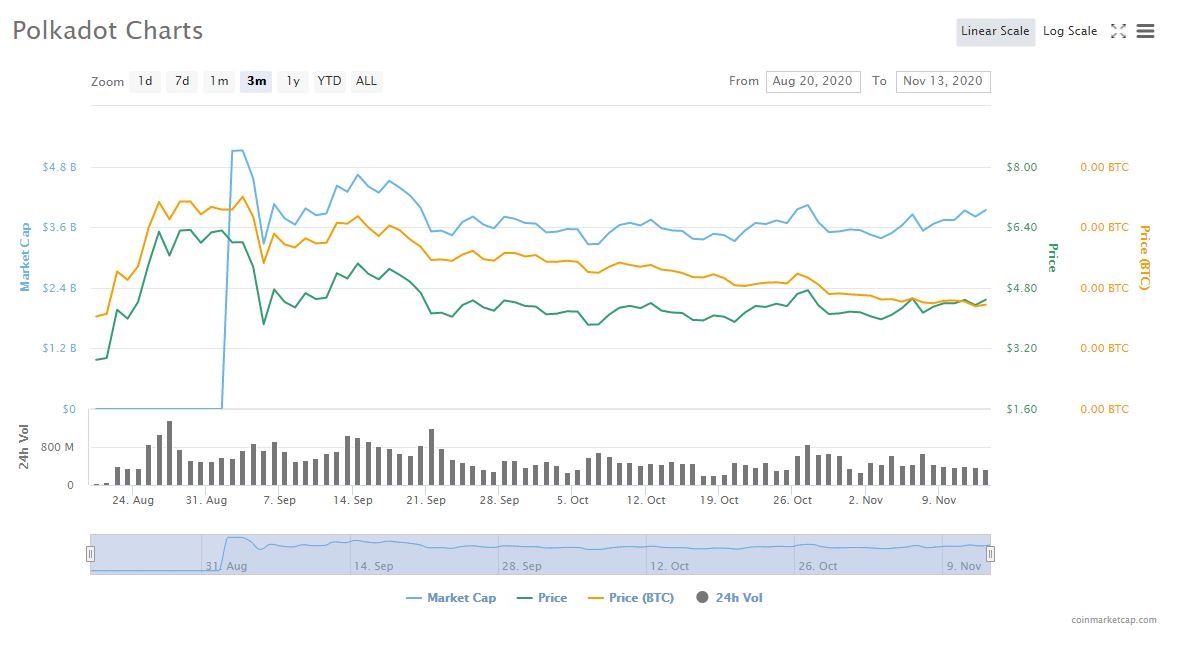 KSM is currently trading at $38.21 USD, with a market cap of $323,602,069 USD. The current circulating supply is 8,470,098 KSM coins and the max. supply is not available.