March Weekly Recap 2
March 15th - March 22nd, 2020
Welcome to our 3rd weekly recap for March.
Overview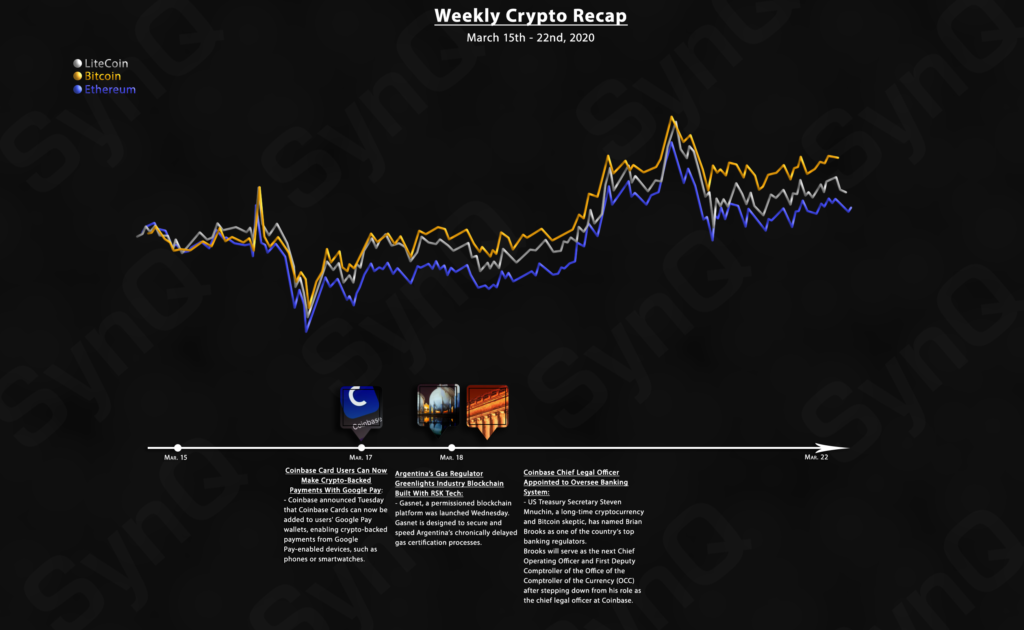 Crypto News
Coinbase announced Tuesday that Coinbase Cards can now be added to users' Google Pay wallets, enabling crypto-backed payments from Google Pay-enabled devices, such as phones or smartwatches.

Coinbase Cards launched its new Visa debit card for U.K. and European customers in April 2019. Holders can purchase everyday goods and services – up to £10,000 ($12,100) per day – with cryptocurrencies held in their exchange accounts that are instantly exchanged into the relevant fiat currency.

The cards initially supported payments BTC, ETH, LTC and BCH. On November 2019, XRP, BAT, XLM tokens were also added to the roster.

Gasnet, a permissioned blockchain platform was launched Wednesday with approval from regulator Enargas. Running on an enterprise version of the RSK Smart Contract Network, Gasnet is designed to secure and speed Argentina's chronically delayed gas certification processes.

In the now-operational consortium network, certification documents and transaction details zip between Gasnor and Enargas, each of whom run a network node. That increases visibility and smooths out otherwise crippling delays, allowing technicians to ultimately bring consumer's gas services online faster.

US Treasury Secretary Steven Mnuchin, a long-time cryptocurrency and Bitcoin skeptic, has named Brian Brooks as one of the country's top banking regulators. Brooks will serve as the next Chief Operating Officer and First Deputy Comptroller of the Office of the Comptroller of the Currency (OCC) after stepping down from his role as the chief legal officer at Coinbase, the largest cryptocurrency exchange in the United States.