March Weekly Recap 2
March 8th - March 14th, 2020
Welcome to our 2nd weekly recap for March.
Overview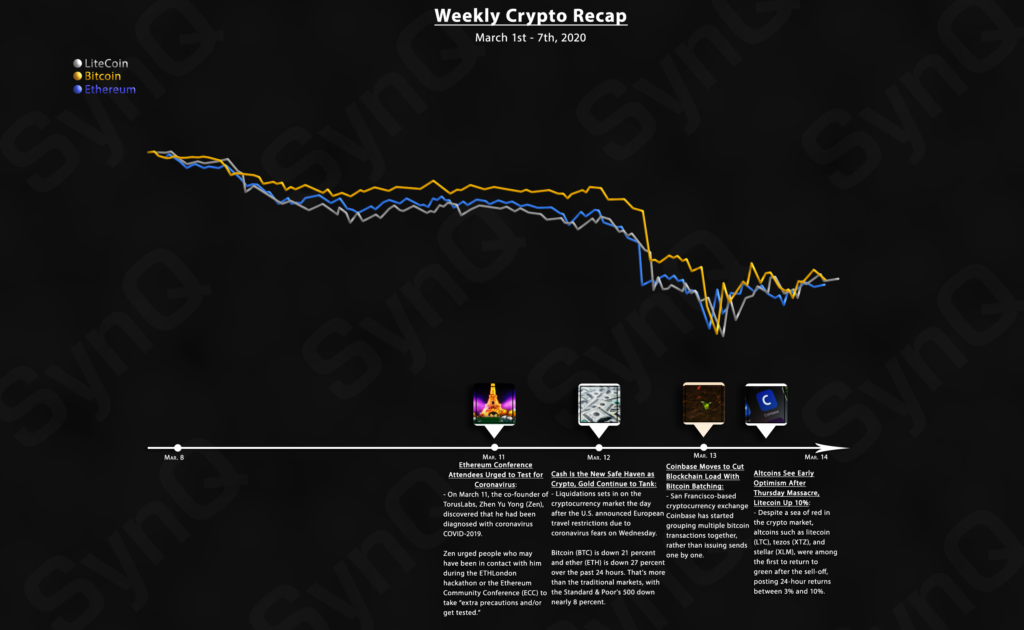 Crypto News
On March 11, the co-founder of decentralized login service provider TorusLabs, Zhen Yu Yong (Zen), tweeted that he had been diagnosed with coronavirus COVID-2019. Zen urged people who may have been in contact with him during the ETHLondon hackathon or the Ethereum Community Conference (ECC) to take "extra precautions and/or get tested." The coronavirus threat has impacted several major cryptocurrency conferences in recent weeks, leaving many crypto events canceled or postponed until later dates.

Liquidations set in on the cryptocurrency market the day after the U.S. announced European travel restrictions due to coronavirus fears Wednesday. Bitcoin is down 21 percent and Ethereum is down 27 percent over the past 24 hours. That's more than the traditional markets, with the Standard & Poor's 500 down nearly 8 percent. Traders liquidating holdings on crypto's bellwether derivatives exchange, BitMEX, fueled some of these moves. Gold also got hit as traders sold the precious metal for the safety of much-needed cash as losses in equities increases.

San Francisco-based cryptocurrency exchange Coinbase has decided to start grouping multiple bitcoin transactions together, rather than issuing sends one by one.

The adoption of "batching," the firm said in a blogpost on Thursday, will mean less strain is put on the Bitcoin blockchain from large numbers of transactions arising from the popular exchange. The move is anticipated to reduce Coinbase's load on BTC's network by more than 50%, and so will transaction fees by an equivalent amount for customers, according to the post.

After the massacre in the broader crypto market on Thursday, major altcoins have already started to recoup some of their losses. Altcoins such as Litecoin (LTC), Tezos (XTZ), and Stellar (XLM), were among the first to return to green after the sell-off, posting 24-hour returns between 3% and 10%. In addition, cautiously optimistic trading also drove Ripple's XRP higher today, although the recent market bloodbath now means that the popular cryptocurrency has lost about 96% of its value from the all-time high in January 2018.