May Weekly Recap 3
May 12th - May 18th, 2020
Welcome to our 3rd weekly recap for May.
Overview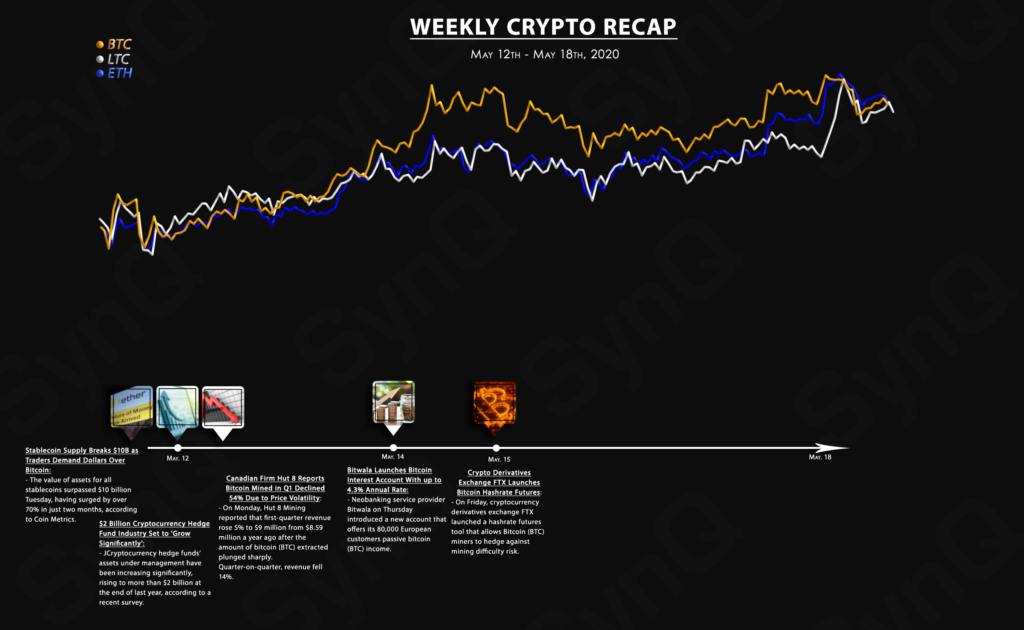 Crypto News
The value of assets for all stablecoins surpassed $10b on Tuesday, having surged by over 70% in just two months, according to Coin Metrics. Most of the stable coin growth comes from tether, which represents almost 90% of the total stable coin supply. The largest tether markets measured by traded volume are supported by two Asia-based exchanges, Binance and Huobi.

Cryptocurrency hedge funds' assets under management more than doubled in 2019, according to a new survey by PWC and Elwood Asset Management Services Ltd. The data comes from "the largest global crypto hedge funds by assets under management (AUM).

For the three months to March 31, 2020, the Canadian bitcoin firm, Hut 8 Mining, said it mined 1,116 BTC, down 54% from the 2,405 BTC a year earlier. It blamed the decline on "increasing network difficulty (that) impacted the company's production negatively".

A court in Shanghai, China, has reportedly ruled that bitcoin is an asset protected by Chinese law in a case that has dragged on for years. The case involves the theft of two different cryptocurrencies, one being bitcoin, from an American. The defendants argued that bitcoin was not recognized under Chinese law; the court disagreed, citing documents by the central bank, the People's Bank of China (PBOC).
On Friday, cryptocurrency derivatives exchange, FTX, launched a hash rate futures tool that allows Bitcoin (BTC) miners to hedge against mining difficulty risk. Hash rate is the amount of processing power dedicated to a Bitcoin network at a given time and determines the strength and security of the network. FTX leverages this mining difficulty that validates bitcoin transactions.