May Weekly Recap 4
May 19th - May 25th, 2020
Welcome to our 4th weekly recap for May.
Overview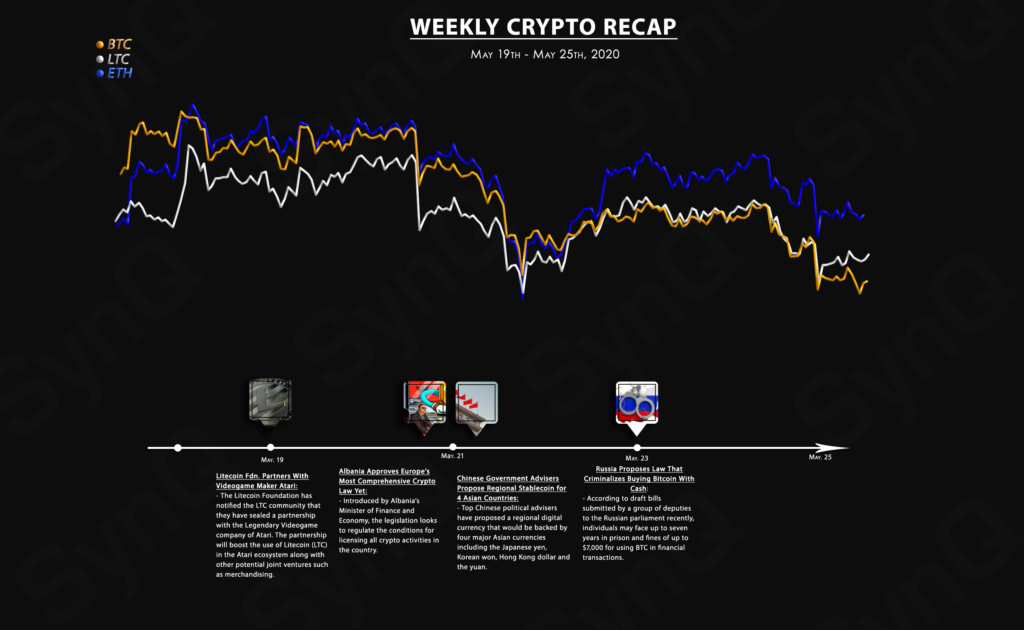 Crypto News
The Litecoin Foundation has announced a partnership with the legendary videogame company of Atari. LTC will now be accepted as a means of investing in the Atari token, to be issued in September 2020, and as a payment option for purchasing the new Atari VCS gaming console.

Albania's Parliament signed a bill into law on May 21 plenary session a legal framework for cryptocurrencies. The legislation looks to regulate the conditions for licensing all crypto activities in the country. Beyond digital tokens, the law looks to monitor all infrastructure where DLT technology operates.

The proposal unveiled Thursday describes the currencies as a "stablecoin". The basket of underlying collateral would follow the special drawing rights (SDR) model of the International Monetary Fund (IMF), where each country's currency is assigned a different weight based on its economy.

According to draft bills submitted by a group of deputies to the Russian parliament recently, individuals may face up to seven years in prison and fines of up to $7,000 for using BTC in financial transactions. People will also be penalized for buying crypto with cash or transferring to accounts opened with Russian banks.