May Weekly Recap 2
May 5th - May 11th, 2020
Welcome to our 2nd weekly recap for May.
Overview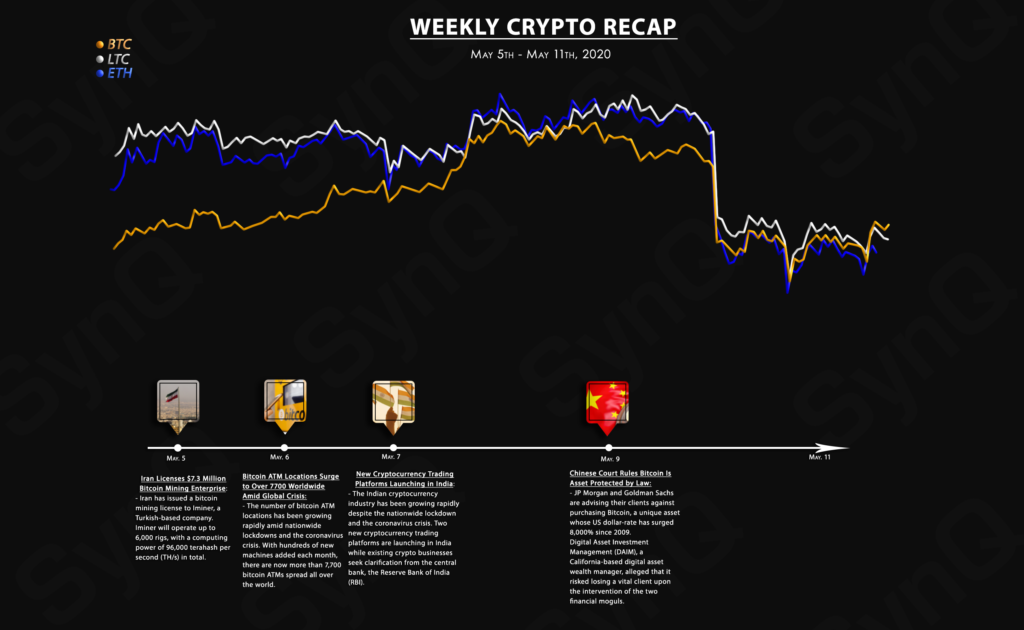 Crypto News
Iran has issued a bitcoin mining license to Iminer, a Turkish-based company. Iminer will operate up to 6,000 rigs, with a computing power of 96,000 terahash per second (TH/s) in total. According to reports, the miner has spent $7.3 million setting up the mining facility, located in Iran's central city of Semnan.

The number of bitcoin ATM locations has been growing rapidly amid nationwide lockdowns and the coronavirus crisis. With hundreds of new machines added each month, there are now more than 7,700 bitcoin ATMs spread all over the world.

The Indian cryptocurrency industry has been growing rapidly despite the nationwide lockdown and the coronavirus crisis. Two new cryptocurrency trading platforms are launching in India while existing crypto businesses seek clarification from the central bank, the Reserve Bank of India (RBI).

A court in Shanghai, China, has reportedly ruled that bitcoin is an asset protected by Chinese law in a case that has dragged on for years. The case involves the theft of two different cryptocurrencies, one being bitcoin, from an American. The defendants argued that bitcoin was not recognized under Chinese law; the court disagreed, citing documents by the central bank, the People's Bank of China (PBOC).