Welcome to SynQ UP in 2020!
During the down-market the team at SynQ has been working to bring the crypto-community a feature-rich, dedicated experience, created explicitly for learning about everything crypto, sharing everything about crypto, and earning actually valuable crypto.
SynQ UP Profiles
Crypto-Twitter is great, however… wouldn't it be nice if tweets showed up in chronological order and you saw every tweet from everyone you followed? We thought so. SynQ UP Profiles is a chronological, feature-expanded, Twitter-like, timeline experience that adds the ability for you to lock high-value posts behind your own subscription paywall to earn Bitcoin, Ethereum, Litecoin.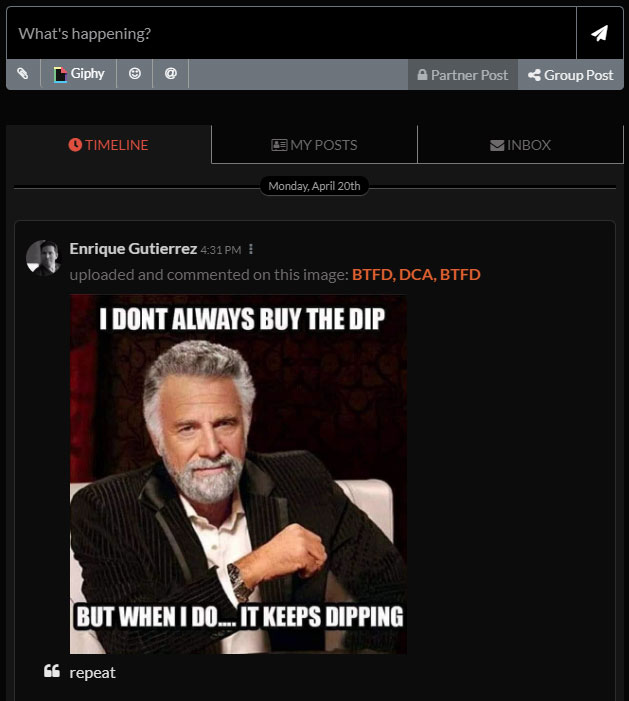 Write posts for your timeline and share them directly to a SynQ UP Group
Reply in a dedicated, threaded conversation interface
Add custom-emoji reactions
Receive user-tips (KlinQ) in Bitcoin, Litecoin, and Ethereum
Enable "Premium Posts" to show high-value content to your subscribers
Edit posts after they've been published
Large format TradingView chart integration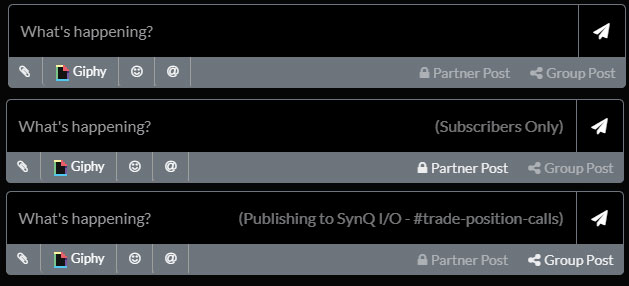 SynQ WALLET
Yes, we added a native cryptocurrency wallet, directly integrated with Coinbase, and every user has a SynQ WALLET automatically. Deposit funds from anywhere and withdrawal funds at any time with the dead-simple interface on your desktop, your phone, your tablet… anywhere.
Currently Bitcoin, Ethereum, and Litecoin are supported, and we'll be expanding this as things progress. Rather than creating an ERC20 cryptocurrency of our own, we chose to give our community the power of actually valuable, high-liquidity, proven, long-standing assets, free from all the elevated risk and speculation of 1UP, STEEM, or any of those other off-brand random coins that no one really needs or values.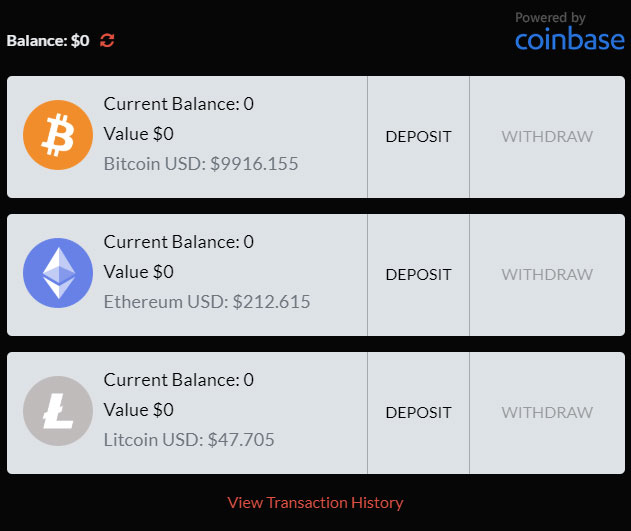 Deposit funds via address or QR code
Withdrawal funds to any compatible wallet, any time
Powered by Coinbase
You control the WALLET completely
View all your transactions, anytime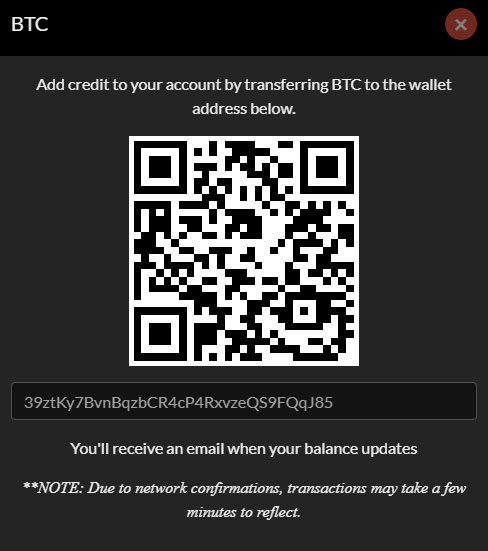 Share with reSynQ
Creating posts on SynQ UP is wonderful, trust us, we know. But sometimes, a share is so good it should be spread. reSynQ allows users to link directly to a publicly accessible conversation page complete with comments (for logged in users). Spread your cryptocurrency knowledge from SynQ UP to drive more eyeballs to your subscription-based Timeline, gather more tips, get more engagement, and grow your SynQ UP presence effectively.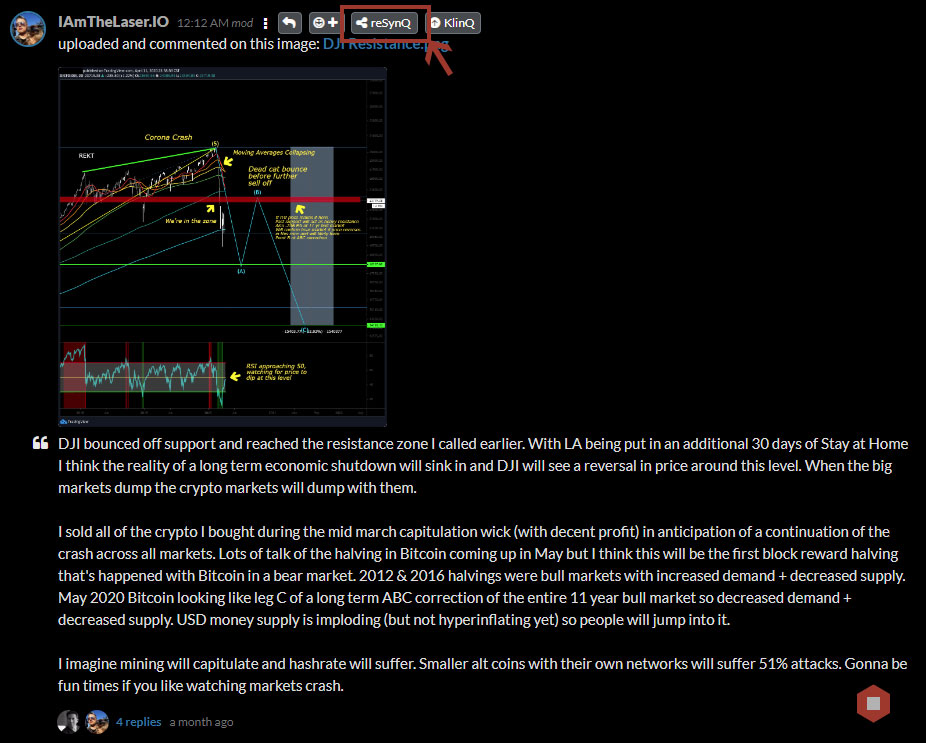 Embed as HTML anywhere
Share directly to Twitter
Share directly to LinkedIn
Share to any public SynQ UP Group
Copy the post link to send via Email
Add your own commentary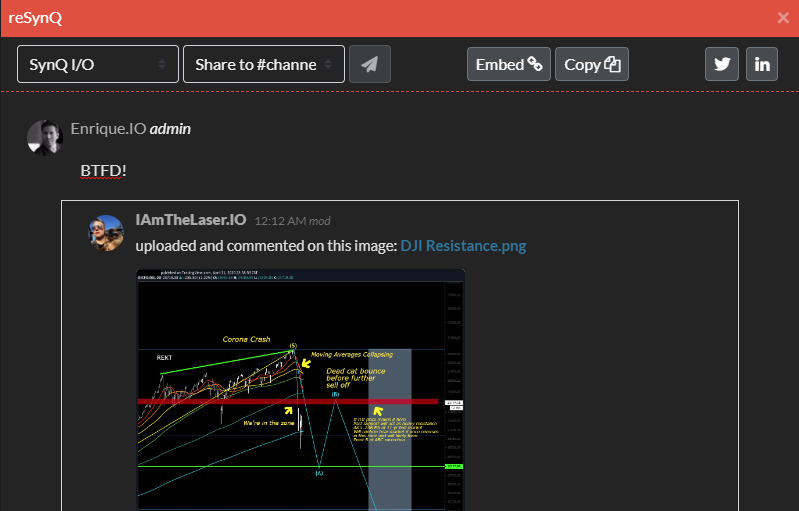 KlinQ! – Send Tips to Others
Ever see a post on Twitter and make a ton of money trading the charts posted by others? Ever wish you could shoot some gratuity over to a post author for giving you valuable insights into a coin you were interested in? We did too! Yes, you can add your BTC address to your Twitter profile and hope people click from your post, to your profile, copy the address, and send you crypto-coins for your published research content, however – wouldn't it be easier to just click a button, set a tip amount in USD, select the coin and send a tip? Yes, yes it would: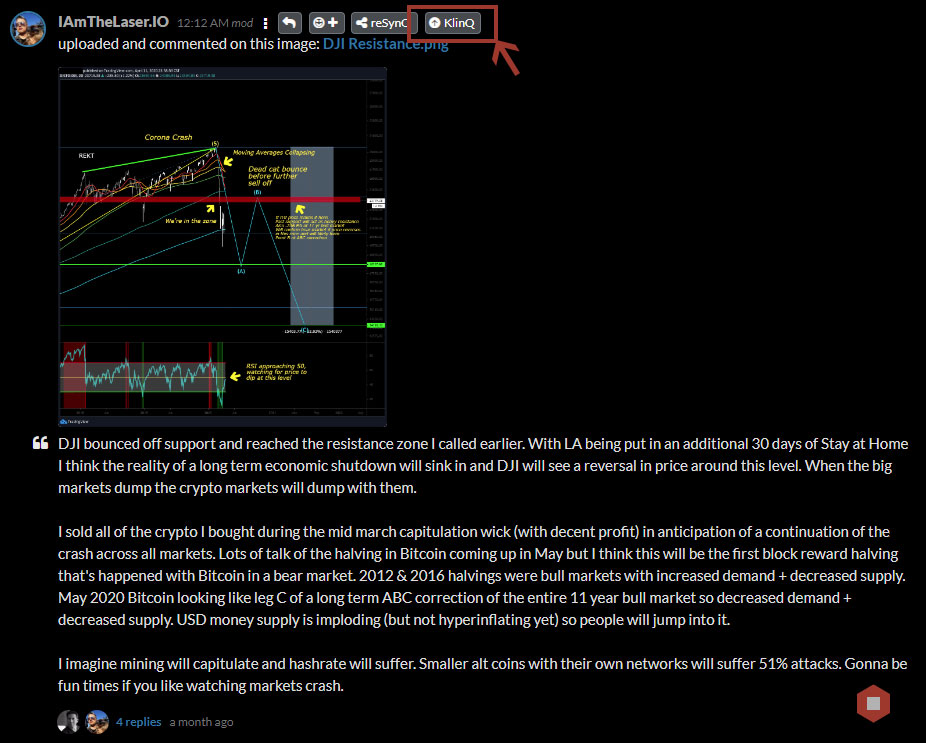 Send Bitcoin
Send Ethereum
Send Litecoin
Instant transfer
SynQ WALLET to SynQ WALLET
Earn KlinQ!*
Instant web/app notifications
*KlinQ! will be later used to unlock SynQ UP customization features that we will be releasing at a later time. Earn KlinQ! now to start stock piling for when the KlinQ! Shop opens Q4 2020.

More to come in 2020!
All of these features are currently live and ready for showtime, and as the year progresses, we will be rolling out additional servers globally to enhance the SynQ UP experience for our friends in Europe, Asia, Africa, and Australia. Currently, SynQ UP is available to anyone (except China – due to the SynQ WALLET integration) on iTunes, Android, and here on the web. Go to https://synq.chat now to check it out!