June Weekly Recap 4
June 16th - June 22nd, 2020
Welcome to our 4th weekly recap for June.
Overview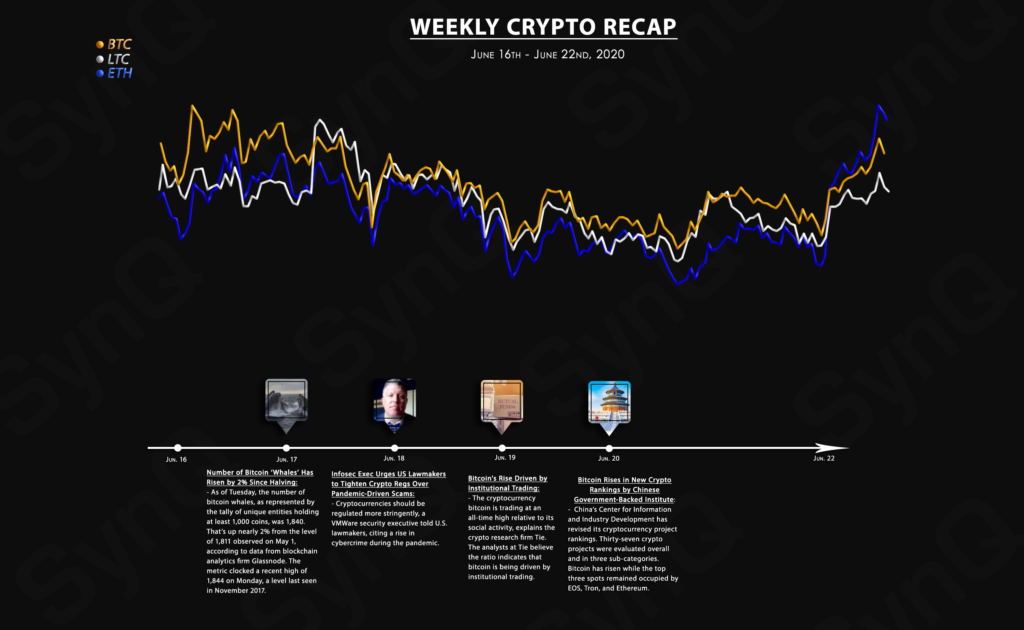 Crypto News
As of Tuesday, the number of bitcoin whales, as represented by the tally of unique entities holding at least 1,000 coins, was 1,840. That's nearly 2% up from the level of 1,811 observed on May 1, according to data from blockchain analytics firm Glassnode. The metric clocked a recent high of 1,844 on Monday, a level last seen in November 2017.

Tom Kellermann, head of cybersecurity strategy at publicly traded software company VMWare, told lawmakers that virtual currencies need stronger oversight. There has been an increase in the number of security breaches and thefts at digital currency exchanges, which cybercriminals used to launder stolen money, he said.

This week the research firm the Tie tweeted about bitcoin's (BTC) social activity to the company's 6,300 Twitter followers. The company thinks that institutional interest and trading is a driving force right now. "Bitcoin is trading at an all-time high (ATH) relative to its social activity," the Tie tweeted on Thursday.

The Center for Information and Industry Development (CCID), under China's Ministry of Industry and Information Technology, published its 18th update of crypto project rankings on Thursday.
In the 18th ranking, BTC improved slightly from the April revision overall, rising from the 14th position to the 12th position. BCH fell slightly from the 31st position to the 34th spot. Meanwhile, EOS, Tron, and ETH continue to top the overall ranking.