June Weekly Recap 2
June 1st - June 8th, 2020
Welcome to our 2nd weekly recap for June.
Overview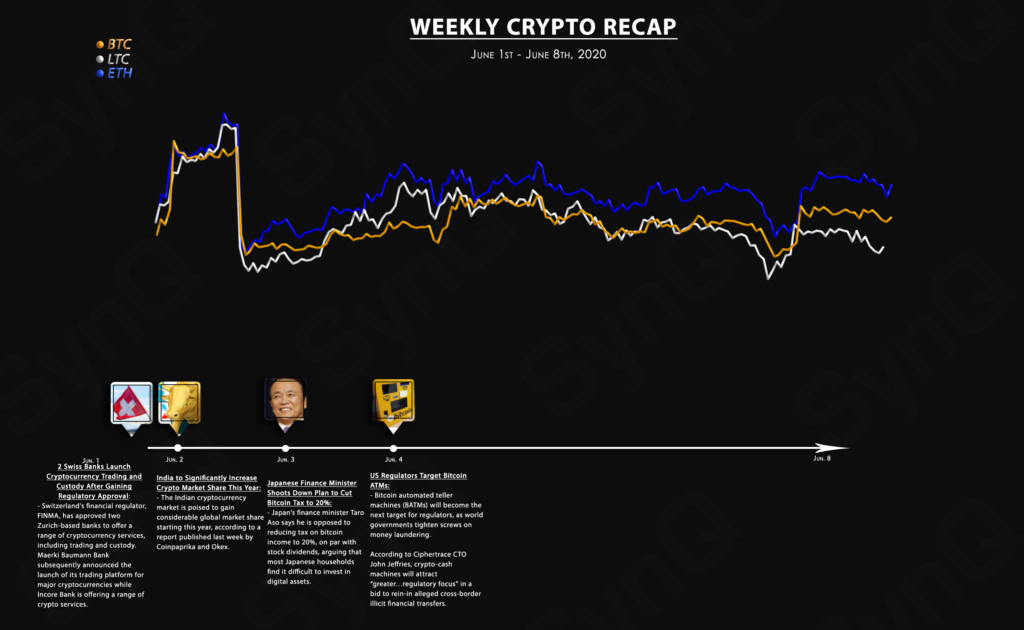 Crypto News
The Swiss Financial Market Supervisory Authority (FINMA) recently approved two banks — Maerki Baumann and Incore Bank — to offer several cryptocurrency services on Friday.

The Indian cryptocurrency market is poised to gain considerable global market share starting this year, according to a report published last week by Coinpaprika, a cryptocurrency research platform, and Okex, a global cryptocurrency exchange.

Bitcoin automated teller machines (BATMs) will become the next target for regulators, as world governments tighten screws on money laundering. According to Ciphertrace CTO John Jeffries, crypto-cash machines will attract "greater…regulatory focus" in a bid to rein-in alleged cross-border illicit financial transfers.

Japan's finance minister Taro Aso says he is opposed to reducing tax on bitcoin income to 20%, on par with stock dividends, arguing that most Japanese households find it difficult to invest in digital assets. The development suggests that Japan will uphold its current definition of cryptocurrency as miscellaneous income, whereby virtual currency is taxed at rates of up to 55%.