February Recap
COVID-19 
The new coronavirus strain continues to spread across the globe, and infection rates are only increasing exponentially. The World Health Organization has re-affirmed that there are no current effective treatment, and the viral mutation is still being researched.
By March 1st, the coronavirus, now named COVID-19, has infected more than 90K people across 90 countries around the world. Outbreaks in South Korea, Italy and Iran have been especially infectious.
City quarantines and factory closures are still in effect, and economic relations are still being affected. Mining difficulty and hash-rate for cryptocurrencies such as Bitcoin has also been drastically influenced by the lack of production.
Provided below is a visual representation of the comparison and differences between traditional markets and cryptocurrencies, and the continued effects of this virus outbreak has affected global economics for February.
Overview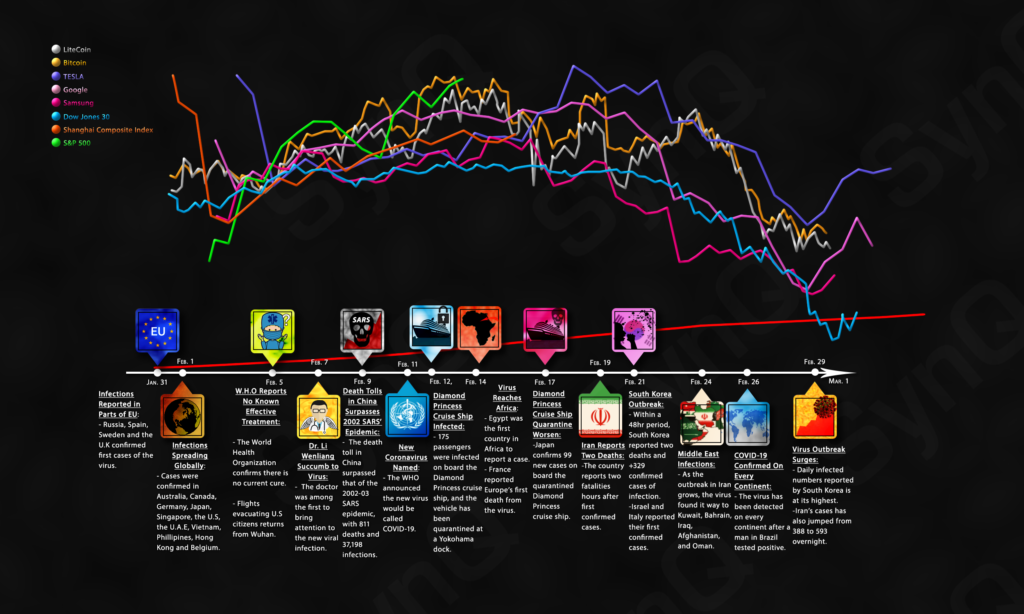 Stock Indexes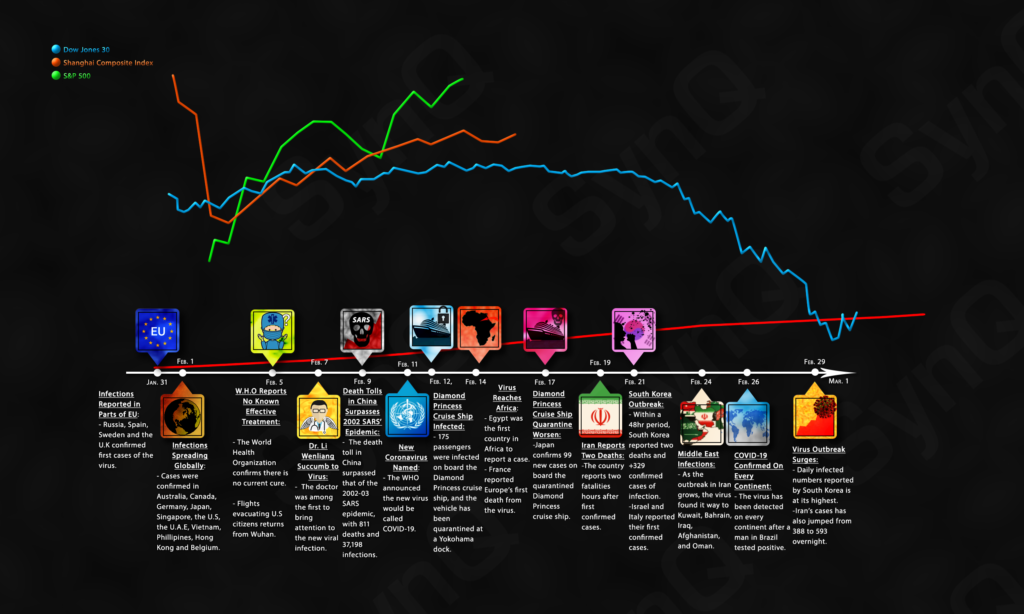 Traditional Stocks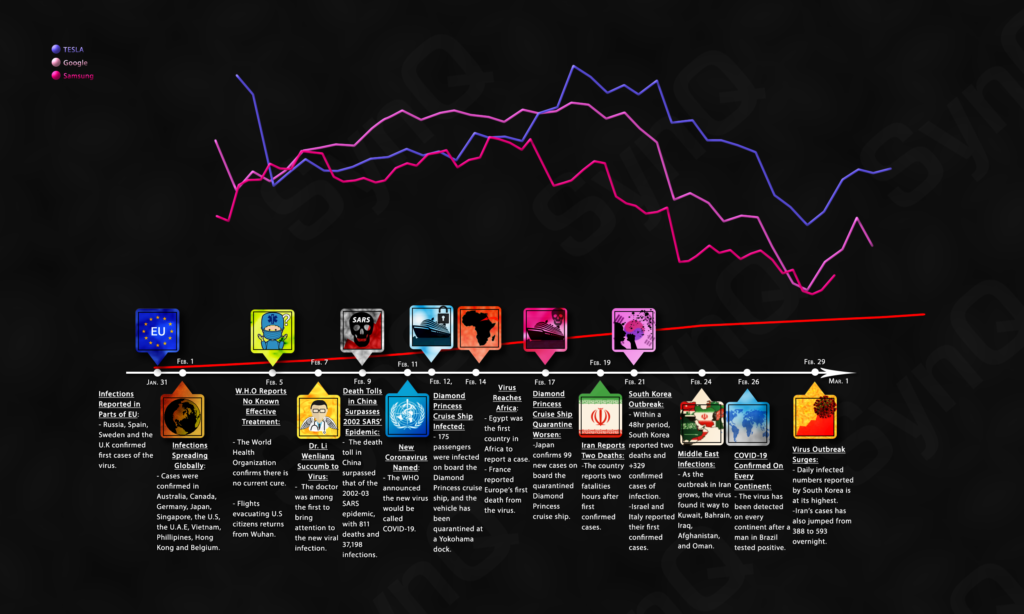 Cryptocurrencies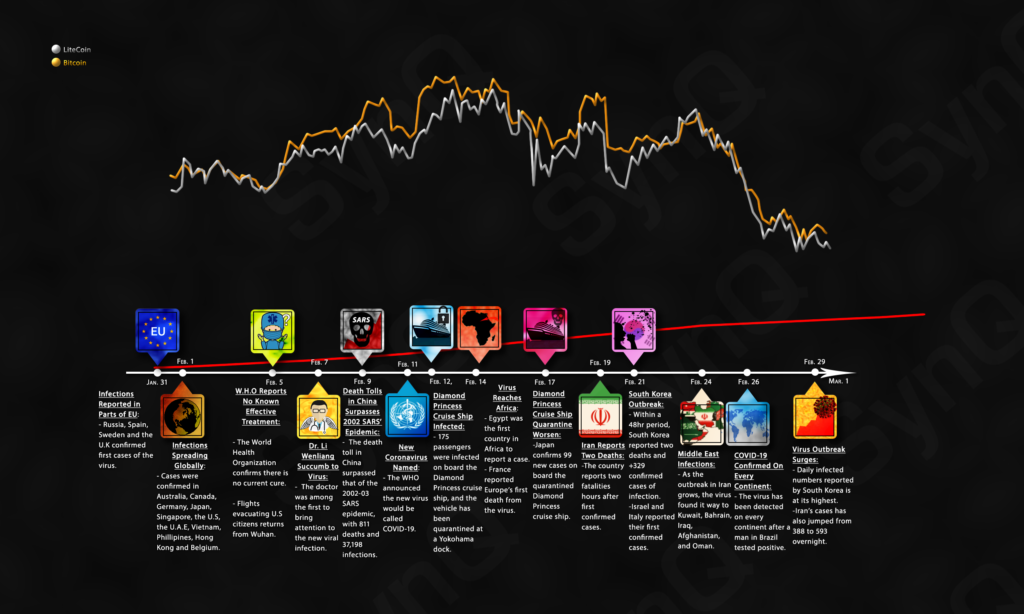 Crypto News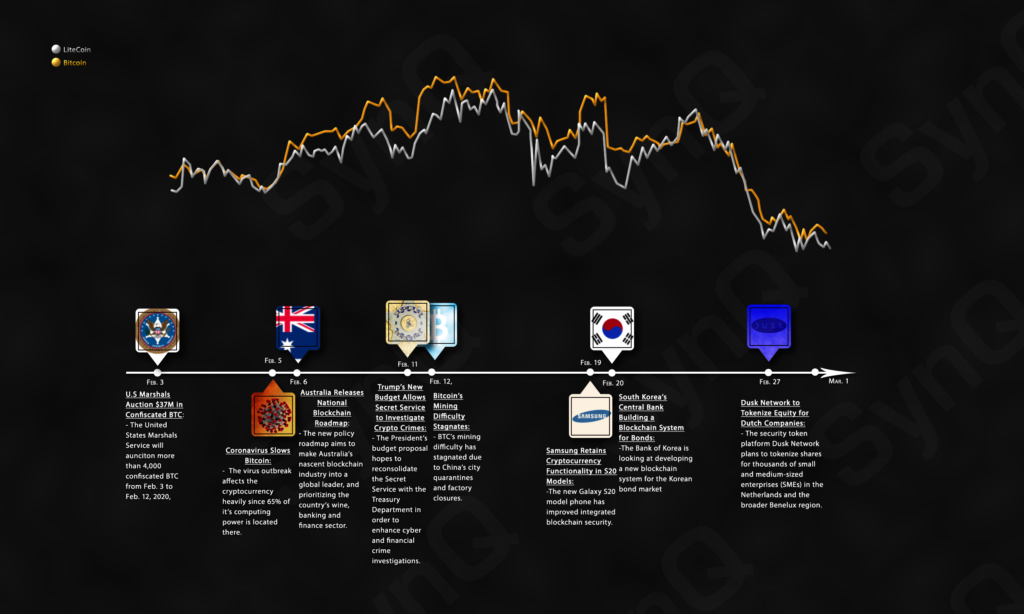 Sources:
https://www.npr.org/sections/goatsandsoda/2020/02/24/808914718/secretive-church-sect-at-the-center-of-south-koreas-coronavirus-outbreak
https://www.bbc.com/news/world-middle-east-51673053
https://gisanddata.maps.arcgis.com/apps/opsdashboard/index.html?fbclid=IwAR2TqPvjKTFX9Divbax9Gjm2pgaJuStjwZ0eqhZRzGL8NnvePmOhrmlOqFA#/bda7594740fd40299423467b48e9ecf6
https://www.bloomberg.com/news/articles/2020-02-28/germany-boosts-border-checks-google-scraps-event-virus-update
https://www.businessinsider.com/coronavirus-anthony-fauci-trump-admin-stops-discussion-2020-2
https://decrypt.co/20515/coronavirus-will-delay-chinas-digital-currency
https://www.independent.co.uk/news/world/americas/coronavirus-us-live-updates-cdc-symptoms-prepare-how-mask-san-francisco-latest-a9360196.html?page=1#post-1185157259
https://www.cbsnews.com/live-updates/coronavirus-death-toll-infections-outbreak-evacuations-quarantine-latest-updates-2020-02-10/
https://thenextweb.com/neural/2020/03/02/alibabas-new-ai-system-can-detect-coronavirus-in-seconds-with-96-accuracy/
https://cointelegraph.com/news/us-marshals-to-auction-37m-in-confiscated-bitcoin-in-february
https://cointelegraph.com/news/tesla-stock-now-looks-exactly-like-bitcoin-at-20k-in-2017
https://cointelegraph.com/news/tesla-stock-now-looks-exactly-like-bitcoin-at-20k-in-2017
https://cointelegraph.com/news/australia-to-release-national-blockchain-roadmap-after-year-of-preparation
https://cointelegraph.com/news/trumps-new-budget-would-have-secret-service-investigate-crypto-crimes
https://cointelegraph.com/news/egyptian-national-bank-turns-to-blockchain-to-boost-remittance-business
https://cointelegraph.com/news/what-caused-bitcoin-price-to-surge-past-10k-over-the-weekend
https://www.coindesk.com/bitcoins-mining-difficulty-stagnates-as-coronavirus-outbreak-delays-new-equipment
https://www.coindesk.com/south-koreas-central-bank-is-building-a-new-blockchain-system-for-the-bond-market
https://cointelegraph.com/news/samsung-keeps-cryptocurrency-functionality-in-galaxy-s20-models
https://www.coindesk.com/dusk-network-plans-to-tokenize-equity-for-thousands-of-dutch-companies
https://cointelegraph.com/news/hong-kong-and-abu-dhabi-change-crypto-regulations-to-align-with-fatf
https://cointelegraph.com/news/house-committee-to-hold-hearing-on-benefits-of-blockchain
https://www.coindesk.com/new-jersey-lawmaker-wants-to-create-a-crypto-license