January Recap
January 2020 has proven to be an interesting start to the new decade. Within a short period of a few weeks, the world experienced multiple crises in quick succession.
Iran
On January 3rd, 2020, the Trump administration authorized an airstrike which took the life of Iranian Gen. Qassem Soleimani. The strike was justified by the administration as an act of self-defense, citing "imminent" threats to U.S personnel and assets. This event was the catalyst for widespread concern.

But regardless of the reason, rising tensions between the two nations has understandably caused worldwide civil unrest, as further conflicts will deescalate into further violence in the Middle East. If war is declared, forces of both countries and their allies will undoubtedly also be involved.
Q: Global relations aren't the greatest right now, but what do you do when life gives you lemons that taste like imminent war?
A: You invest in the military complex and commodities such as precious metals, oil and in recent times – cryptocurrency.
Overview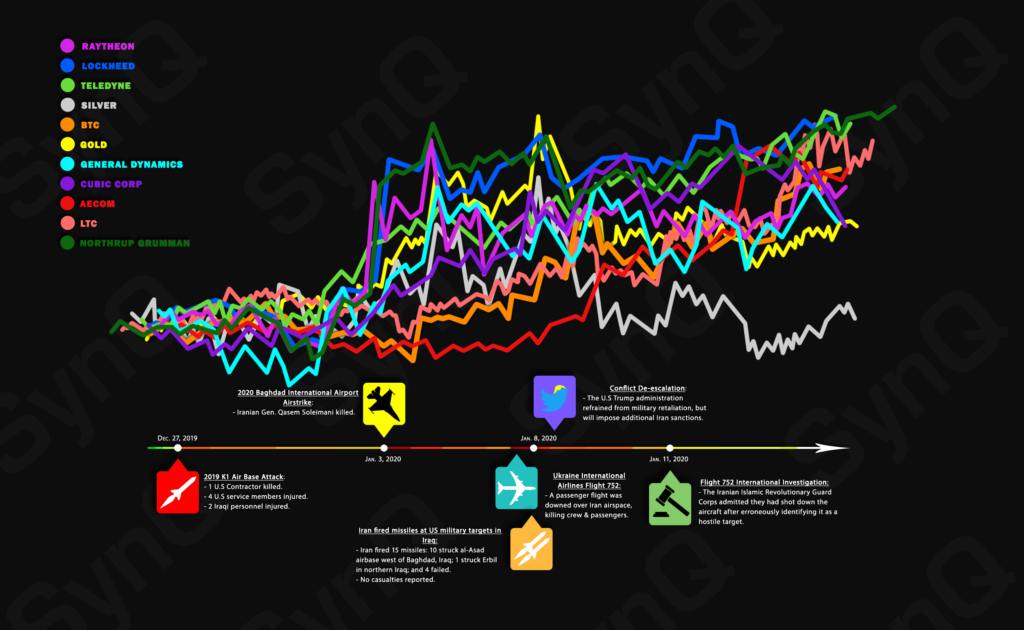 The tension between Iran and the United States show clear correlations with global economics. The value of the traditional market and commodities reacted timely with the events as they happened, and in expectations of financial traders. 
Military Contractors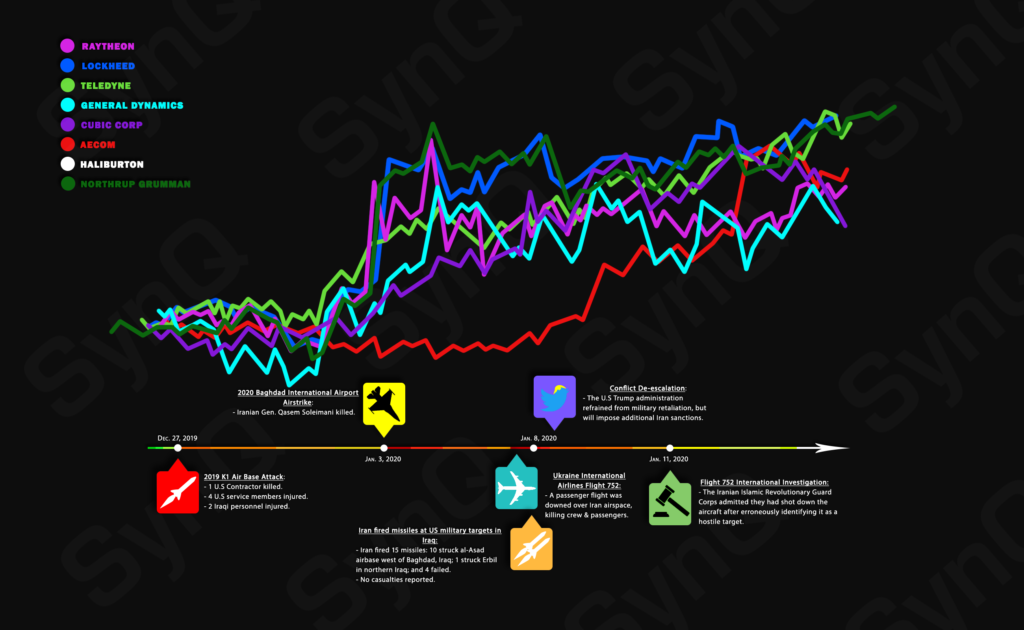 The military-industrial complex stocks had a field day, unsurprisingly.
Commodities
It can be seen across multiple commodity markets that during times of global economic uncertainty, these markets react quickly as a "safe haven" from traditional stocks. This has been seen multiple times with precious metals and oil but now seems to be a common theme with Bitcoin and other cryptocurrencies. An impending war triggered these markets once the news of the US airstrike began to spread as it seemed as if the US was on the brink of "boots on the ground" in Iran. Though the current situation has de-escalated for now, we can assume that as soon as tensions rise. Embassies are under attack and missiles are being launched, we can expect to see the same type of trends to play out again.   
Cryptocurrencies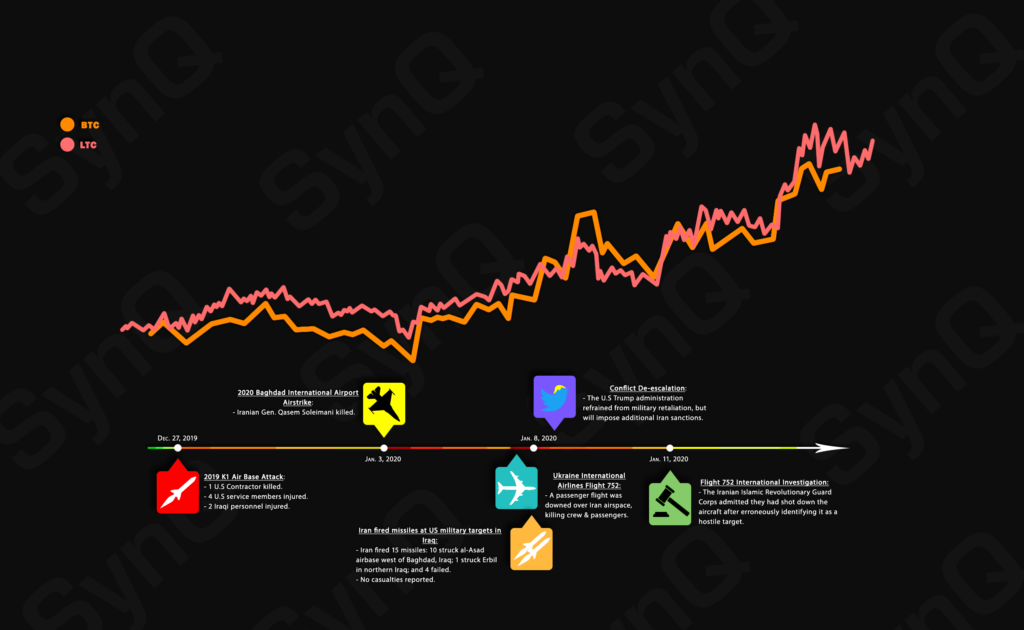 Precious Metals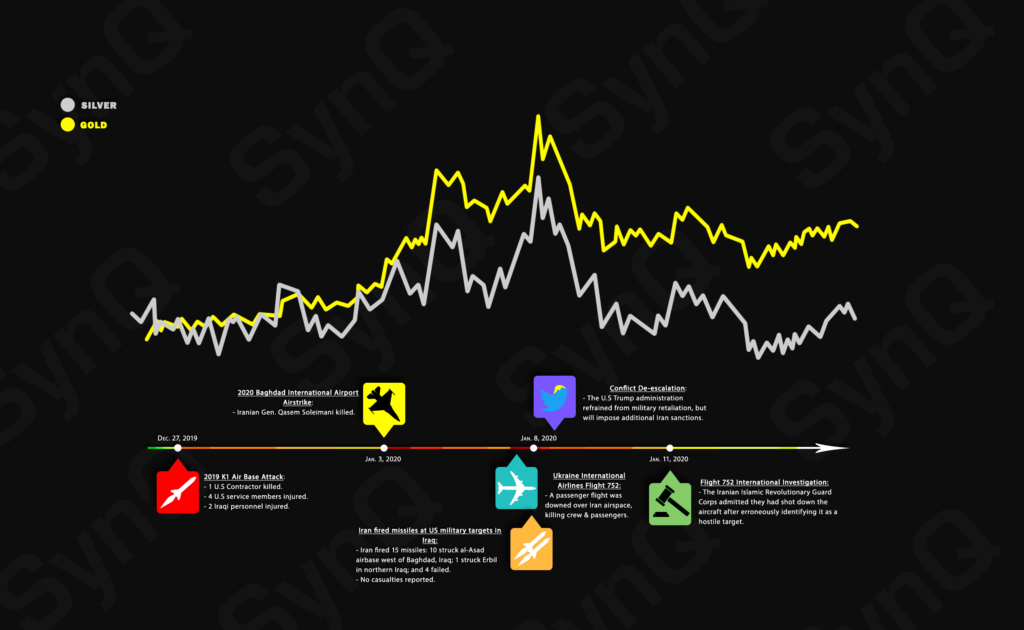 Oil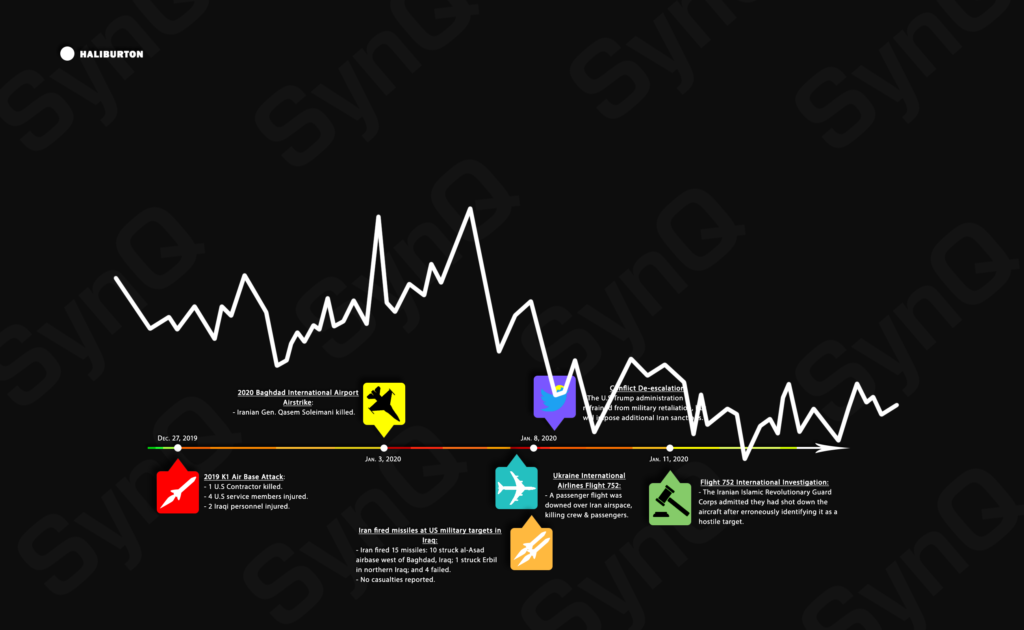 For now, military tensions between both parties have eased, and they have chosen to remain amicable with each other. The Trump administration has chosen to refrain from military retaliation and has opted to enforce additional sanctions on the country of Iran.
nCoV-2019
Just as festivities begin to ramp up on the Eastern side of the globe in anticipation of Lunar New Years, Mother Nature has one last surprise for humanity. On December 31st, 2019, the World Health Organization was alerted to several cases of mysterious infectious pneumonia in Wuhan, China.
Thought to have originated from the city's Huanan Seafood Wholesale Market, the establishment was quickly shut down on January 1st, 2020. However, it had proved to be too late and the number of infected individuals quickly exceeded 40.
It took a week, but officials were able to identify the new virus as belonging to the coronavirus family, which includes SARS, MERS, and the common cold. In fact, it is ~79.5% genetically identical to SARS.  Designated as nCoV-2019, the virus will be temporarily named Novel Coronavirus Pneumonia, or NCP. 
The fatality rates are yet to be determined. It is currently estimated to range from 1.4 –  2.1%, based on official figures. One recent research published in The Lancet suggests it could potentially even be as high as 11%. One month into the SARS outbreak, there were 5 victims. The new coronavirus claimed at least 213 in the same amount of time. The death toll from 2019-nCoV has already surpassed that of SARS on February 8, 2020.

The quickly rising numbers of infected patients could be due to the extremely contagious nature of 2019-nCoV. The virus has a symptom-free incubation period of up to 21 days, and can survive in the atmosphere outside a host body for more than two days. Chinese researchers in Hong Kong estimated that one infected individual can pass the contagion along to 3 – 5 others, using a factor called the virus' R0 value. The World Health Organization believes that the coronavirus's R0 value is lower at 1.4 – 2.5 people.
Even as nations are desperately contributing to the efforts of disease prevention, the numbers of victims continue to quickly rise. There are currently 43,101 confirmed cases in 28 countries, with 1,018 deaths so far as of February 11, 2020.
The potential for a global crisis has not been overlooked and taken lightly, as national officials around the world quickly started to enforce travel restrictions and quarantines. China, especially, has been busy. So far, 16 cities in China have been placed under restrictions, which affects about 46 million people, and is the largest quarantine in human history. 
Multiple major corporations such as Apple, Samsung, Microsoft, Tesla and Google with operating offices, retail stores, and manufacturing factories have temporarily shut down all facilities across China. The nation extended the Lunar New Year holidays and was expected to reopen their factories on February 3rd. That date was eventually extended until February 10th due to the circumstances of the viral outbreak. Even after, manufacturers will remain closed pending approval from the central and provincial governments.
A poll by the American Chamber of Commerce in Shanghai found that 87% of participants believe that the coronavirus will directly impact 2020 revenues, with 24% expecting revenues to decrease by >16%. China's 2020 projected GDP growth has also been readjusted to be 1% lower than expected in Q4 2019. According to the Federal Reserve, the disruptions this virus is causing in China will be felt throughout global economies. Understandably so, when China is the manufacturing center of the world.
So let's do a quick comparison of the differences between traditional markets and cryptocurrencies, and how this virus outbreak has affected both.
Stock Indexes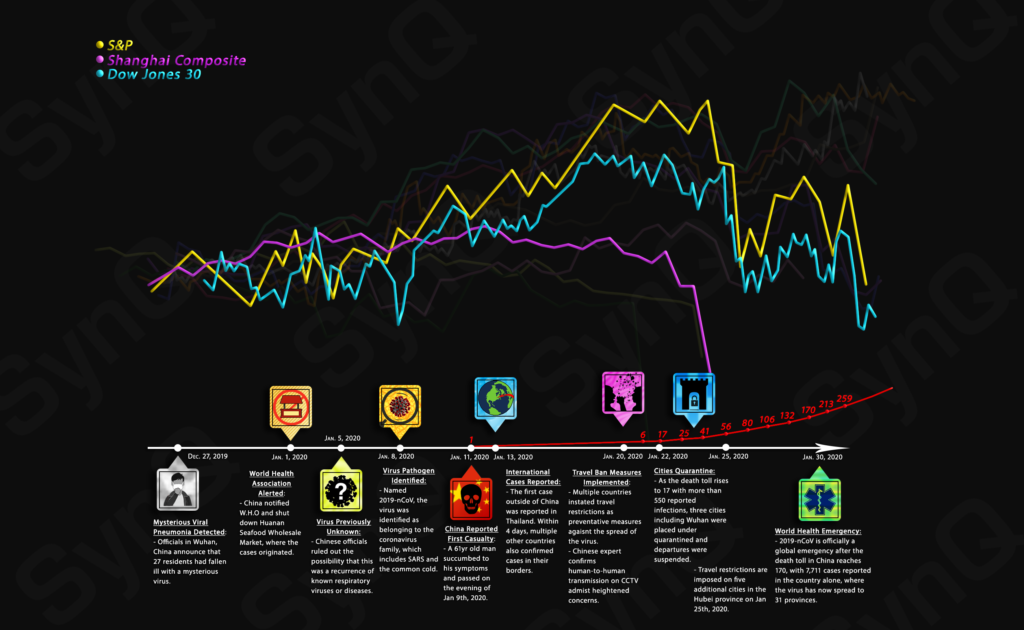 There's no real time GDP tracker so the next best thing are stock indexes.
Traditional Stocks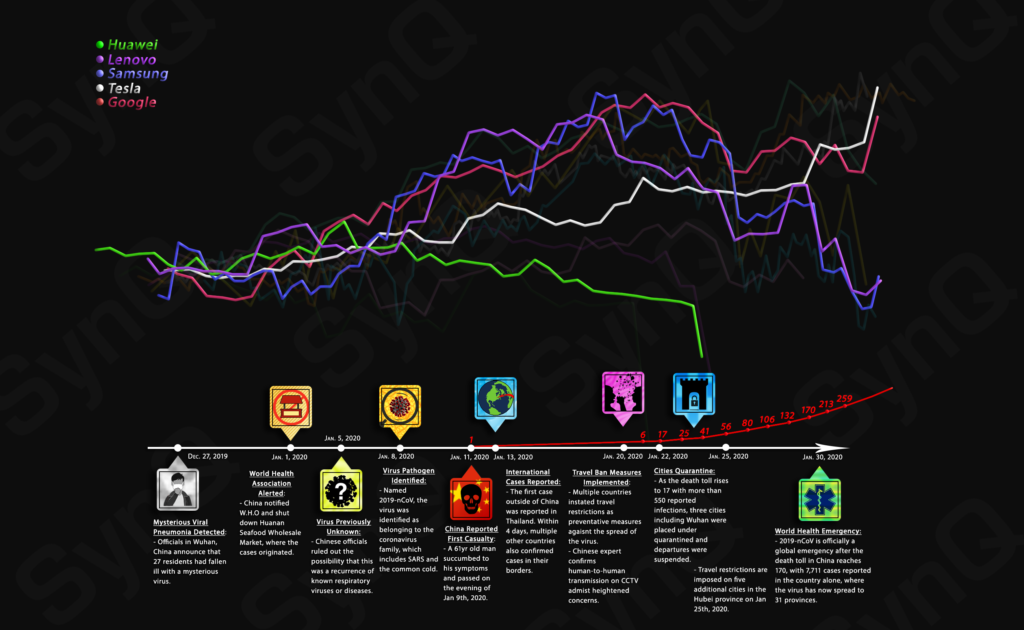 Companies with facilities affected by China's quarantine
[BONUS] Apple iPhones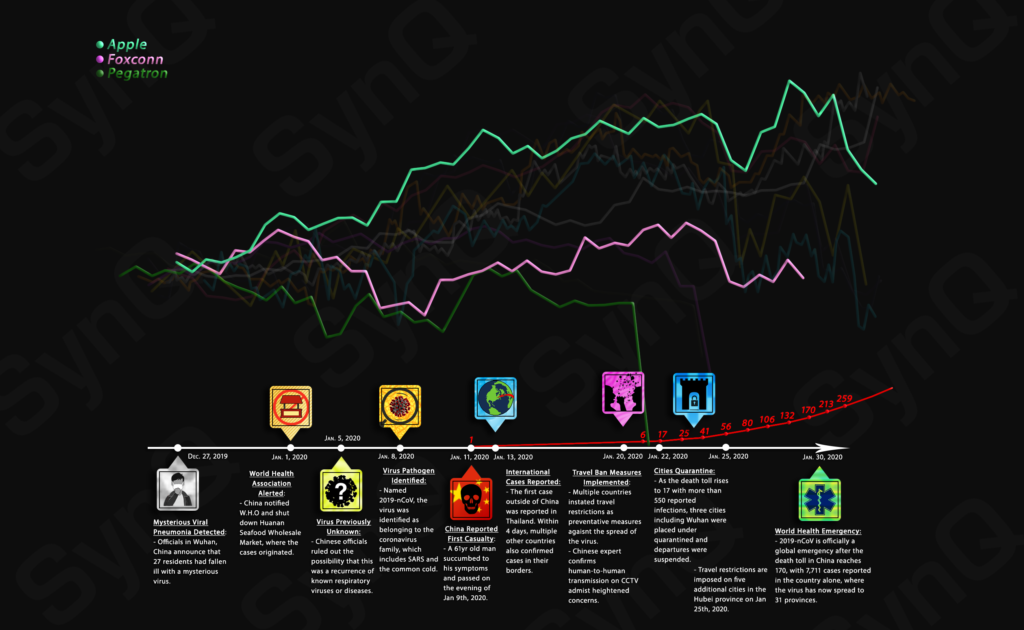 Three companies that together make Apple iPhones
Cryptocurrencies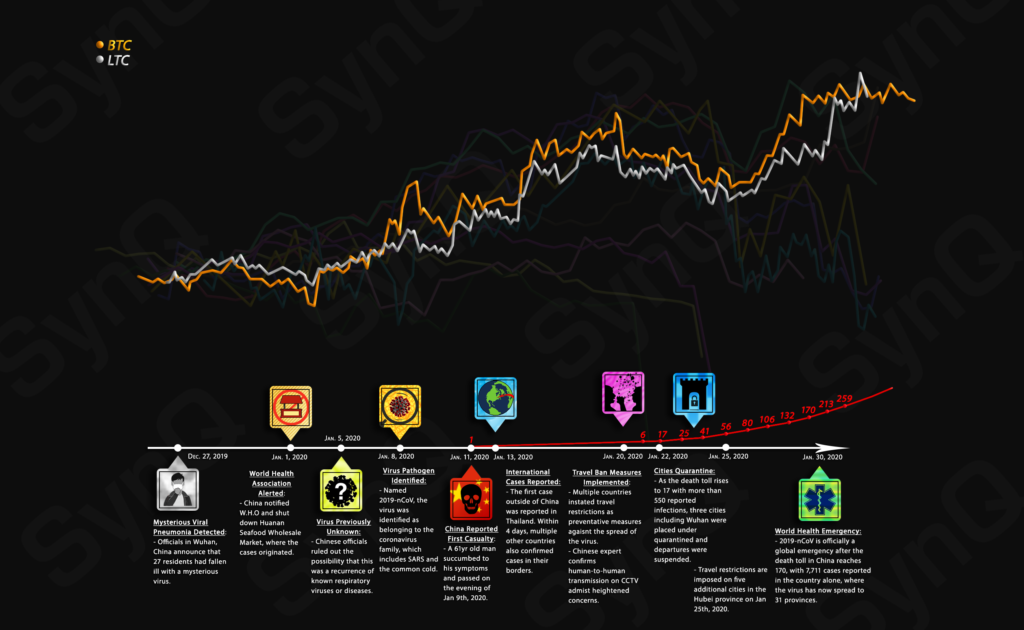 However, the current pandemic of surrounding the novel coronavirus is an ongoing event. The full effect of the virus is likely yet to be felt. More as the situation develops in February.
Sources:
https://thehill.com/changing-america/well-being/prevention-cures/481455-the-coronaviruss-genetic-code-is-80-percent
https://www.marketwatch.com/story/coronavirus-is-less-deadly-than-sars-but-that-may-explain-why-its-so-contagious-2020-01-30
https://www.businessinsider.com/quarantine-history-following-china-wuhan-coronavirus-lockdowns-2020-1
https://www.kff.org/global-health-policy/fact-sheet/coronavirus-tracker/
https://www.who.int/emergencies/diseases/novel-coronavirus-2019
https://www.livescience.com/new-china-coronavirus-faq.html
https://www.cnn.com/asia/live-news/coronavirus-outbreak-02-02-20-intl-hnk/index.html
https://www.healthline.com/health-news/what-to-know-about-the-mysterious-coronavirus-detected-in-china#NIAID-director-discusses-latest-developments
http://www.xinhuanet.com/english/2020-01/09/c_138690570.htm
https://www.aljazeera.com/news/2020/01/timeline-china-coronavirus-spread-200126061554884.html
https://futurism.com/neoscope/timeline-china-viral-outbreak-spread-worldwide
https://www.washingtonpost.com/world/asia_pacific/coronavirus-china-updates/2020/02/09/eb9e683c-4aa4-11ea-8a1f-de1597be6cbc_story.html
https://www.businessinsider.com/wuhan-coronavirus-officials-quarantine-entire-city-2020-1
https://www.nytimes.com/2020/02/10/world/asia/coronavirus-china.html
https://www.worldometers.info/coronavirus/coronavirus-death-toll/
https://www.bbc.com/news/business-51347497
https://www.fool.com/investing/2020/02/10/5-coronavirus-stocks-to-watch-this-week.aspx
https://www.nytimes.com/2020/02/07/business/coronavirus-business-impact.html
https://www.marketwatch.com/story/5-reasons-coronavirus-fears-are-overblown-and-14-stocks-to-buy-now-2020-01-28
https://www.marketwatch.com/story/these-us-stocks-are-down-the-most-as-the-coronavirus-spreads-2020-01-27
https://www.businessinsider.com/coronavirus-outbreak-risk-retailers-and-products-2020-2
https://markets.businessinsider.com/news/stocks/coronavirus-could-weigh-on-global-economy-federal-reserve-warning-2020-2-1028885881
https://www.amcham-shanghai.org/en/article/amcham-shanghai-coronavirus-impact-member-survey
https://markets.businessinsider.com/news/stocks/coronavirus-could-weigh-on-global-economy-federal-reserve-warning-2020-2-1028885881
https://www.theverge.com/2020/2/7/21128307/coronavirus-outbreak-tech-industry-production-supply-chain-delay-impact
https://www.theverge.com/2020/2/4/21122081/foxconn-coronavirus-close-factories-big-tech
https://www.theguardian.com/news/2020/feb/10/will-the-coronavirus-outbreak-derail-the-global-economy
https://www.hellenicshippingnews.com/analysts-are-cutting-their-china-gdp-forecasts-amid-coronavirus-outbreak/
https://www.forbes.com/sites/kenrapoza/2020/02/09/china-coronavirus-breaches-sars-death-toll-limit-now-what/#787d847f5af4
https://www.who.int/emergencies/mers-cov/en/
https://www.forbes.com/sites/leahrosenbaum/2020/01/23/everything-you-need-to-know-about-the-wuhan-coronavirus-outbreak/#6bdda6af6fce
https://www.businessinsider.com/china-wuhan-coronavirus-compared-to-sars-2020-1#according-to-the-world-health-organization-who-50-of-people-impacted-by-sars-were-age-65-or-older-while-the-other-half-of-infected-patients-varied-widely-in-age-6
https://www.thelancet.com/journals/lancet/article/PIIS0140-6736(20)30211-7/fulltext#seccestitle140
https://tradingeconomics.com/china/stock-market
https://webcache.googleusercontent.com/search?q=cache:Two_FmWfGm0J:https://www.forbes.com/sites/cryptoconfidential/2020/01/12/iran-tensions-put-bitcoin-in-the-spotlight-ernst–young-bets-on-public-blockchain/+&cd=5&hl=en&ct=clnk&gl=us
https://en.ethereumworldnews.com/analysts-bitcoin-price-explode-higher-past-9000/
https://www.dw.com/en/al-shabab-attack-on-us-air-base-in-kenya-signals-resurgence/a-51905819
https://en.wikipedia.org/wiki/2019_K-1_Air_Base_attack
https://www.nytimes.com/2020/01/11/world/middleeast/plane-crash.html
https://en.wikipedia.org/wiki/2020_Baghdad_International_Airport_airstrike
https://en.wikipedia.org/wiki/Ukraine_International_Airlines_Flight_752
https://en.wikipedia.org/wiki/2020_in_Iran
https://www.vox.com/policy-and-politics/2020/1/8/21056711/trump-iran-speech-statement-iraq-strike
https://www.nbcnews.com/politics/donald-trump/what-trump-missed-when-he-saw-iran-blink-n1112506
https://www.vox.com/2020/1/7/21055928/iran-attack-al-asad-iraq-trump-soleimani
https://www.wired.com/story/donald-trump-iran-twitter-war/