SynQ UP comes packed with market data, added security features, delighter features to better organize and engage community members, and advanced user management. Getting started is easy, taking advantage of all the goodies that come within it just takes a little getting used to, here's a kick start: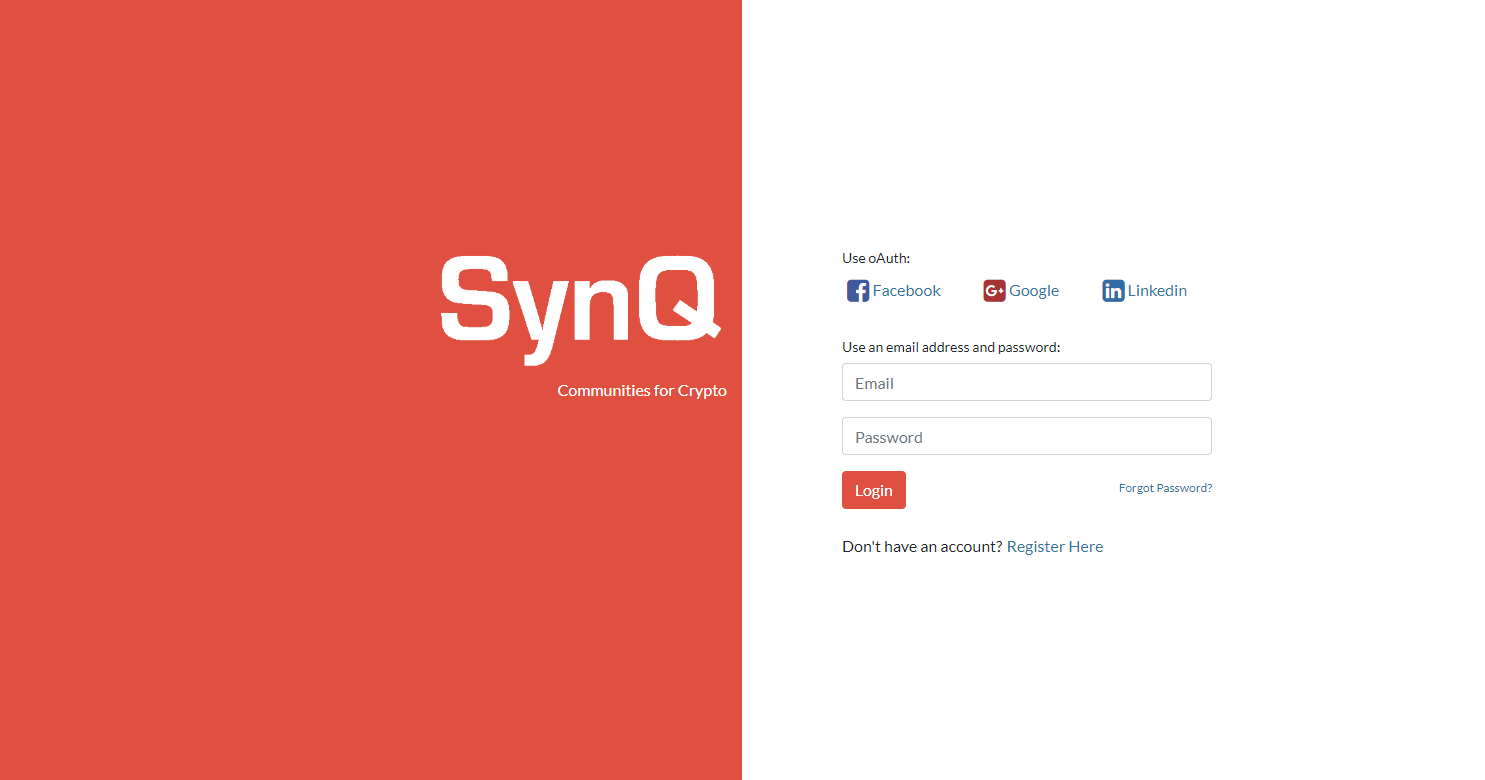 Registration and Login
You can use Facebook, Google, or LinkedIn oAuth to create an account and login, or use a traditional email address and password to access SynQ UP. All users are required to at least provide a desired username to use SynQ UP.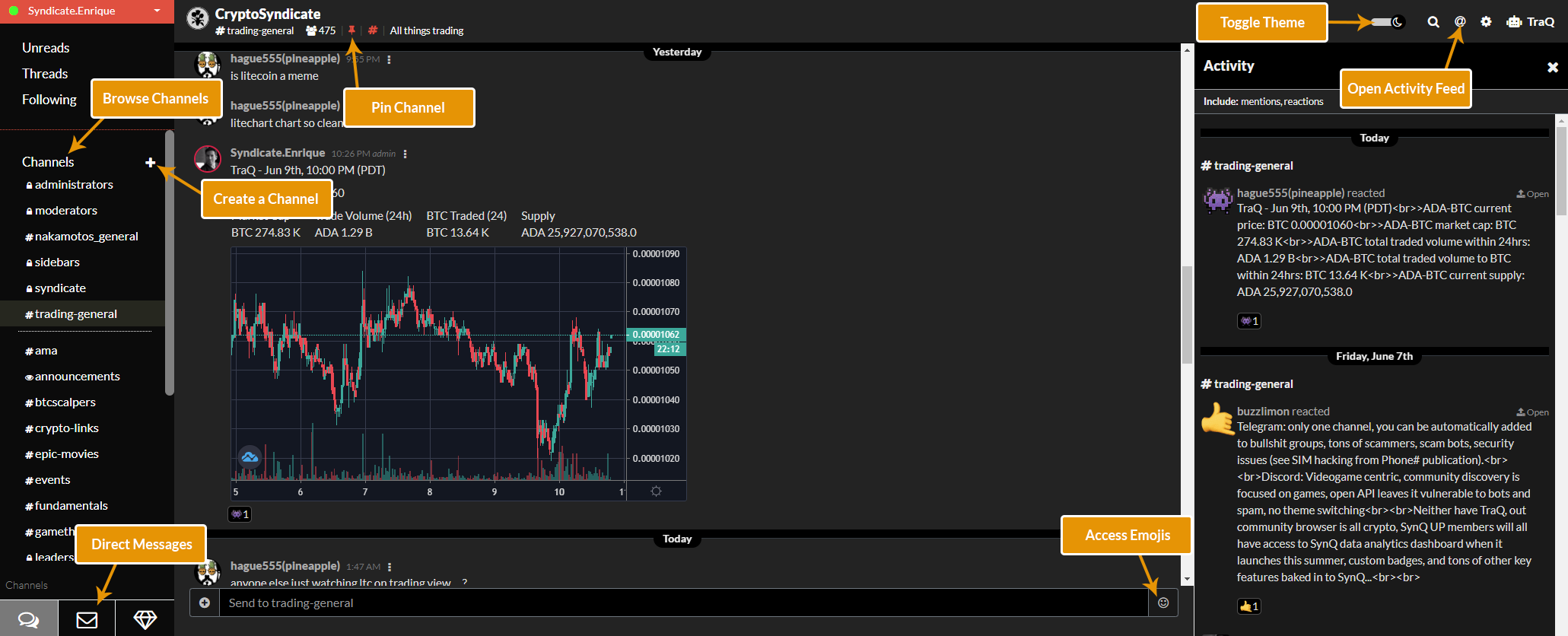 Basic Features
The left sidebar is sectioned into useful navigation items that help you move through the application's communication stages.
"Channels" – click on the word "Channels" to open the Channel Browser
Click the [+] sign to the right of "Channels" to create your own

You can create a Public or Private channel
Admins and Moderators can convert any channel into a read-only channel
…more on read-only channels below

If you'd like to "favorite" channel, click the thumbtack, it will turn red, and place that channel first in the Channels list for you
To access your Direct Messages, simply click the envelope icon.
The top-right navigation is used to display SynQ UP extensions:
Click the sun/moon toggle switch to change between Light and Dark modes for SynQ UP
Click the @ symbol to open the Activity Stream.

Who reacted to your posts with emoji reactions
Read replies to your posts
See when someone mentions your username

Take note of the Emoji button on the bottom right as well; this is where you can browse the community's emoji reactions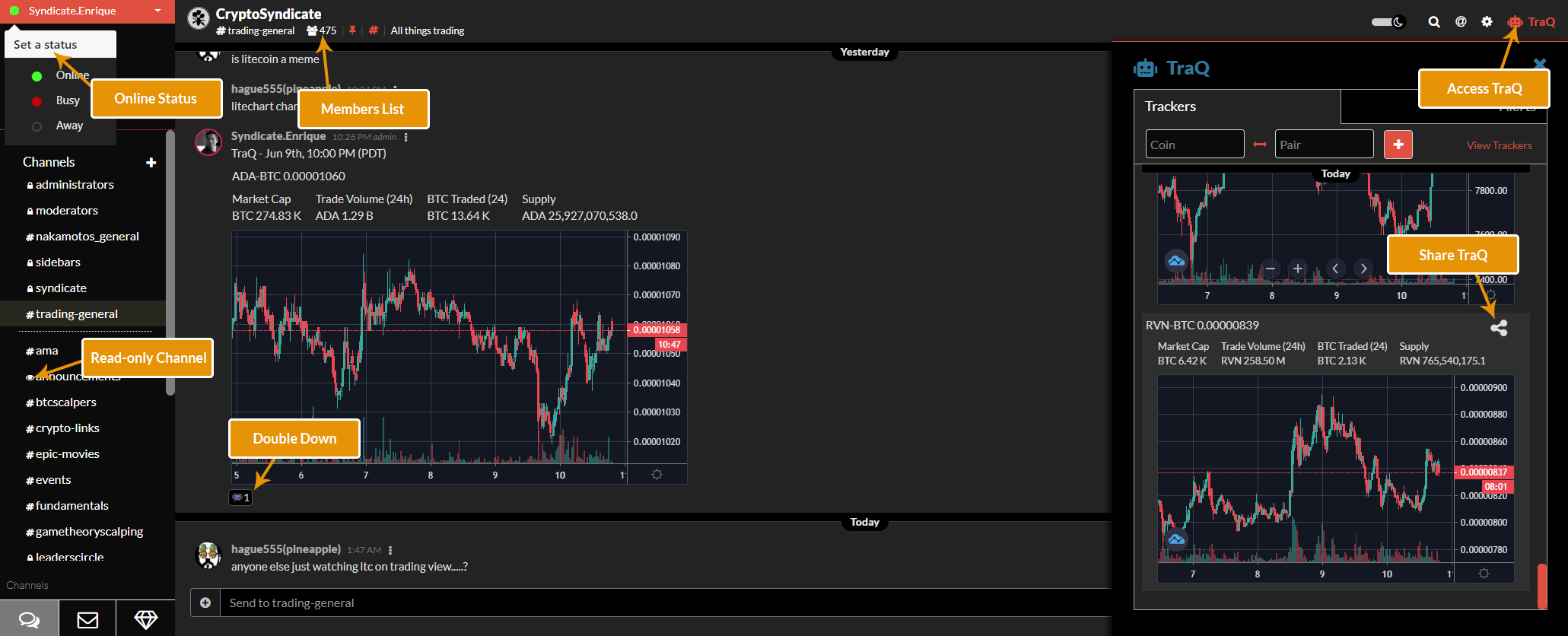 But wait, there's more!
From the left
Set your online status to Online/Busy or Away, this will change the color of the dot next to your username in Direct Messages
Click the Users icon or Member count to open the Members List to see who the Admins/Moderators are, and follow other users
Read-only channels are indicated by an Eye icon to the left of the channel name
If you click on an existing emoji reaction, it will add to it (if you didn't initially place the reaction)

If you did place the reaction, it will remove it
On the right
TraQ is a mini-app in SynQ UP, this robust tracking interface provides hourly updates of price, volume, and supply – all with a TradingView chart for added convenience
At any time, you can share a TraQ chart into any channel you have access to post into