Getting Started with SynQ UP
SynQ UP comes packed with market data, added security features, advanced user management, and delighter features to better organize and engage community members. Getting started is easy, taking advantage of all the goodies that come within it just takes a little getting used to, here's a kick start: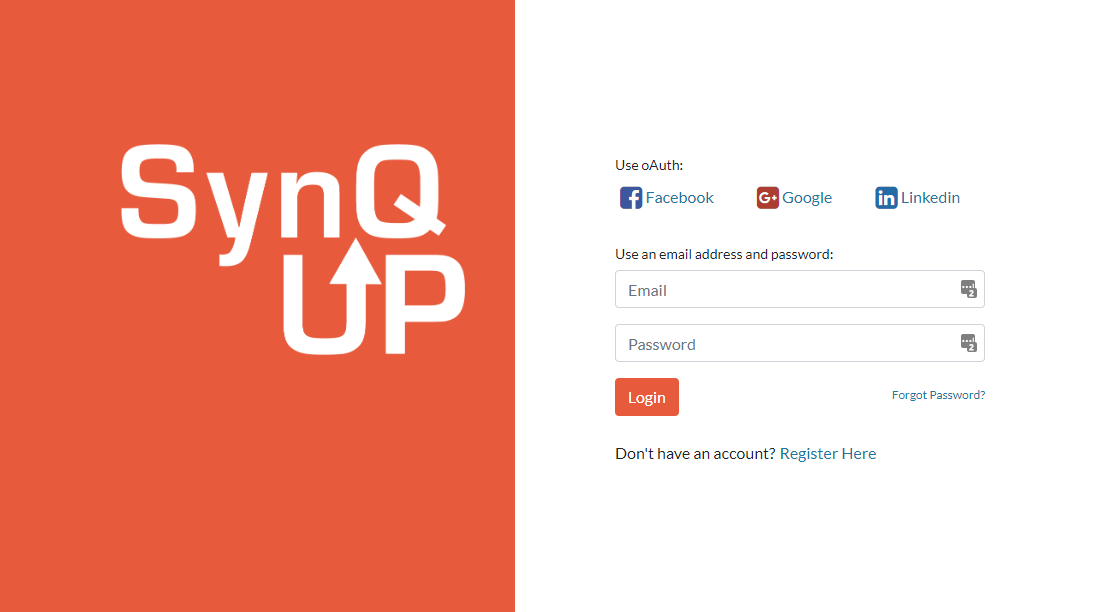 Registration and Login
Facebook, Google, LinkedIn oAuth options are available to everyone, and those of you on iPhone's, you can use your Apple ID to create an account on SynQ.
Alternatively, you can use an email address and password to create an account on SynQ.
All users must provide at least a username to create an account on SynQ.
Your Timeline
After registering or logging into SynQ UP, you'll be directed to your SynQ UP timeline. The timeline is a chronological, algorithm-free, stream of posts from people you follow on SynQ.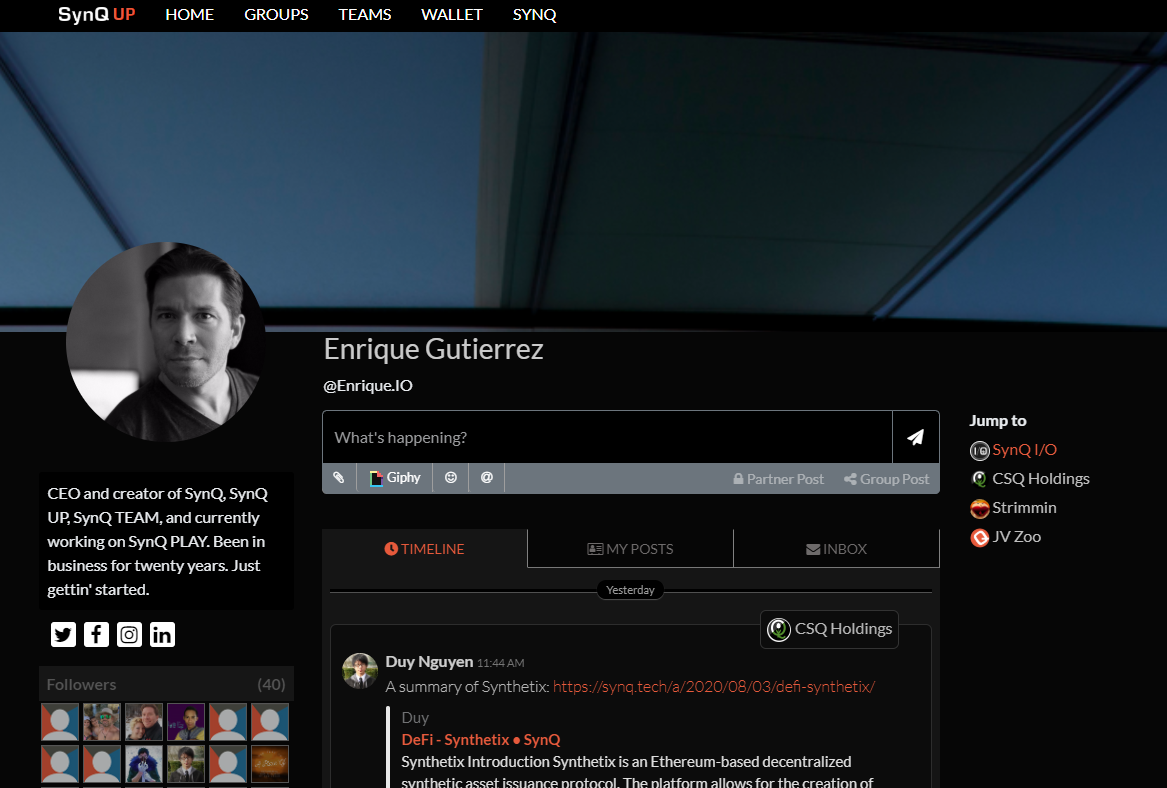 Edit your profile to include a photo, a bio, and links to your social media accounts.You can also create posts with automatic previews for Tradingview links, news articles, and image uploads.
Accessing Groups
SynQ Groups are a way for you to jump into the conversation with threaded, channel-based, posts, presented in the typical fashion you'd see in Slack or Discord, with security measures similar to Telegram.
Everyone can create a Group, and everyone has access to Public groups to join and leave at their leisure.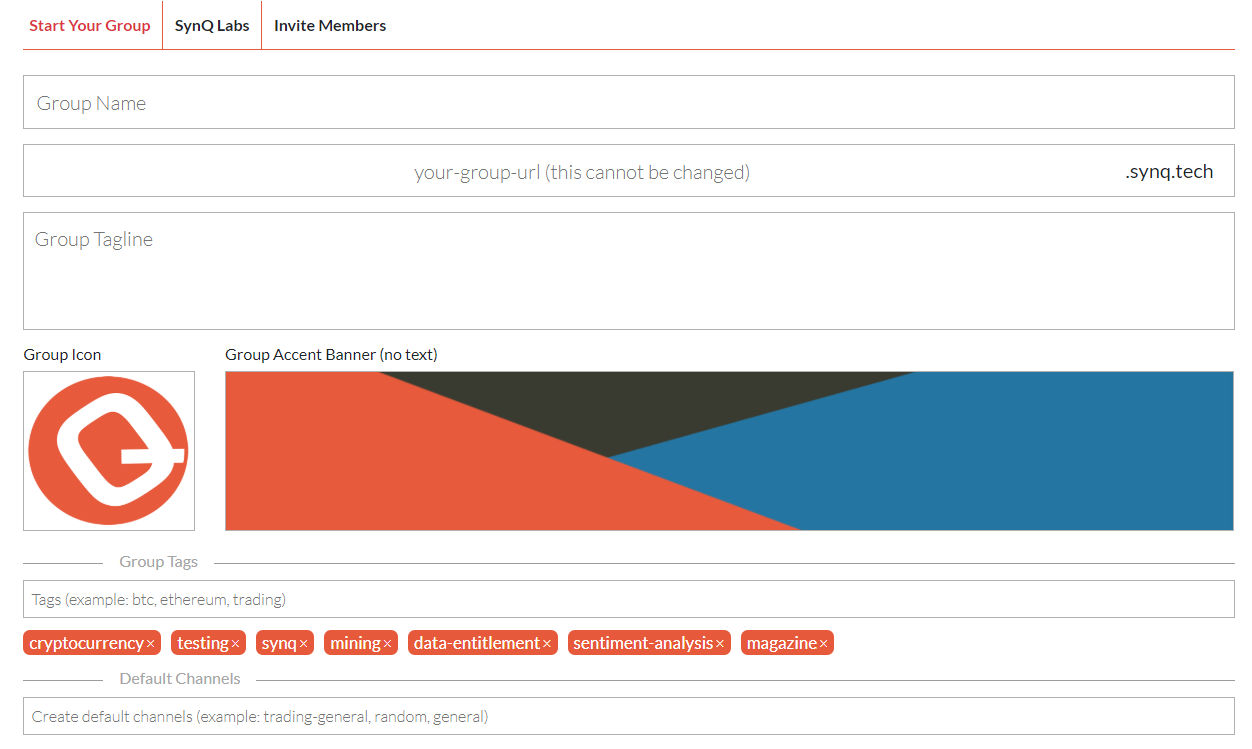 Groups can also be created as Premium, which allows Group Creators to set a monthly subscription fee to access the group. SynQ automatically manages the renewals and access rights for users, without any procedural overhead, as seen on other platforms.
SynQ WALLET
SynQ automatically creates a series of wallets for each user. These are powered by Coinbase's enterprise wallet SDK. SynQ WALLET allows users to send and receive crypto to their user account, without an address.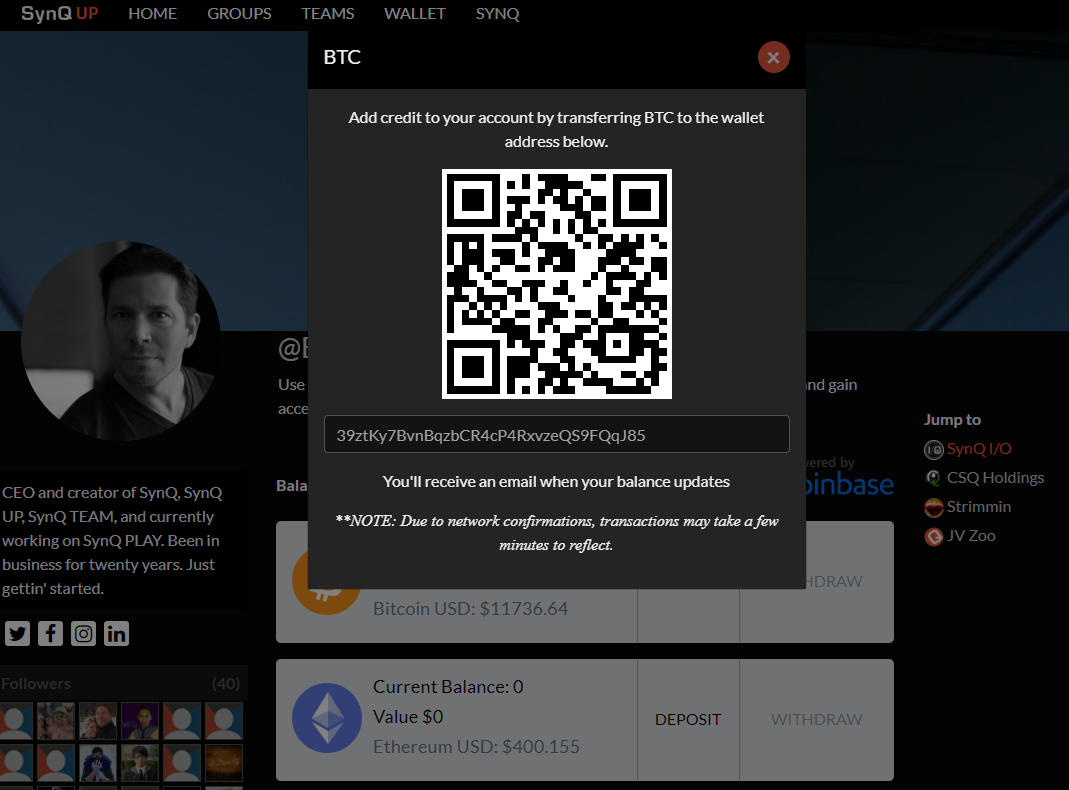 You can load up your SynQ WALLET and withdraw funds any time to any wallet. You can send Bitcoin, Ethereum or Litecoin to any user, any time through these features:
KlinQ – a means to give users a monetary tip for their posts. All posts are eligable to be tipped.
SynQ Partners (read more)
Premium SynQ Groups (read more)
TraQ
TraQ is an embedded Tradingview mini-app that allows you to set up a customized list of cryptos you want to watch, and present you with shareable, real-time charts.