Weekly Recap
April 12th, 2021 - April 18th, 2021
Welcome to our 3rd weekly recap for April.
Overview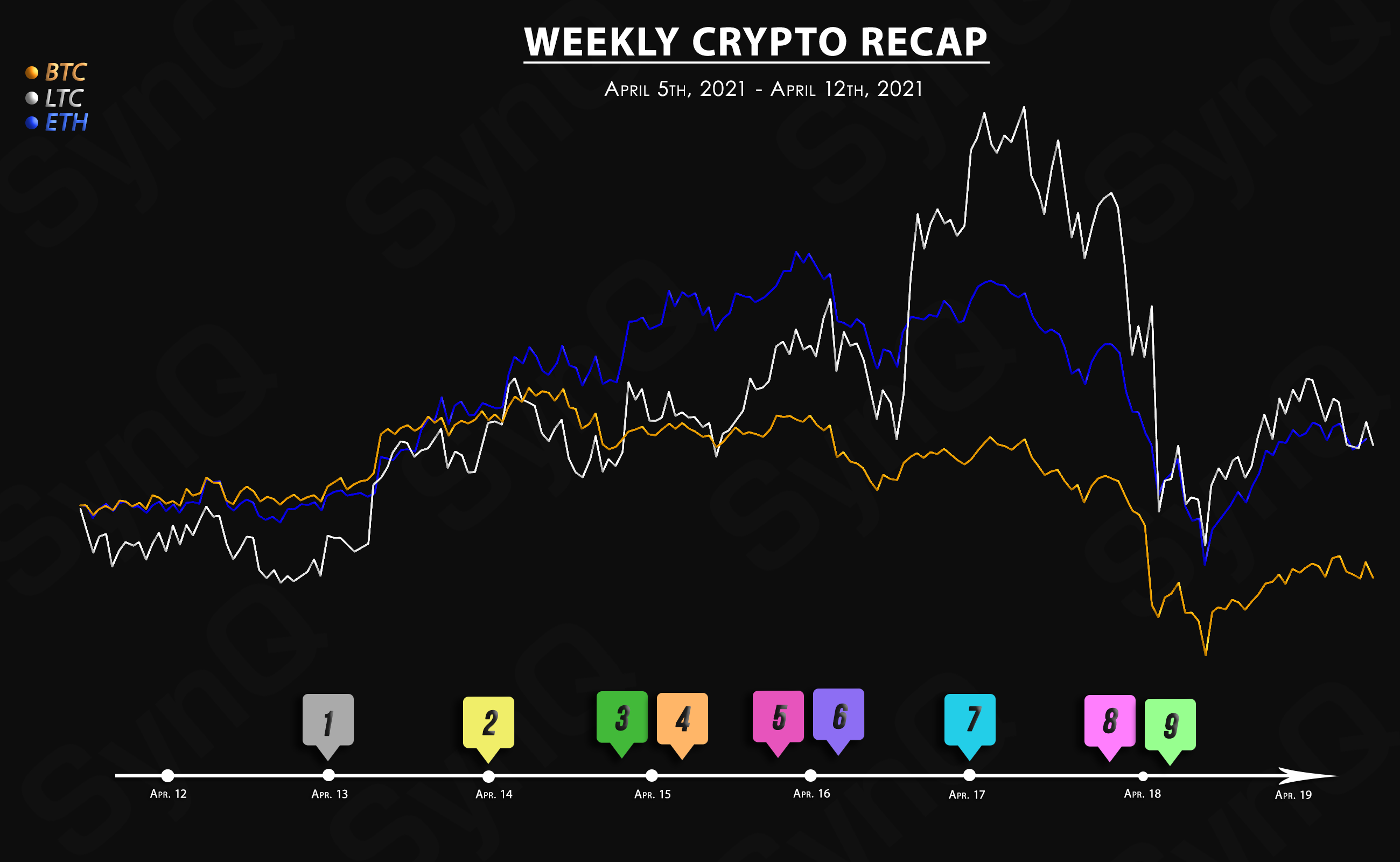 Crypto News
United States aerospace and defense contractor Lockheed Martin has signed an agreement with SyncFab, a Silicon Valley distributed manufacturing platform, to streamline supplier capabilities across Switzerland, offering yet another tangible use case for blockchain technology.
Coinbase has finally made its debut on the Nasdaq exchange, kicking off its new journey as a publicly traded company that many bulls believe could be the next Amazon.
After awing the world with a video macaque playing a video game with its brain earlier this month, billionaire Elon Musk is once again tweeting about Dogecoin after almost a month-long break.
At around 3 p.m. today, Ethereum (ETH) developers and analysts across the globe started reporting unexpected issues with Ethereum (ETH) nodes managed by the OpenEthereum (OE) client, formerly known as Parity.
Toronto-based asset management company Purpose Investments has obtained approval from Canadian securities regulators to launch the world's first Ethereum exchange-traded product, according to its Apr. 16 press release.
Binance exchange has given its native token holders another reason to celebrate holding BNB. In its latest quarterly BNB burn, the exchange has set a record with a total of 1,099,888 BNB wiped out from the total supply.
On Saturday (April 17), Litecoin ($LTC) broke through the $335 level for the first time since December 2017. Although HODLers are delighted with the 143% gain (vs USD) so far in 2021, one crypto analyst believes the LTC price is headed much higher.
According to Chinese blogger Colin Wu, he said that cryptocurrencies like Bitcoin were supposed to be used as alternative investment tools instead of currencies. Until the PBOC figures out what regulatory framework will be appropriate for such assets, the current policies will remain in place.
Chainlink has released a new whitepaper called Chainlink 2.0: Next Steps in the Evolution of Decentralized Oracle Networks. The new whitepaper outlines an ambitious vision for the future of smart contracts. We talk with Chainlink co-founder Sergey Nazarov who explains the implications for the next generation of blockchain ecosystems.