Weekly Recap
April 5th, 2021 - April 12th, 2021
Welcome to our 2nd weekly recap for April.
Overview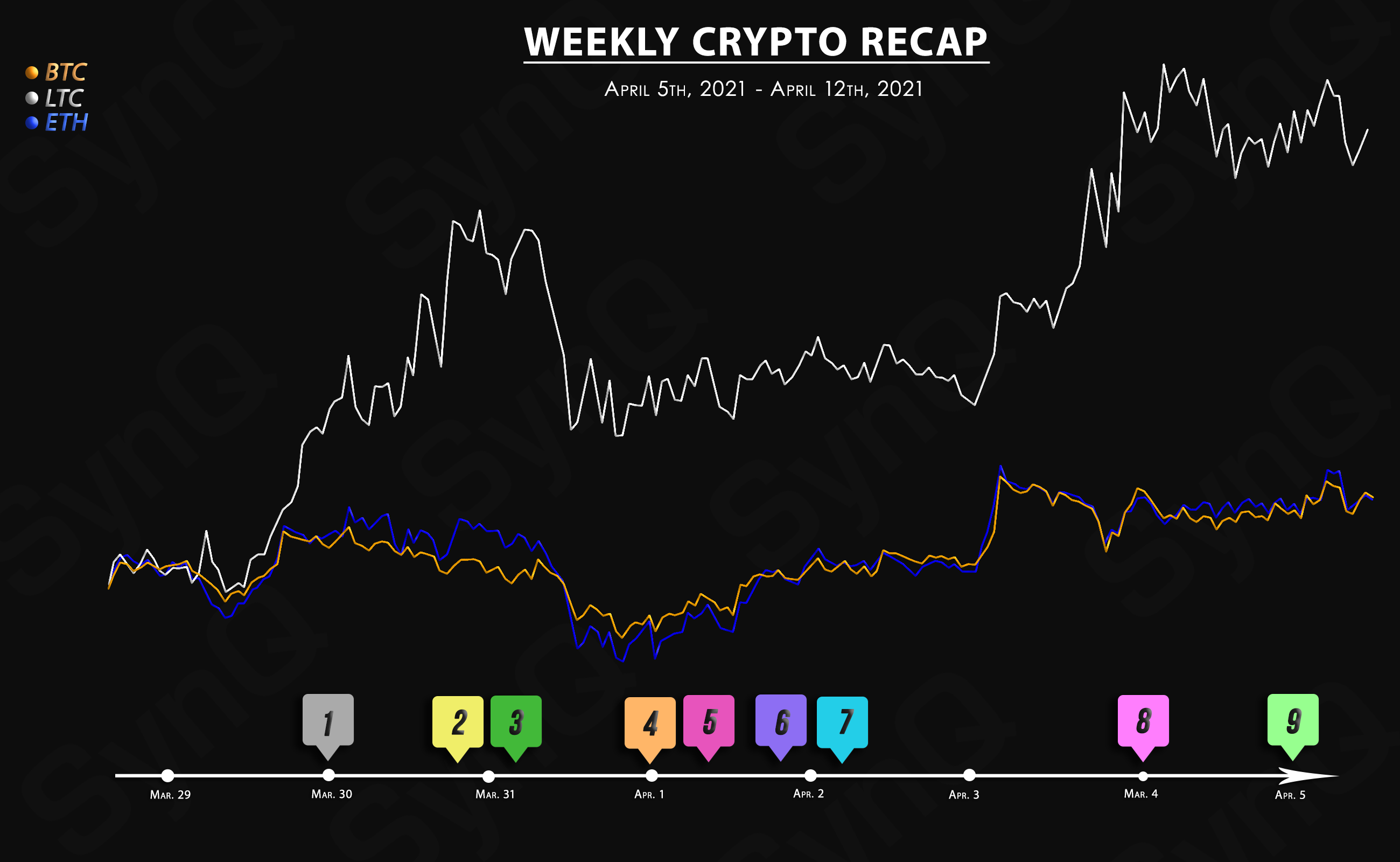 Crypto News
After releasing physically-backed exchange-traded products tracking the performance of Bitcoin (BTC) and Ethereum (ETH) earlier this year, CoinShares has expanded its portfolio with the addition of a Litecoin ETP.
Ripple Labs has been granted access to the United States Securities and Exchange Commission's documents "expressing the agency's interpretation or views" on the subject of crypto assets.
According to an April 7 report by financial news outlet TheStreet, New York-based Millennium Management has traded the shares of Grayscale's Bitcoin Trust.
According to analytics website Bybt, over the past 30 days, the largest buyer of Bitcoin and other crypto assets, Grayscale, has acquired millions of altcoins that it has recently added as the basis for new trusts.
Another major US-based cryptocurrency exchange is reportedly considering going public. Kraken revealed record-breaking Q1 numbers and is also planning an IPO – following in the footsteps of Coinbase.
Regulators in the U.S. have yet to offer clarity around the legality of Bitcoin and Ethereum. Although the former has been unofficially deemed a commodity, the latter could fall in line with Ripple's security status.
Buying MicroStrategy stock is reportedly no longer possible for HSBC customers on the bank's online trading platform — HSBC InvestDirect, or HIDC.
Ripple Labs Inc. has come out victorious against The U.S. Securities and Exchange Commission (SEC) related to the revealing of employees personal finance records.
Crypto exchange Binance has ventured into the space of tokenized stock trading, following the likes of FTX and Bittrex Global.