Weekly Recap
April 19th, 2021 - April 26th, 2021
Welcome to our 4th weekly recap for April.
Overview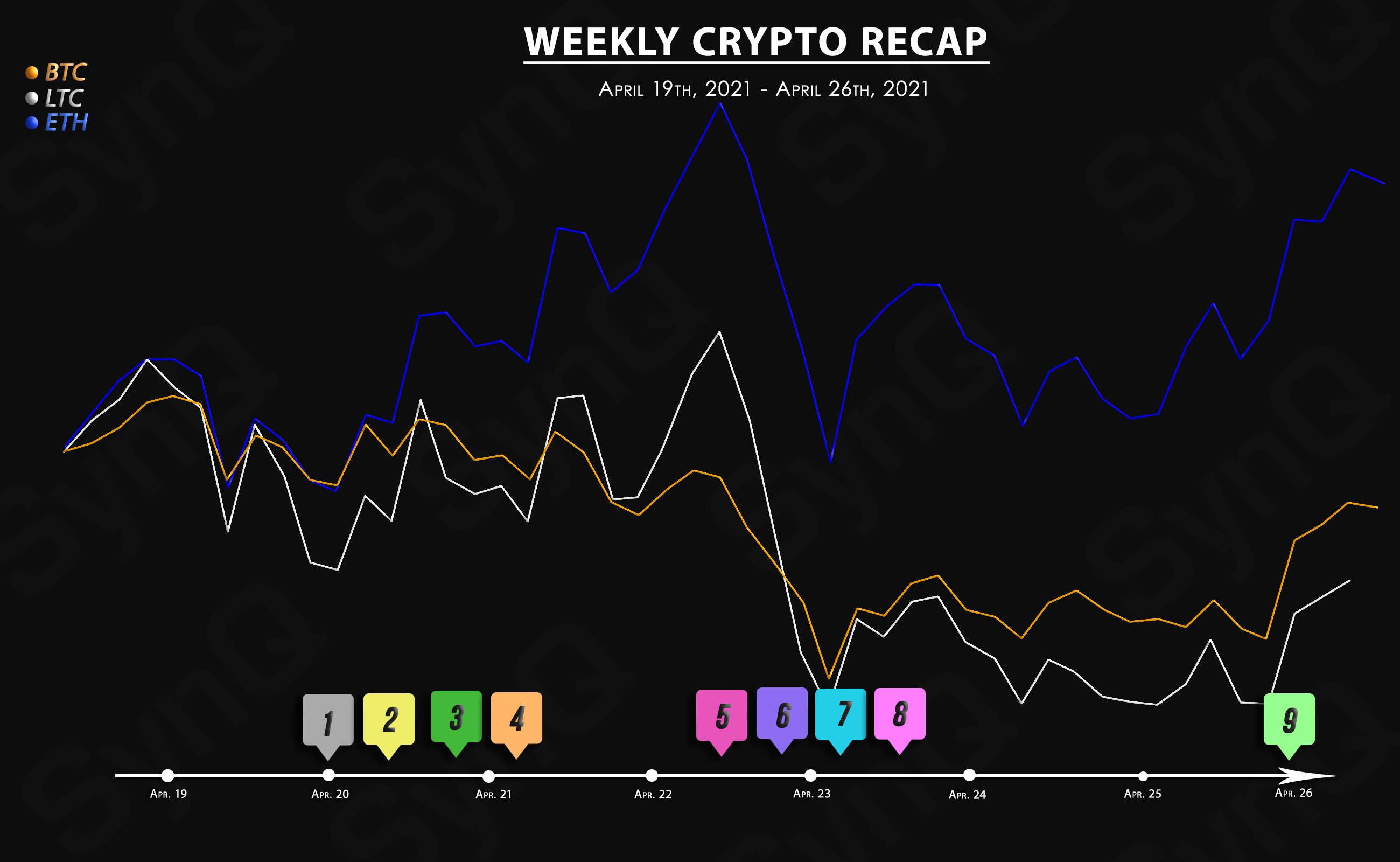 Crypto News
PayPal's social payment arm Venmo has officially launched the service to let its users buy, hold and sell crypto assets within its mobile app.
WeWork, the global office-sharing startup backed by SoftBank will begin accepting payments in cryptocurrency. The company, which has locations in 118 cities, will also use it to pay some landlords and vendors, according to a company press release Tuesday.
One of the lawyers who represents Ripple fintech giant and two of its highest-profile executives in court, James K. Filan, has shared on Twitter that a new discovery conference is going to take place.
The US House of Representatives has passed legislation that, if approved by the Senate and signed by President Biden, would make clearer the rules surrounding cryptocurrencies classified as securities or commodities.
Chainlink has attained 500 integrations, 500,000 non-zero balance wallets, and a new white paper. As a result, if the project development continues this rapidly, it achieves a network effect. Moreover, this could lead to an exponential increase in its utility.
In its recently filed motion to strike, the U.S. Securities and Exchange Commission says that Ripple, including CEO Brad Garlinghouse and co-founder Chris Larsen, actually had notice that its offers of XRP could violate federal securities laws.
DeFi trading platform Synthetix has added support for new synthetic assets that follow the price of popular U.S.-based tech stocks.
Switzerland-based 21Shares AG (formerly known as "Amun AG"), which is considered one of the pioneers in issuing crypto exchange-traded products (ETPs), has announced that it will soon be launching the world's first $ADA and $XLM ETPs on the Swiss stock exchange (aka SIX Swiss Exchange).
A few weeks after launching its latest product – tradable stock tokens – Binance has decided to expand the portfolio with the shares of MicroStrategy, Apple, and Microsoft. The three new additions will be live by the end of April.