Weekly Recap
March 1st, 2021 - March 9th, 2021
Welcome to our 1st weekly recap for January.
Overview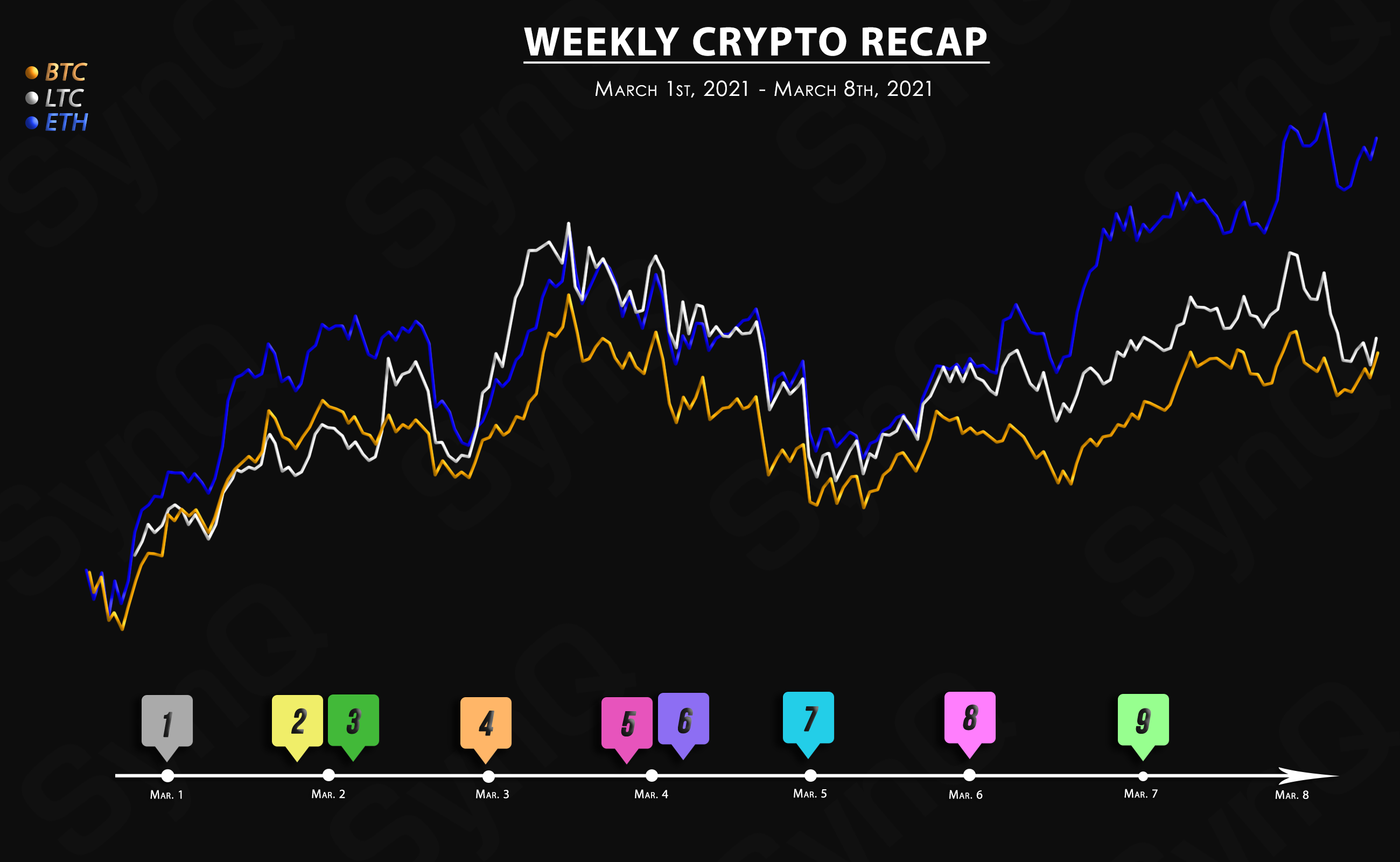 Crypto News
Just days after the conclusion of its long-running feud with the Office of the Attorney General of New York, Tether says it is now a victim of an extortion attempt. According to the stablecoin issuer, the blackmailers are threatening to release documents they claim "will harm the bitcoin ecosystem" if their demand for the payment of 500 bitcoins is not met.
Crypto bank Unicas, a joint venture between Cashaa and United Multi State Credit Cooperative Society, has expanded its operations by opening another physical branch. The bank believes that the Indian government will introduce positive crypto regulation and not impose an outright ban on cryptocurrencies such as bitcoin.
Global investment bank Goldman Sachs has brought back its bitcoin trading desk and will start handling bitcoin futures next week. The firm is also reportedly exploring the potential for a bitcoin exchange-traded fund (ETF) and plans to provide a crypto custody service.
Gary Gensler, President Joe Biden's pick to lead the U.S. Securities and Exchange Commission (SEC), has revealed his policies on bitcoin and other cryptocurrencies if confirmed as the SEC chairman. Gensler is a professor at MIT who teaches cryptocurrencies. He previously served as the chairman of the Commodity Futures Trading Commission (CFTC).
The Thai financial watchdog has reportedly retreated from its initial controversial crypto rule proposal. Citing the country's Securities and Exchange Commission (SEC), a local media outlet stated that public criticism was significant regarding the matter.
On Friday, the incorporated and publicly listed business intelligence (BI) firm, Microstrategy announced the company has acquired an additional $10 million in bitcoin. The company's CEO Michael Saylor revealed the latest purchase on Twitter with a link to a Form 8-K Securities and Exchange Commission (SEC) filing registered on March 5, 2021.
Tech entrepreneur and former anti-virus tycoon John McAfee has been indicted by the U.S. Department of Justice (DoJ) on money laundering and fraud charges. The United States Attorney for the Southern District of New York and the FBI unsealed the indictment charging McAfee and his associate Jimmy Watson with securities fraud.
Global investment bank Goldman Sachs is seeing huge institutional demand for bitcoin with no signs of abating. A survey of Goldman's institutional clients shows that 61% expect to increase their cryptocurrency holdings. Meanwhile, 76% say the price of bitcoin could reach $100,000 this year.