June Weekly Recap 5
June 23th - June 30nd, 2020
Welcome to our 5th weekly recap for June.
Overview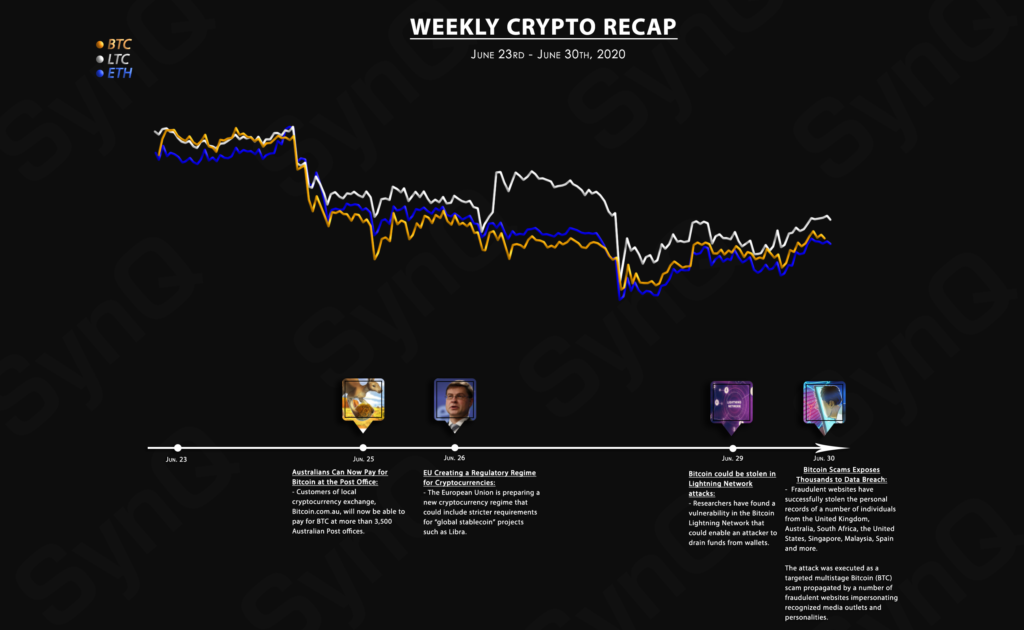 Crypto News
Australians can now pay for Bitcoin (BTC) at national post offices, thanks to a new collaboration with local cryptocurrency exchange, Bitcoin.com.au. Customers will now be able to pay for BTC at more than 3,500 Australian Post offices.

The European Union's Executive Vice President of the European Commission for An Economy that Works for People – said Europe had to seize the opportunity to become one of the main rule-makers for digital finance.

The new regulatory regime for cryptocurrency will not only cover unregulated digital assets, but it will also consolidate and homogenize existing standards across the continent, Dombrovskis said.

In a research paper, titled "Flood & Loot: A Systemic Attack On The Lightning Network," researchers Jona Harris and Aviv Zohar, both of Israel's Hebrew University, found that attackers can exploit a bottleneck in the system to drain wallets of funds.

Fraudulent websites successfully have stolen the personal records of a number of individuals from the United Kingdom, Australia, South Africa, the United States, Singapore, Malaysia, Spain and more. The attack was executed as a targeted multistage Bitcoin (BTC) scam propagated by a number of fraudulent websites impersonating recognized media outlets and personalities.According to the Singapore-based intelligence company Group-IB, the attack exposed personal data for thousands of people.