Weekly Recap
May 17th, 2021 - May 24th, 2021
Welcome to our 4th weekly recap for May.
Overview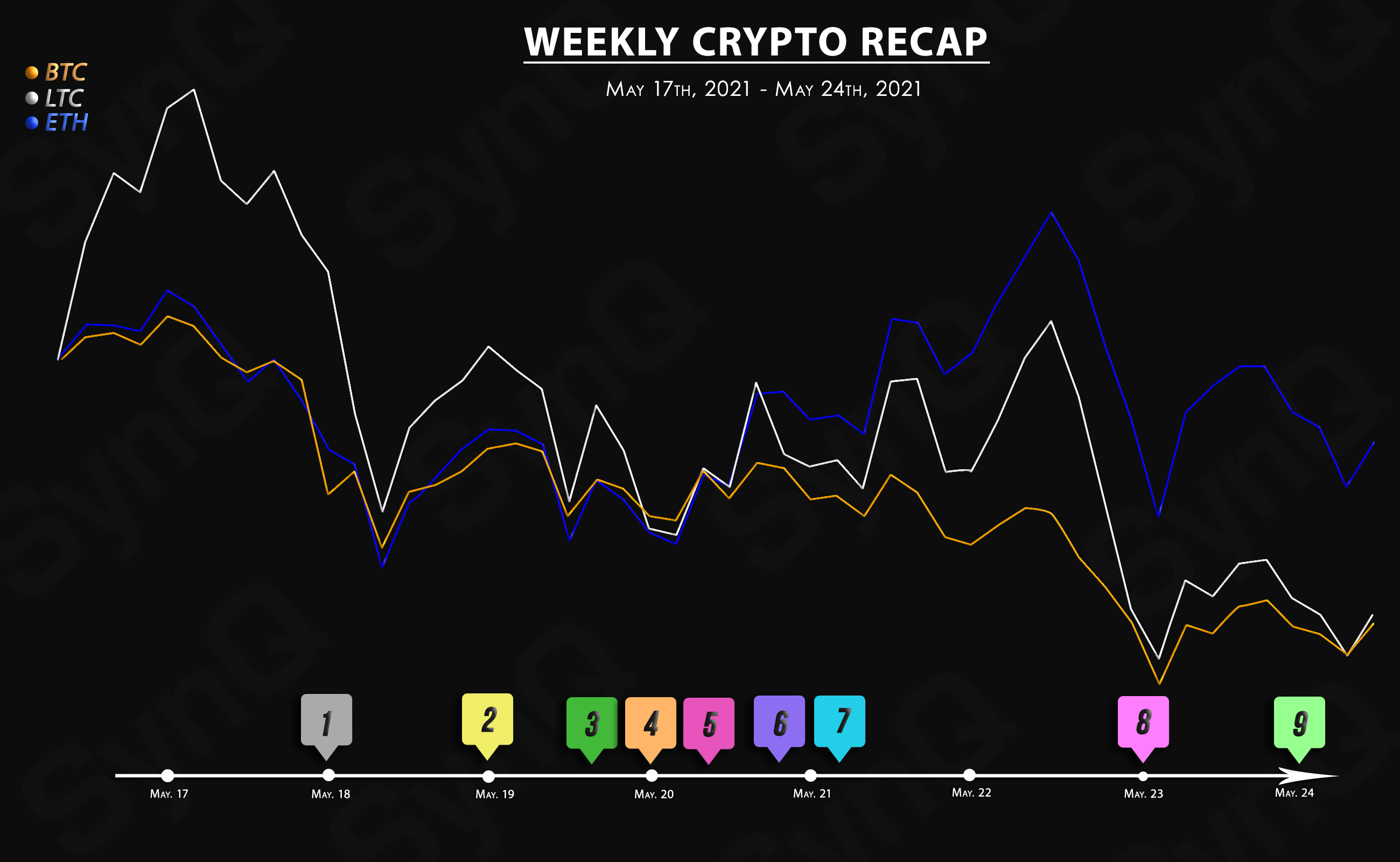 Crypto News
On Tuesday, the publicly-listed business intelligence company, Microstrategy, announced the purchase of 229 bitcoins adding to the firm's current stash of crypto. The company's CEO Michael Saylor told his Twitter followers that Microstrategy now holds 92,079 bitcoins.
Wells Fargo will soon offer "a professionally managed solution" for cryptocurrency to clients. "We think the cryptocurrency space has just kind of hit an evolution and maturation of its development that allows it now to be a viable investable asset," said the president of Wells Fargo Investment Institute.
The Indian government is reportedly looking to form a new "panel of experts" to focus on ways to regulate the cryptocurrency industry in the country. "There is a view within the government that the recommendations made by Subhash Garg are dated and a fresh look is needed at use of cryptos rather than a total ban," local media reported.
A major chipmaker keeps making efforts to calm down the gaming community's anger toward cryptocurrency miners who are taking the lead in buying graphic cards massively, boosting its prices. Nvidia has announced that it will deliberately limit the capabilities for some of its newly graphic cards to keep a balanced inventory for gamers.
The Central Bank of Russia (CBR) is preparing to release a digital prototype of the national fiat towards the end of 2021, a high-ranking official has confirmed. Transfers between private individuals will be free of charge with the digital ruble, which is going to have legal tender status on par with Russia's traditional currency.
As Polkadot's vision of a decentralized web advances, the integrations of KILT Protocol and the fintech platform Current are adding new utility layers across the blockchain's ecosystem, helping tear down the existing barriers between Web 2.0 and 3.0.
The cryptocurrency industry in the Netherlands has won a small but significant battle. The country's central bank has canceled some excessive verification procedures that it imposed on crypto service providers last fall. The move comes after a local exchange took the matter to court.
While bitcoin prices have slid in value and the high network difficulty, the leading crypto asset is still quite profitable to mine according to current data. Despite the profitability, these days there are only a few manufacturers producing application-specific integrated circuit (ASIC) machines.
Members of the State Duma are now working on amendments that will permit the use of cryptocurrency as a contractual means of payment. Digital financial assets are regarded as property under Russian law and the changes will legalize crypto payments between parties to a contract.