Radix is a layer-1 protocol dedicated towards supporting the DeFi ecosystem by building interoperable DeFi dApps and improving scalability, security, and decentralization. It had a successful token sale, and raised over $12.5mil USD.
The consensus layer of Radix features a cutting-edge, academically reviewed consensus algorithm: Cerberus, which will support the platform with multiple features. Along with a public network with linear scalability that could scale to thousands of nodes and billions of users, Cerberus also enables cross-shard atomic composability to allow DeFi applications on different shards to cooperate without stalling other applications or transactions. The algorithm is designed to deliver true transactional finality in real-time without any rollbacks.

Radix Engine v2, at the application layer of the platform, will utilize DeFi programming tools to assist developers in compiling complex financial applications with higher security using the on-ledger DeFi component library, enabling quicker market-ready builds and lower on-ledger runtime costs. Contributors to the library will be provided with an on-ledger revenue by the Radix Dev Royalties as an incentivization.

There are two goals of the ecosystem layer. The first is to improve user accessibility, beginning with partnerships with Copper and the Ren Alliance. Second, it's to improve DeFi liquidity using the Radix ledger, which promises to be low-cost with high-throughput to allow assets to move more efficiently between DeFi applications. Radical skunkworks projects such as StakeHounds also support Radix in unlocking billions in liquidity across crypto ecosystems.

Radix ERC20 tokens are known as E-Radix (eXRD), and lauched prior to the Radix mainnet. The token sale opened on Oct 8th, 2020 with a supply of 642m purchasable E-Radix, and was intended to promote the distribution of stake and decentralization of the tokens. E-Radix supply is balanced between current market supply and demand of the tokens; market price will determine how many E-Radix tokens will be unlocked. This design is intended to promote a supply and demand equilibrium. The starting circulating supply of E-RADIX tokens was 42m, with a maximum circulating supply of 4.41Bn.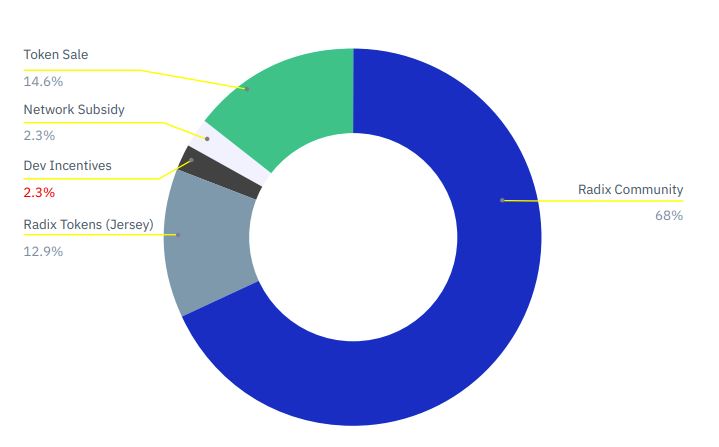 E-Radix Distributions
E-Radix can be converted 1:1 to Radix tokens when the mainnet is live in Q2 2021. Once launched, 5.19Bn Radix tokens will be created and released following the same unlocking schedule as the E-tokens. The starting circulating supply of Radix tokens will be 51.9m tokens, in addition to any E-Radix tokens exchanged for Radix.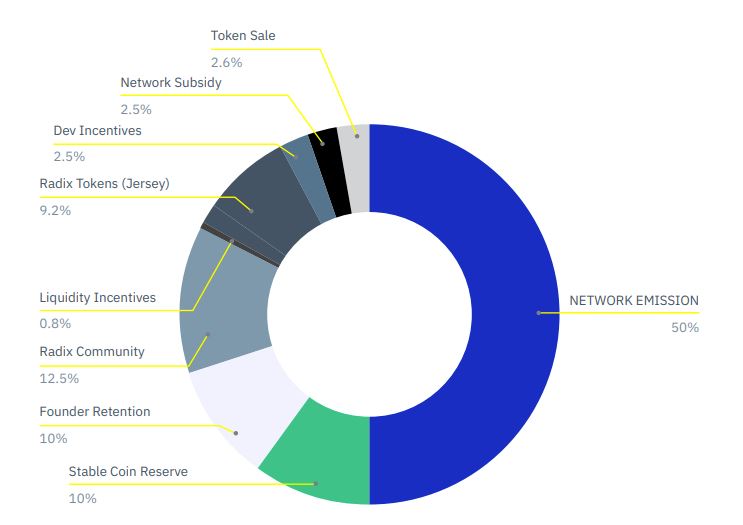 Radix Distributions
The Network Emissions for Staking Rewards are capped at 12B Radix tokens and are to be released over a minimum of 40 year period. 200m E-Radix is allocated towards Liquidity Incentives, to be distributed over a 6-month period to community members who provides liquidity to the E-Radix token. An additional 2.4Bn Radix tokens will be created and locked into a Stable Coin Reserve of the Radix Mainnet, to future-proof towards the long-term integration of stable coins as part of the network.
*Founder/Team will get no E-RADIX tokens and will only have their allocation of price-locked RADIX tokens with the initiation of mainnet.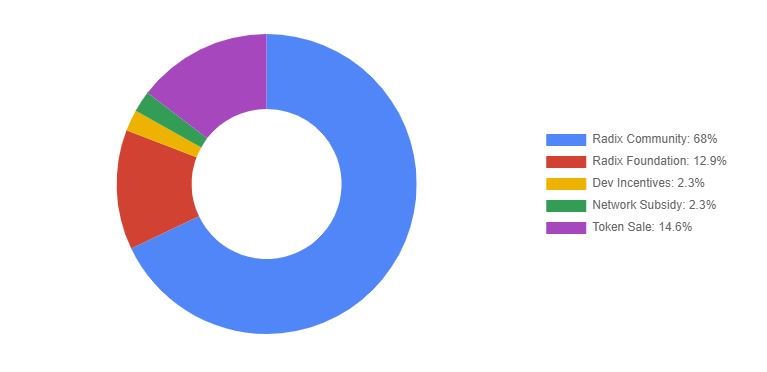 Community distribution and allocations of Radix tokens.
Fundamentals
eXRD is currently trading at $0.090 with a circulating supply of 380 Million coins and a max supply of 4.41 billion coins. The current market cap is $$34,448,379 USD.