Introduction
Synthetix, was formerly known as Havven, and was rebranded during November 2018 to better represent its growth. The project which has initially started as a payment network had grown to become an asset issuance Defi protocol with an active community governance system and is recognized as the leading derivative Defi with ~$563m TVL.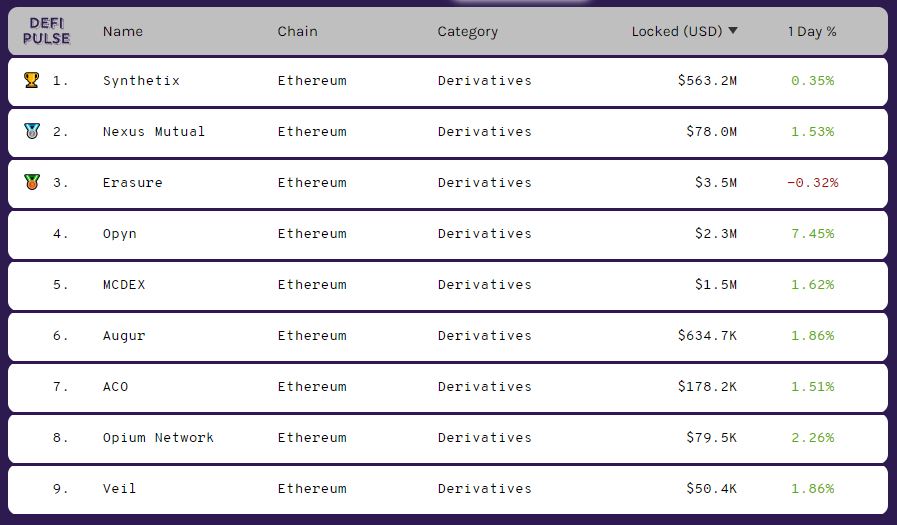 Source: https://defipulse.com/
Within the platform, assets locked in a contract are collateralized using the Synthetix Network Token, SNX, to generate various synthetic assets such as sUSD, sAUD, sKRW, called Synths. Users will be able to convert between Synths directly with the smart contract, improving the liquidity of DEXes. Holders of SNX stakes are paid a pro-rata portion of the fees generated by Synthetix's Exchange as an incentive for their contribution.
Additionally, token holders can participate in governing multiple variables of the ecosystem as a whole; at one point even uniting and voted on an improvement proposal even without the support of the Synthetix team after a community debate in the Synthetix Discord.
Source: Change proposed and implemented by the community for the Capella release.
Synths are currently backed by a 750% collateralization ratio, but this is subject to change depending on the platform's community governance mechanisms in the future. To ensure Synths are backed by sufficient collateral to deal with large price shocks, stakers will be governed using a collateralization ratio, or C-Ratio. A staker's C-Ratio is relative to the fluctuation of SNX and Synths, and a staker will be unable to claim fees with a ratio less than 750%. Ratio can be restored by minting or burning synths.
As of Oct 13, 2020, Synthetix entered a partnership with PowerPool, allowing the SNX token to become one of the first Power Index participants. Synthetix will contribute to the index composition, and integrate SNX's governance system into PowerPool's meta-governance. Currently, the governance is based on polling within the SNX Discord channel to signal community consensus, but the team is currently building a governance system based on SNX. This partnership will also open up new utilities and opportunities for SNX holders to multiply voting power across Defi protocols. Each holder can supply SNX into the Power Index to own SNX and earn CVP (the Power Index's meta-governance token which can be used to vote in different Defi protocols using GTs pooled into the Power Index.) at the same time.
Fundamentals
SNX is currently trading at $3.43, with a market cap of $358,394,515. The current circulating supply is 104,525,838 out of a total supply of 206,308,351 SNX.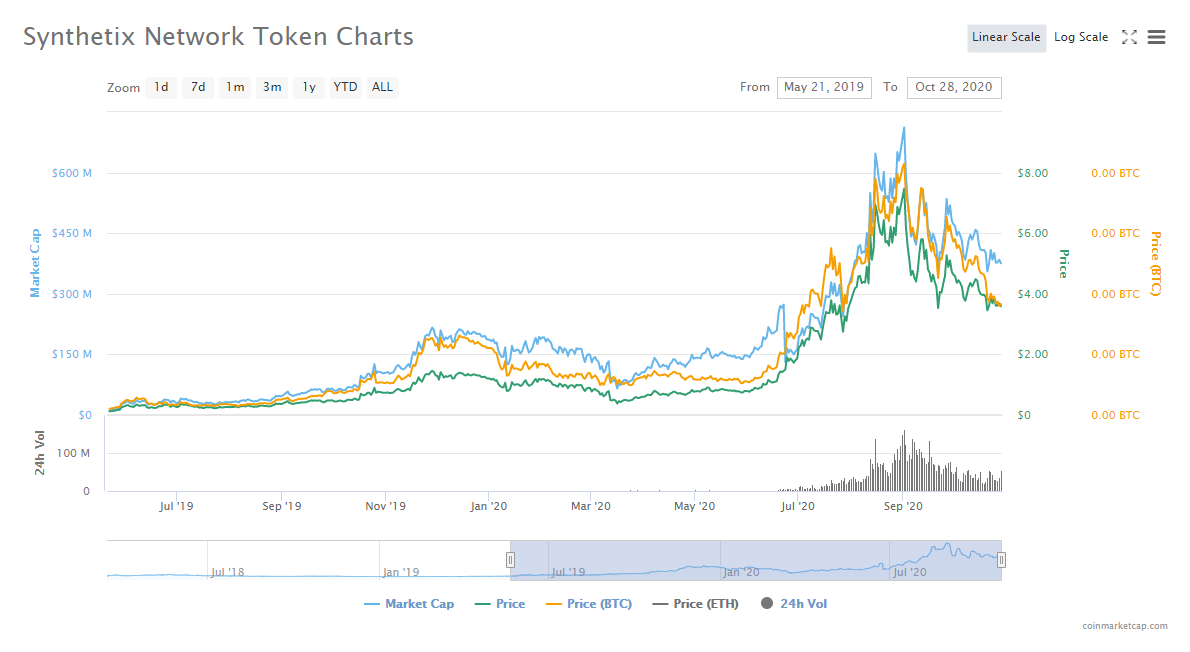 Source: https://coinmarketcap.com/currencies/synthetix-network-token/