Introduction
MakerDAO is a credit platform supported by Dai, a stable coin cryptocurrency whose value is pegged to USD. As a credit market, Maker allows users to collateralize cryptocurrencies and apply for Dai loans.
Holders of the MKR token can participate in Maker's governance system by votes.
The platform itself was a major component for the growth of the DeFi industry in 2019, providing systemically important protocols that supported a majority of the DeFi ecosystem. As a result, MakerDAO has become the sector's largest protocol, recently surpassing $1 billion in collateral value. However, it is noted that this increase in value is driven by ETH's rising value, not by additional supply being deposited into the protocol.
A majority of activities on the platform consists of users taking leveraged long positions on ETH. This is accomplished by borrowing Dai against ETH and using that Dai to acquire more ETH. Users can borrow Dai up to 66% of their collateral value, with a 150% collateralization ratio. Vaults of users that fall below this rate are subjected to a 13% penalty and liquidation. Liquidated collateral is offloaded on an open market at a 3% discount.
Fundamentals
Maker's token, MKR, is currently valued at $512.97, with a market cap of $515,833,035 USD, totally 1,005,577 MKR in the current circulating supply.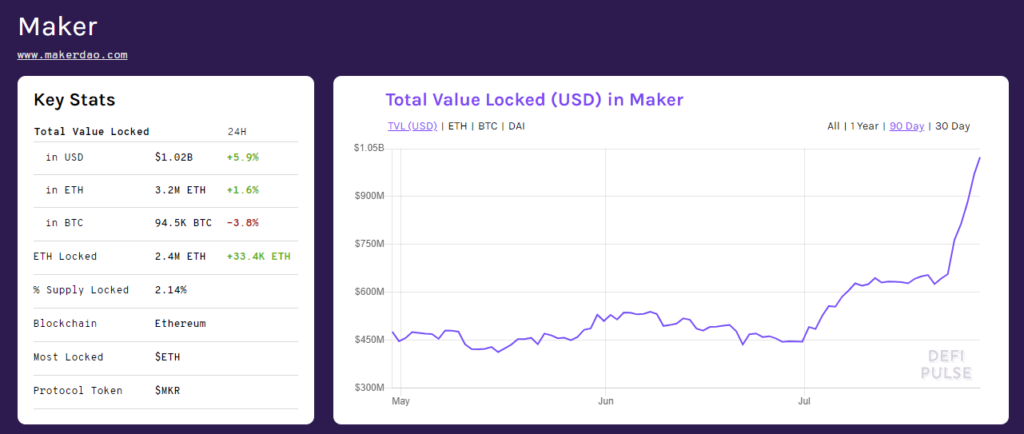 Source: https://defipulse.com/maker