Cryptocurrency enthusiasts are 20 months beyond the greatest bull-run in crypto-history, with all time highs recorded and reported for nearly every single existing alt-coin and Bitcoin available at the time.
Fast forward to April, 2019; Brazil starts to buy Bitcoin en masse, on the heels of Venezuela opting for Litecoin just a few months earlier, as South American currencies experience waves of inflation on the global stage, driving no-coiners to the market at scale for a brief period of time. Cryptocurrency, seen as a safe haven against the politics of government-run fiat currency problems, is one of the best, if not the best, use cases for immutable digital-currency.
Bitcoin and Litecoin saw monumental bounce backs from the market downturn of 2018. Bitcoin is up nearly 400% in 2019, Litecoin hitting triple digits for the first time in what seemed like forever, and people all around the crypto-sphere start chanting "altseason, altseason… bull market", but where's the new money? Where's the consumer adoption?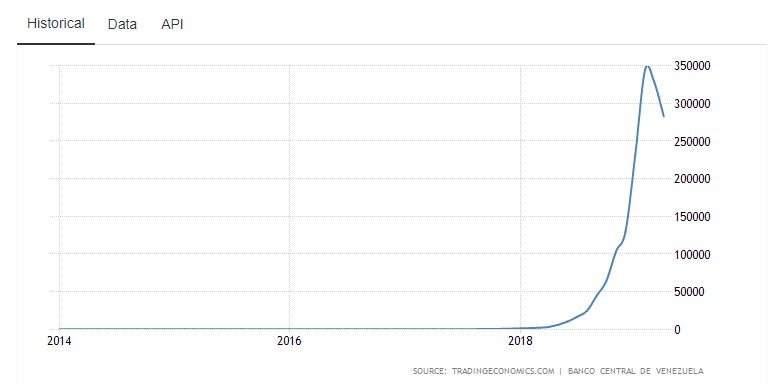 Outside of the BRL and Venezuela in the first 2 quarters of 2019, fiat currency pairs for Bitcoin volume, day in and day out, have been strikingly Tether/Stable coin-centric. More than 50% of all transactions in crypto have been from another "crypto". Looking at data aggregates, such as coinmarketcap.com, tells a pretty clear story – the top 10 trading pairs for Bitcoin? Tether ($USDT).
54% by our last measurement for the summer of 2019 thus far.
With alts consuming another 25-30% of the volume as they continue to bleed red more often than not as Bitcoin's dominance stays above 65%, market-wide.
That leaves a meager, best case average, of just 21% for fiat currencies to consume the 24 hour volume in the cryptocurrency markets. During a market adoption cycle, Tether would be, easily 10 points lower, and fiat would account for well over a third of the influx of cryptocurrency consumption, but here we are.
Factoring in the breakdown of which fiats are responsible for what in their little slice of the cryptocurrency volume: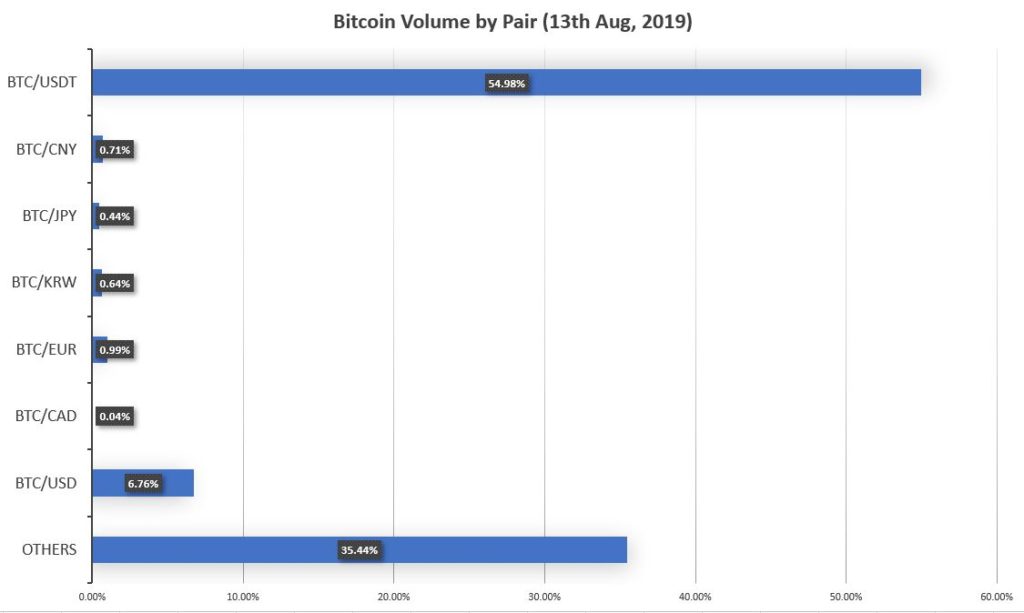 Of course, the US Dollar is reigning, hand over fist, above all others, with the South Korean Wan coming in second. It would be expected to see larger volumes of CNY and EU, AUD, and JPY in the mix, alas, these seem quieter than typically expected. It raises the question, where's the adoption?
With Bitcoin being over $10,000 – without a higher stake of fiat injection, it begs a few questions, actually:
Where's the actual adoption?
If new fiat isn't coming in to consume Bitcoin, how is the price over $10,000?
Why is Tether so heavily seen as the primary driver of Bitcoin volume?
Personally, I'm a fan of Occam's Razor, and the simplest solution is typically a path walked by a greedy few. Bitcoin needed to be over $10,000 USD for free press to hopefully entice new adoption, new no-coiners, making the flip into Crypto, injecting fiat currency at scale, therefore… it is. Thankfully a number of individuals who are "chums" in the space, like the owners of Tether, the owner/operators of exchanges, and payment gateways have things like smartphones where collaboration can occur with relative ease to fabricate market conditions at little-to-no cost to the makers of the market at scale, if things are done correctly, and by the looks of it… they are.
As for someone who tends to wield a consumer-trend-analysis hammer all day, the consumer class currently propping up the price of Bitcoin to help re-establish it's reputation and power in the financial sectors is typical big kid with a magnifying glass over an ant-hill rubbish.
Granted, I'm not calling for a bull or bear market, the algo/bots being run right now to prop the market up make it pretty easy to spot a trend and a movement long-term in the space. It's why the SynQ I/O team was able to project May 2019 with 88% accuracy for 192 consecutive 4 hour bars, day over day… and we did it again in June. Here's the projection we published August 5th, 2019 to our SynQ UP community: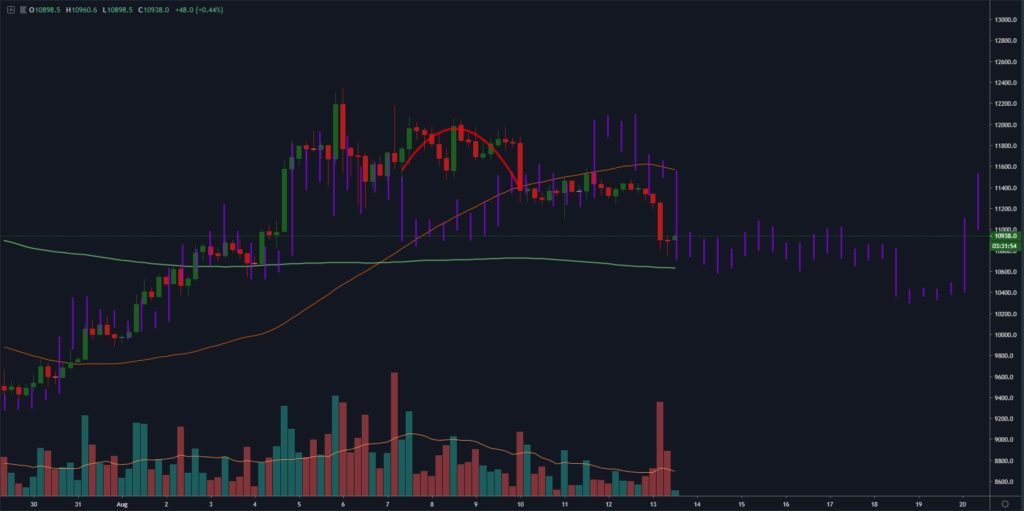 https://www.tradingview.com/x/nfa3UO43/