There has been a considerable amount of chatter in the cryptosphere in regards to the return of "Alt Season". Undeniably, there has been a noticeable increase of consumer interest and sentiment for cryptocurrencies. However, we are of the opinion that this Alt Season isn't going to happen the way everyone thinks it is.
There are two main reasons for our negative outlook on Alt Season:
Technological Development and Adoption

Macro Economic Influences
In this report, we will explain what Alt Season is, why people think Alt Season happens, and why it likely will not happen the way people expect in 2019 and beyond.
What is Alt Season?
It is generally agreed upon that "Alt Season" is defined as the period in which the majority of alt coins rise in BTC and USD value quickly, and outperform BTC in terms of price action. We have seen this phenomenon many times throughout the history of cryptocurrency trading, but very few understand the driving force behind it.
There has been one main Alt Season before happening in 2017. To put it simply, BTC's price was rising rather rapidly, but its market dominance began to falter in relation to other alts. Meaning, more volume was flowing into alt coins instead of Bitcoin. Bitcoin market dominance went from above 90% to around 30% in a matter of less than 12 months. This allowed alt coins to increase in BTC and USD value. This is not the main factor, but it was one of the largest contributing factors that most industry veterans look to, today. The picture below outlines the time period in which this happened.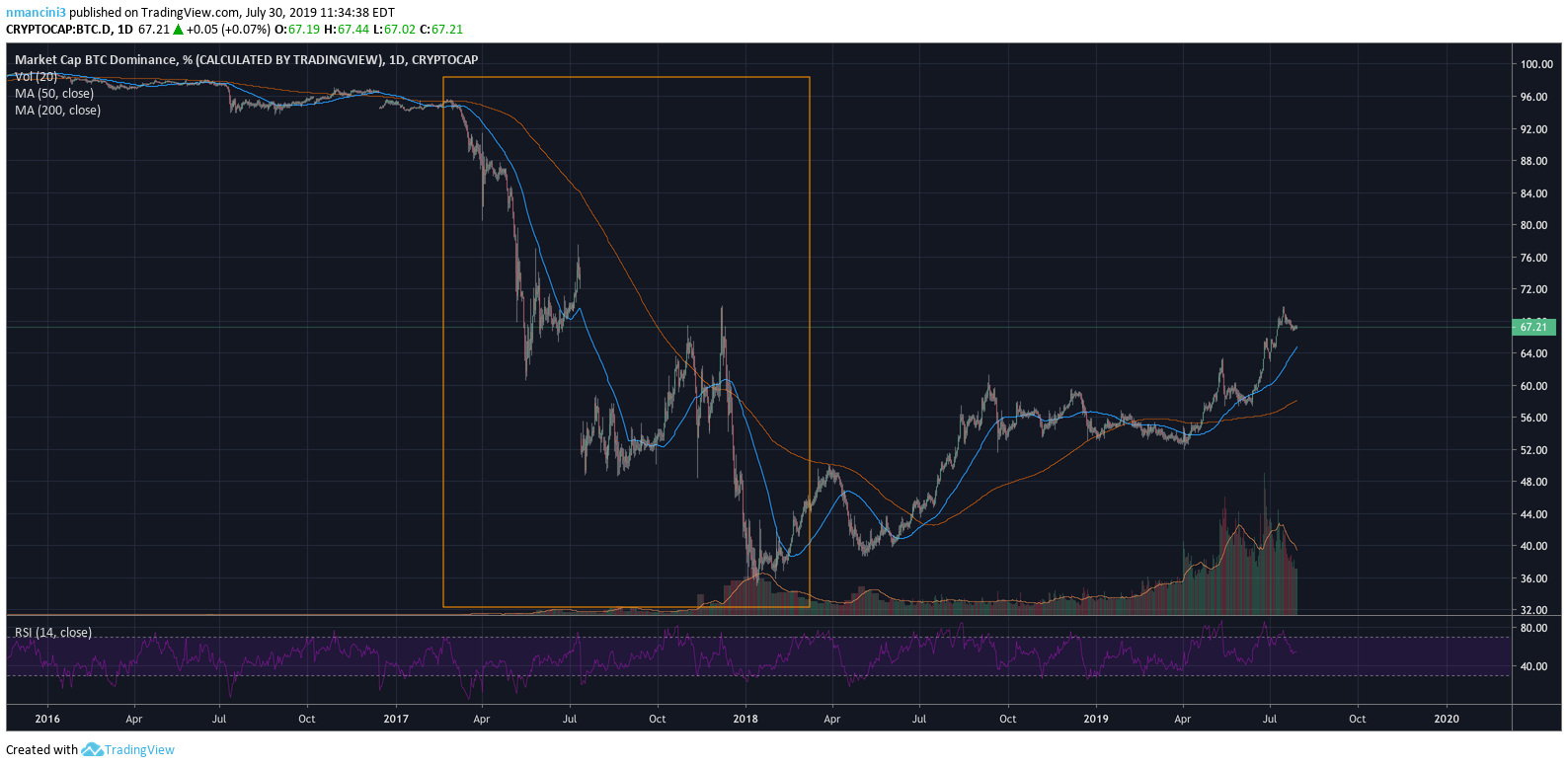 It is important to note that during this time there was an increased interest in alt coins because of the 2017 ICO boom, as well as the fact that margin trading had not been released yet. The large amount of money flowing freely in the market to buy alt coins, coupled with the inability to bet on the future of Bitcoin contributed to a heightened interest in alt coins to increase gains outside of BTC.
Once futures trading was introduced, attention switched back to Bitcoin and has been growing steadily since then. 
The picture below outlines when the ICO Boom happened, as well as when Futures Trading began.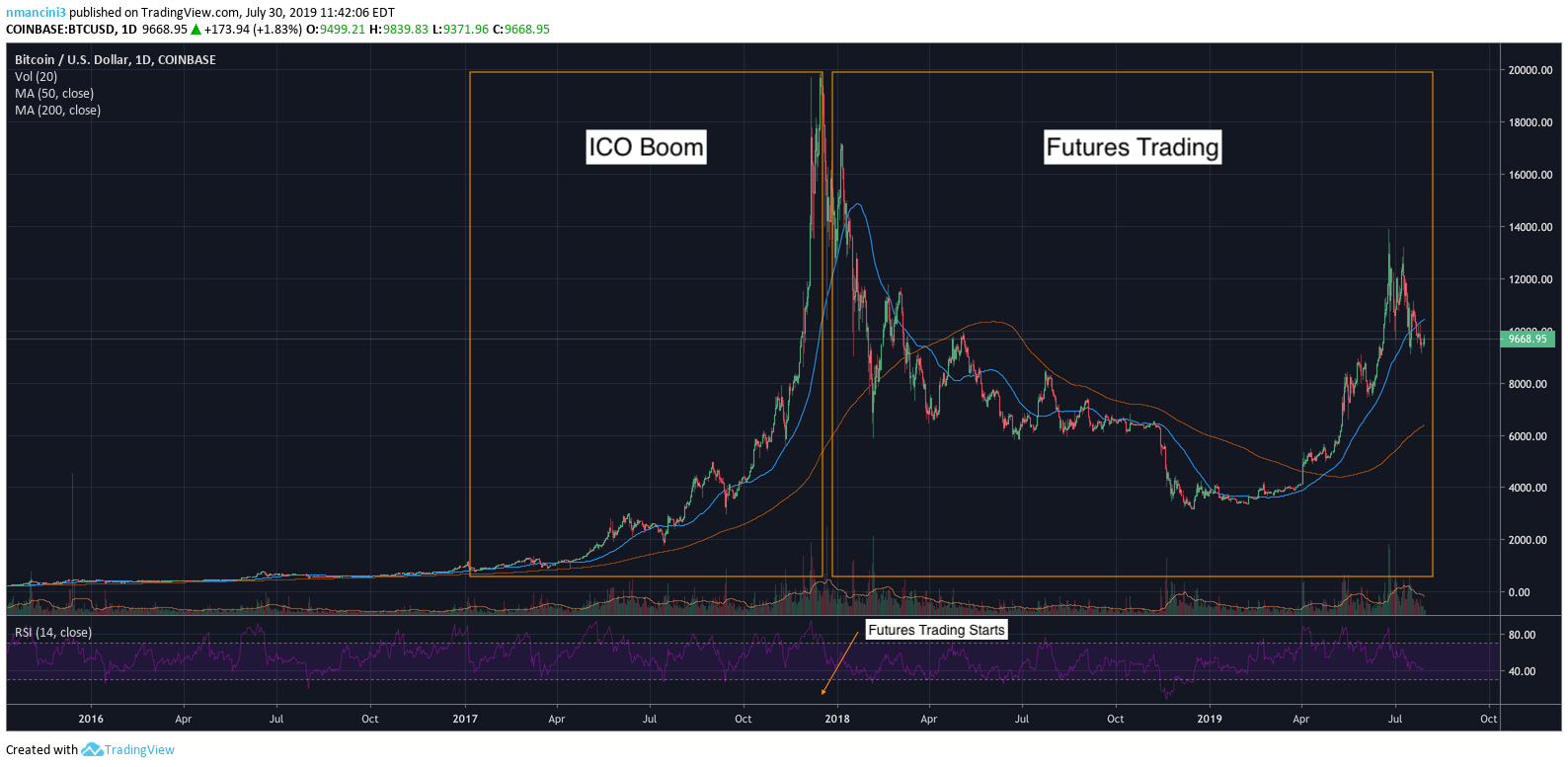 Why Do People Think Alt Season is going to happen
People generally think that Alt Season is imminent because of one main factor: shared bullish sentiment – it's the general consensus that we are in a bull market. But does that mean because we're in a bull market, everything should be going up, right? Not exactly.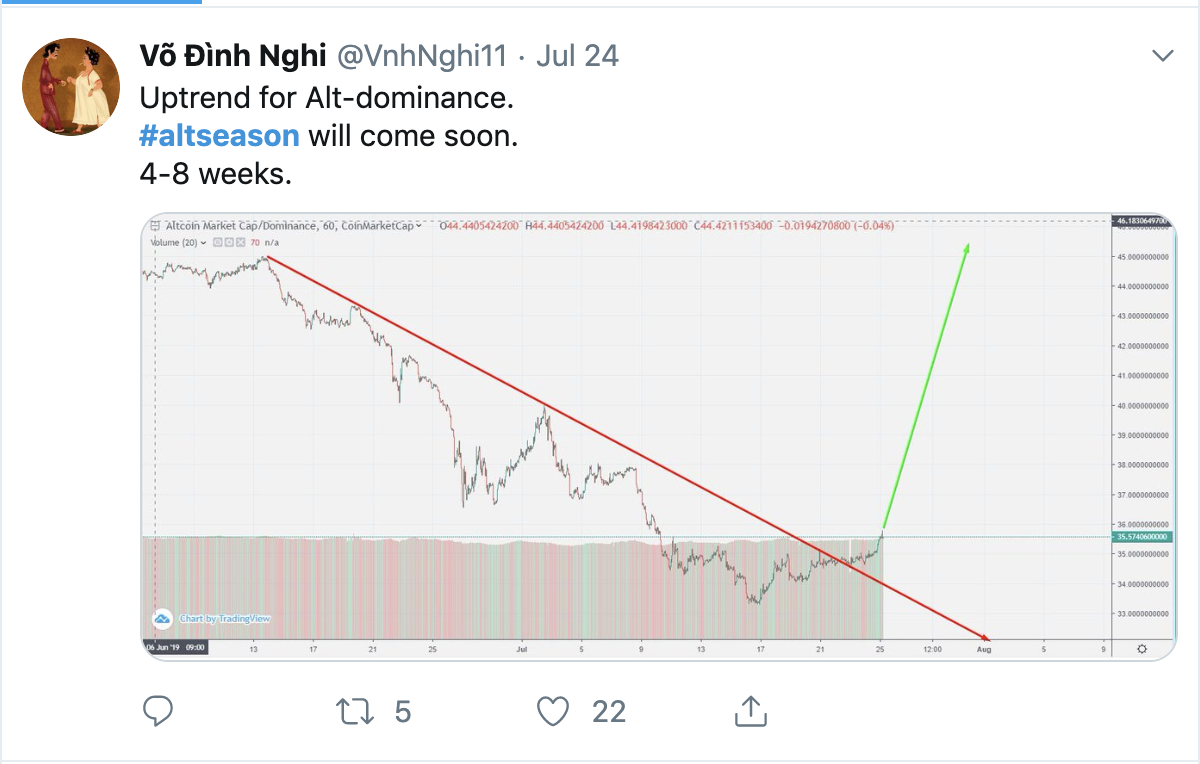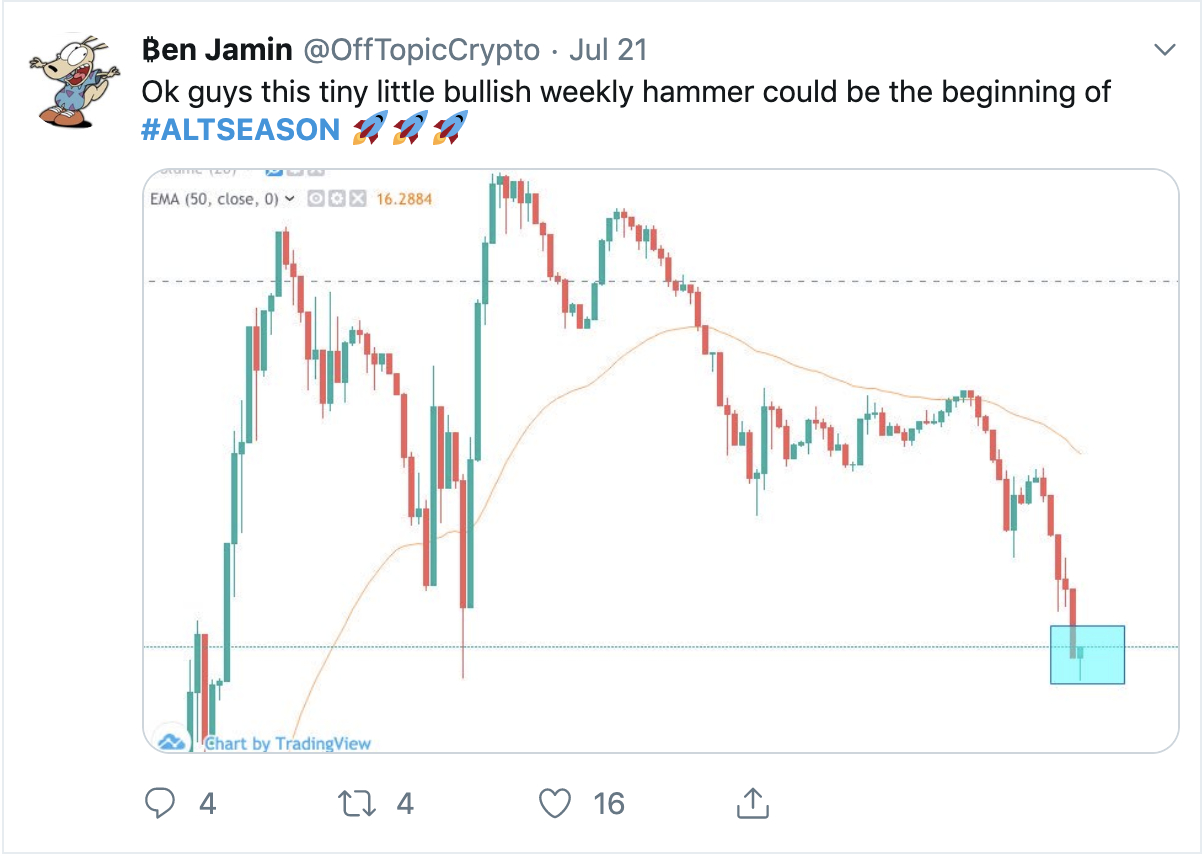 Remember that Alt Season is when alt coins generally perform well in BTC value and USD value. Another reason people think Alt Season is coming is because a few top alts are actually performing well in terms of USD value. ETH, LTC, and BNB can be included in this list. But, one main point that is missing is the fact that alts are not gaining much in BTC value during this run up. Most alt coin traders tend to track their gains in BTC. So, the USD increases are not really in the same category here.
Most people expect Bitcoin dominance to cool off and gives alts room to "moon", as the hip kids like to say. But, as we explain further, there are many reasons for Bitcoin dominance to stay at its current levels of 60%+ or go higher.
Why Alt Season Won't Happen
As we explained above, there are two major reasons why we think Alt Season won't happen:
Technological Development and Adoption

Macro Economic Influences
Technological Development and Adoption
All alt coins created pre-2018 and beyond are mostly all projects founded by teams with a vision to use blockchain technology and cryptocurrencies to solve needs and problems in the 21st century. But, the promise of delivery has not been reached by many of these projects and their teams.
Many coins have fallen short of their goals, burned funding too quickly, or witnessed the majority of their funds that they raised reduced to a fraction of the value of when it was raised due to the crypto collapse in early 2018. These issues have plagued most teams, many of which are run by unproven founders who held millions in their wallets waiting to be spent. The market was dominated by pure speculation when alts were booming, but now things are beginning to get a bit different.
The times are now changing, and people are focusing less on promise, and more on delivery. The coins that deliver will eventually see a rise in value, as those who invest will invest in the outcomes of the team's achievements. Things like product delivery, partnerships, clients, and putting their finished products in the hands of those it was built to serve are now major factors. These factors are what investors will now look for.
What this does is put alt coins in buckets of "Haves" and "Have-Nots". This theme is not new in the cryptosphere, but it is one that is becoming more important.
The Haves will be coins like the ones I described above. LTC, ETH, BNB, and EOS would be examples of Haves. These coins have seen product delivery, investment, adoption, and verified use cases.  The Have-Nots will be coins that have done the opposite. Alt coins like XLM, ETC, DGB, and BSV are examples of Have-Nots. These coins have not seen significant development, adoption, or wise spending of capital. Don't even get us started on Craig Wright.
2019 and 2020 will be an interesting period of time for the theme of "technological development and adoption". We will see the market begin to look beyond speculation and promise, and begin to look to actual delivery. Core themes include:
Token valuation: Are the tokenomics clear? Does the network truly need the token? How does the token scale for mass adoption?

Market Leaders: Does one or a few coins lead their market vertical?

Product Delivery: Is the team delivering on their road map? Are customers or clients using their product?

Community: Is the community active? Is it growing? Is it toxic or helpful?
We will wait for the data to come in, but you can already see who the Haves and Have-Nots are. Haves are already winning the battle in terms of fighting for the attention economy's focus, with Bitcoin being the clear current winner.
Macro Economic Influences
There are many major macro economic influences at play right now that are contributing to the current Bitcoin run up and subsequent calls for a bull market. Other than the fact that Libra put cryptocurrency on national news headlines, we have been seeing a global push from a plethora of regions outside of the US and Asia clambering to buy Bitcoin at scales never seen before.
One does not have to look far to see that a global trade war, threat of economic collapse in South America, poverty and corruption in Africa, and a dollar/oil war with Iran and the Middle East is on the rise. These factors push people into commodities, which BTC happens to be classified as, under a recent CFTC ruling (https://www.cftc.gov/Bitcoin/index.htm). This global attention and demand has been contributing to Bitcoin's increase in price, as more volume comes in from around the world.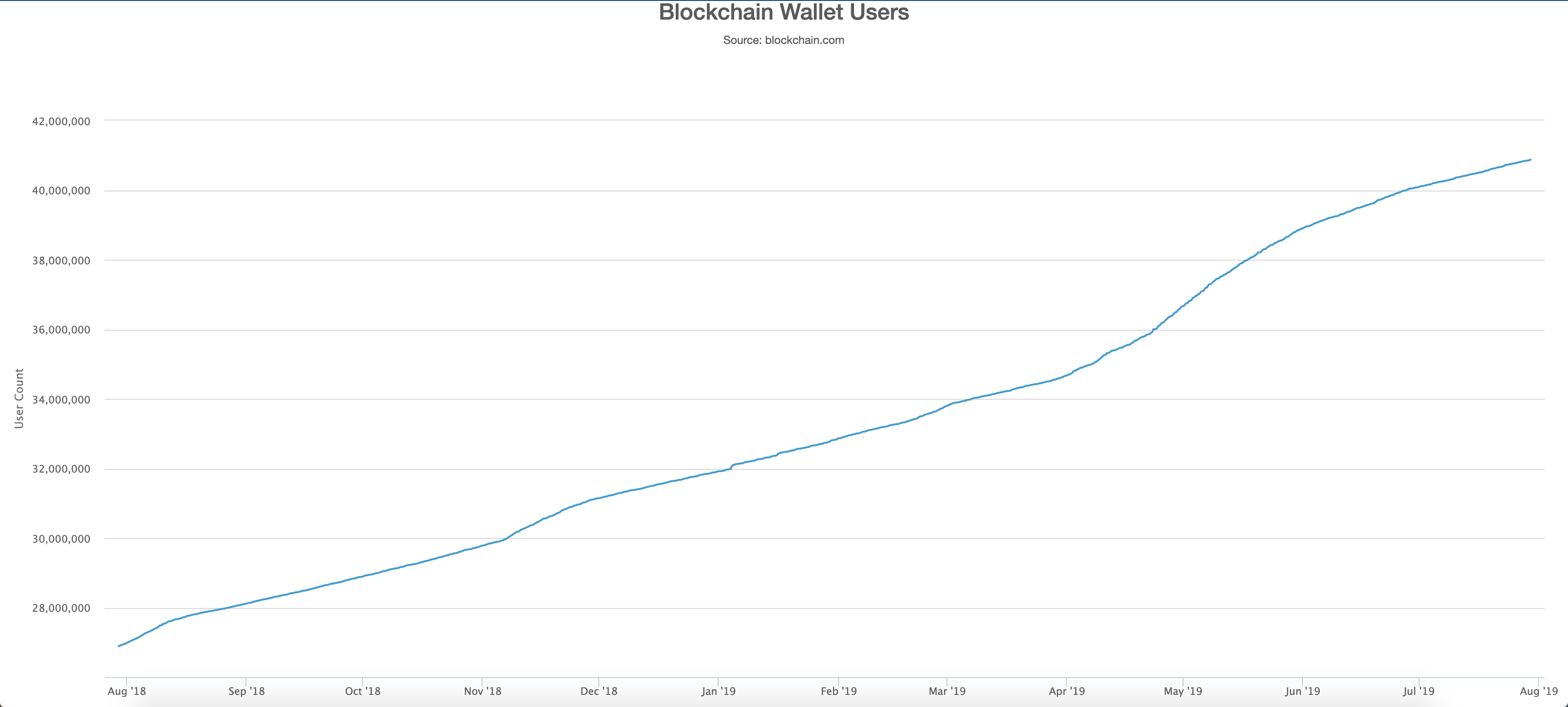 As global distrust for fiat currency and for the dollar continues, Bitcoin and other cryptocurrencies have become viable options for the impoverished who are suffering from the poor decisions of the government who controls their country. Venezuela is the easiest example to call from, but Brazil is gaining a close second. Iran had a massive increase in Bitcoin interest, which their country quickly realized and tried to put a stop to, but you can't put a stop to Bitcoin or the Internet, so there will always be another way. Also, we have seen a large amount of interest continuing to grow from Africa.  These factors are important as we look to global mass adoption.
As you can see below, LocalBitcoins has been growing in volume and interest from impoverished countries from around the globe. Their volume is now near $50 million per week, putting them in the ranks of exchanges like Bitfinex.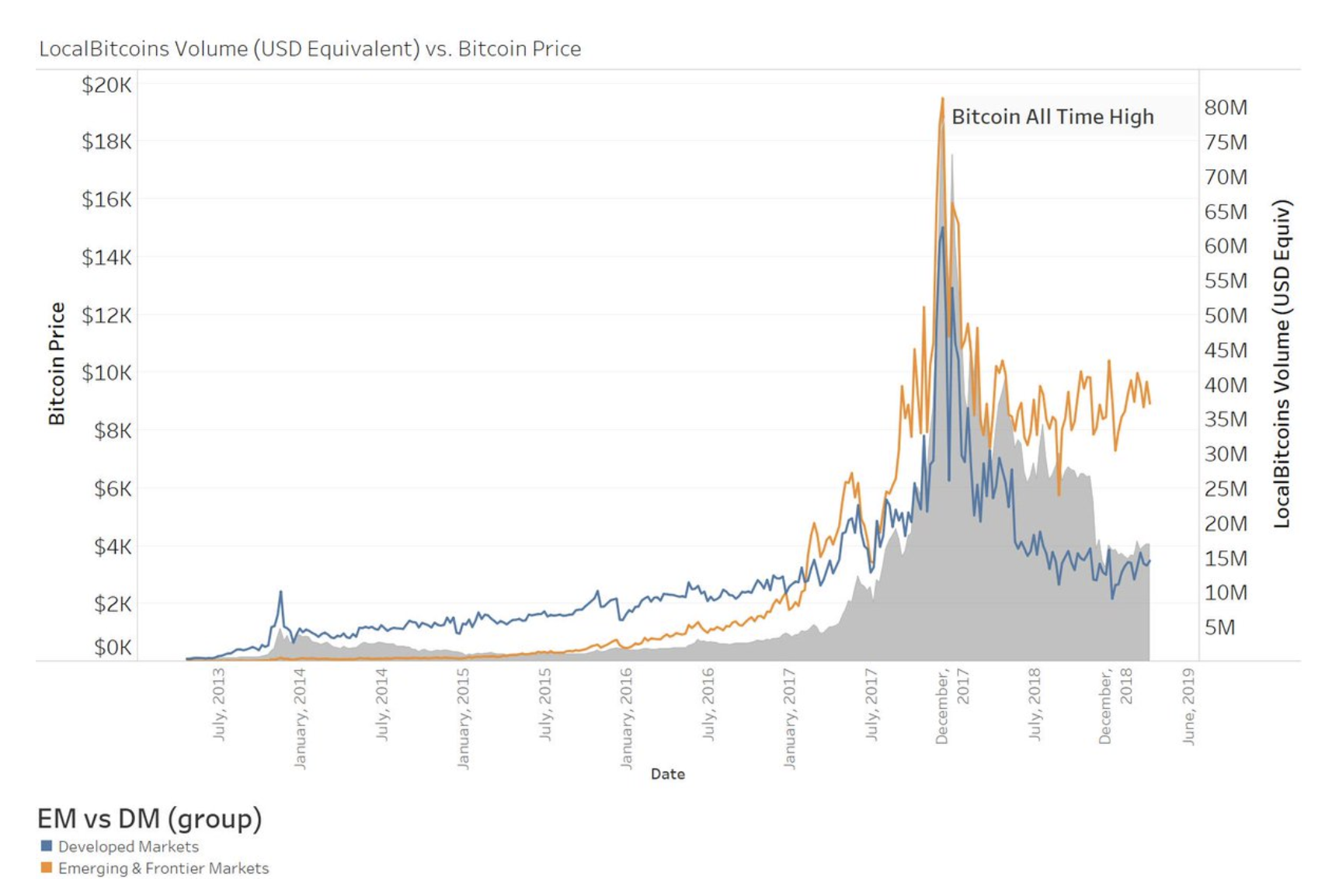 There are four major types of consumers we will define to summarize this point.
Crypto buyers/retail investors who have been here pre-2019

New crypto buyers/retail investors showing up during 2019

Institutional and Family Office buyers

Impoverished Nations and/or Nations suffering political/economic turmoil
For this point we assume that consumer group #1 will be alt coin buyers if Bitcoin market dominance begins to falter. This consumer group will likely take a gamble to throw more fiat and/or bitcoin at alt coins in hopes of gaining more BTC value.
Consumer group #2 will likely buy alt coins if the bitcoin dominance begins to falter, as well, though not with extreme hast. They are still nascent and uneducated, so they may take less risk as a full group.
Consumer group #3 will likely not buy alt coins for a few reasons. Institutional and family office buyers require a risk averse strategy that comes with market liquidity and custodianship services. This consumer group will likely focus solely on Bitcoiin with potential diversification into other Top 5 alt coins that come with custodianship services and lots of liquidity for entering and leaving the market. They are more bound by the traditional rules of investment and the laws that come with it, as well.
Consumer Group #4 will likely only focus on Bitcoin, and maybe Litecoin, as we have seen in countries like Venezuela. Nations under suffering are not in this for pure investment or trading strategy. They are buying crypto to stash money away, pay for goods and services, and survival. Their money's no good, so they need a verified alternative. They require trust and use case. Something that only Bitcoin can offer them today.
So, if 2 out of 4 consumer groups will never turn to face alts, and a portion of the other 2 consumer groups are unlikely to just jump into alt coins in their full capacity due to the risks they pose, you are left with a small consumer base to actually invest in these alt coins. Sure the market caps are low, but you need investment at scale to repeat the Alt Season of 2017. That is unlikely to happen with the macro economic factors at play
Summary
To summarize the above, we believe Alt Season will not happen in the caliber that it has happened before due to two main reasons: Technological Development and Adoption, and Macro Economic Influences. These two reasons combined create a negative market sentiment and outlook in regards to alts.
The alt coins that will perform well will be the ones that see promise in terms of product delivery, market adoption, becoming a leader, proving token valuation, and growth in community. Without these factors, alt coins will surely suffer long term.
Due to increased tensions globally, economic collapse in certain regions, and a decrease in risk appetite, we expect high cap coins, with Bitcoin being the leader, to beat most other coins in the market. There is no interest in low cap alt coins that have no adoption or cannot be used by the consumers who desperately need an economic alternative to their fiat currency, or by the wealthy investors now diversifying their portfolios with cryptocurrencies.