Weekly Recap
December 28th, 2021 - Jan 4th, 2021
Welcome to our 1st weekly recap for January.
Overview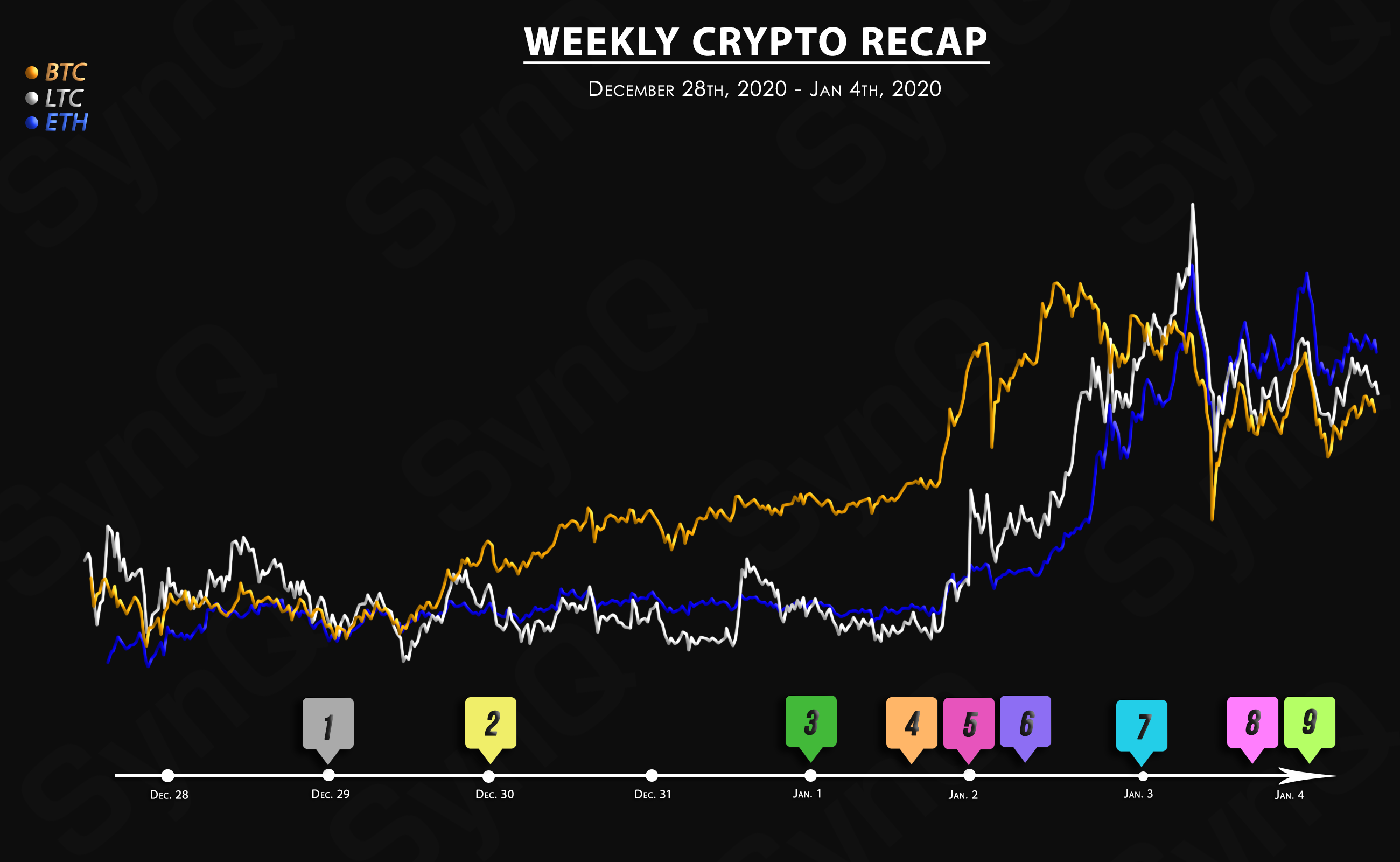 Crypto News
In an interesting twist of events, the Mayor of Miami, Francis Suarez, has said that he's open to exploring the idea of putting 1% of the city's treasury reserves in Bitcoin.
SkyBridge Capital, the investment firm run by Anthony Scaramucci, has reportedly already invested $182 million in bitcoin and said in an investor brochure the flagship cryptocurrency is "digital gold."
Crypto exchange Bittrex today announced that it will delist privacy coins Monero (XMR), ZCash and Dash on Friday, January 15, at 23:00 UTC.
In a letter sent to the Treasury on December 31st, 9 congresspeople wrote that they have concerns over the proposed crypto ruling by FinCEN.
In yet another major milestone for the premier cryptocurrency, bitcoin on Saturday broke through the $30K price for the first time, setting new all-time highs.
Polkadot (DOT) surged more than 9 percent last week following a home page listing and vote of confidence by cryptocurrency exchange Binance.
Digital investment giant Grayscale has not unloaded more than 9 million XRP following the announcement of a lawsuit against parent company and payments platform Ripple, despite what some data aggregators and news outlets indicate.
Enterprise blockchain firm Iconloop has secured approval from South Korea's Ministry of Science and ICT to test its decentralized identity, or DID, technology system to manage driver's license data in the country.
Ukraine's government has chosen the Stellar blockchain network as a platform to build a central bank digital currency (CBDC).