Understanding SynQ Data Visualizations
The SynQ Data Visualizations are helpful guiding tools to compliment SynQ Projections and help tell a story for traders. These visualizations and indicators can assist in understanding where price action is headed in conjunction with projections and your trading strategy.
Accessing SynQ Data Visualizations
SynQ Data Visualizations are all available on the SynQ Coin Details page for each coin. To access the coin details page all you have to do is click the coin you would like from the SynQ Home Page or from the My Coins list.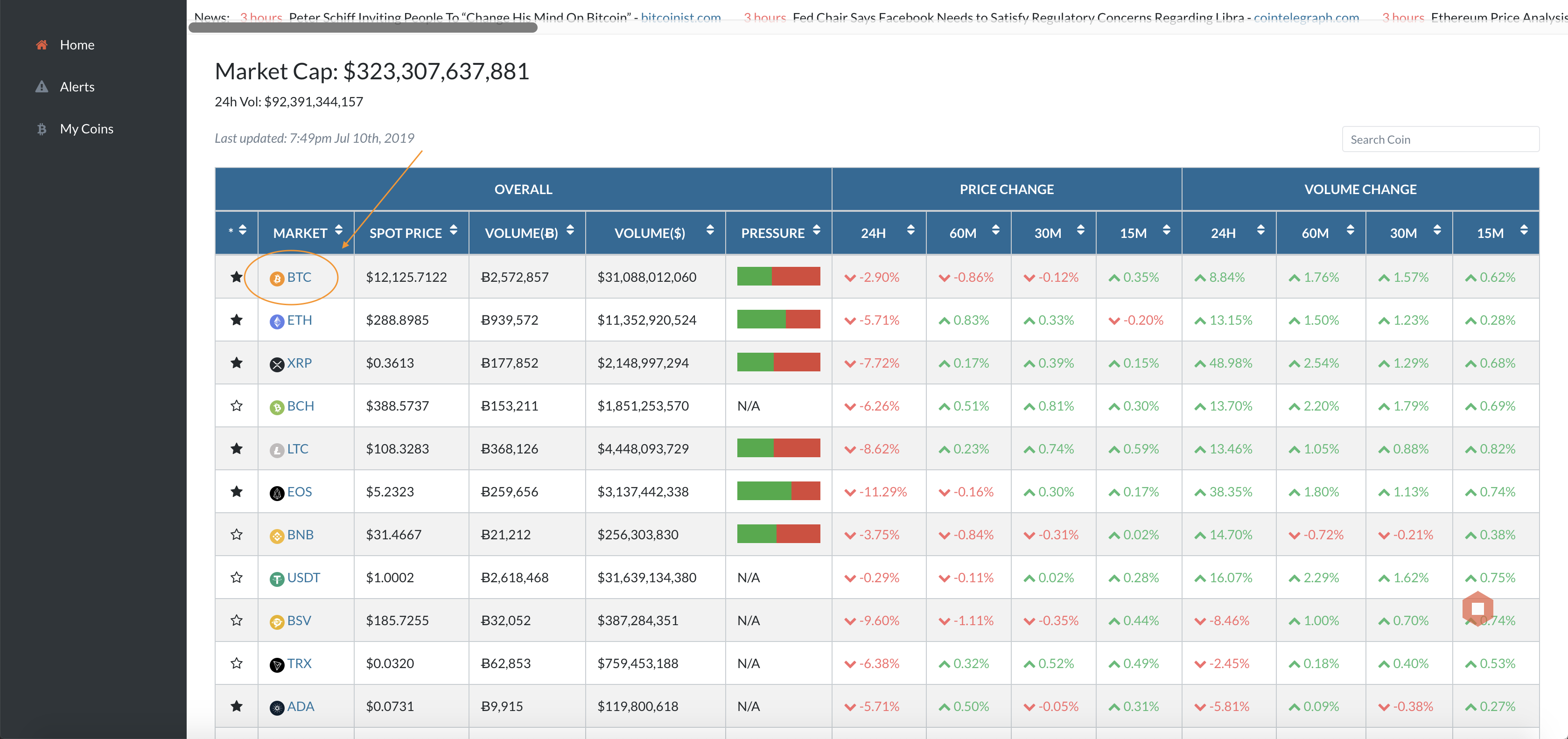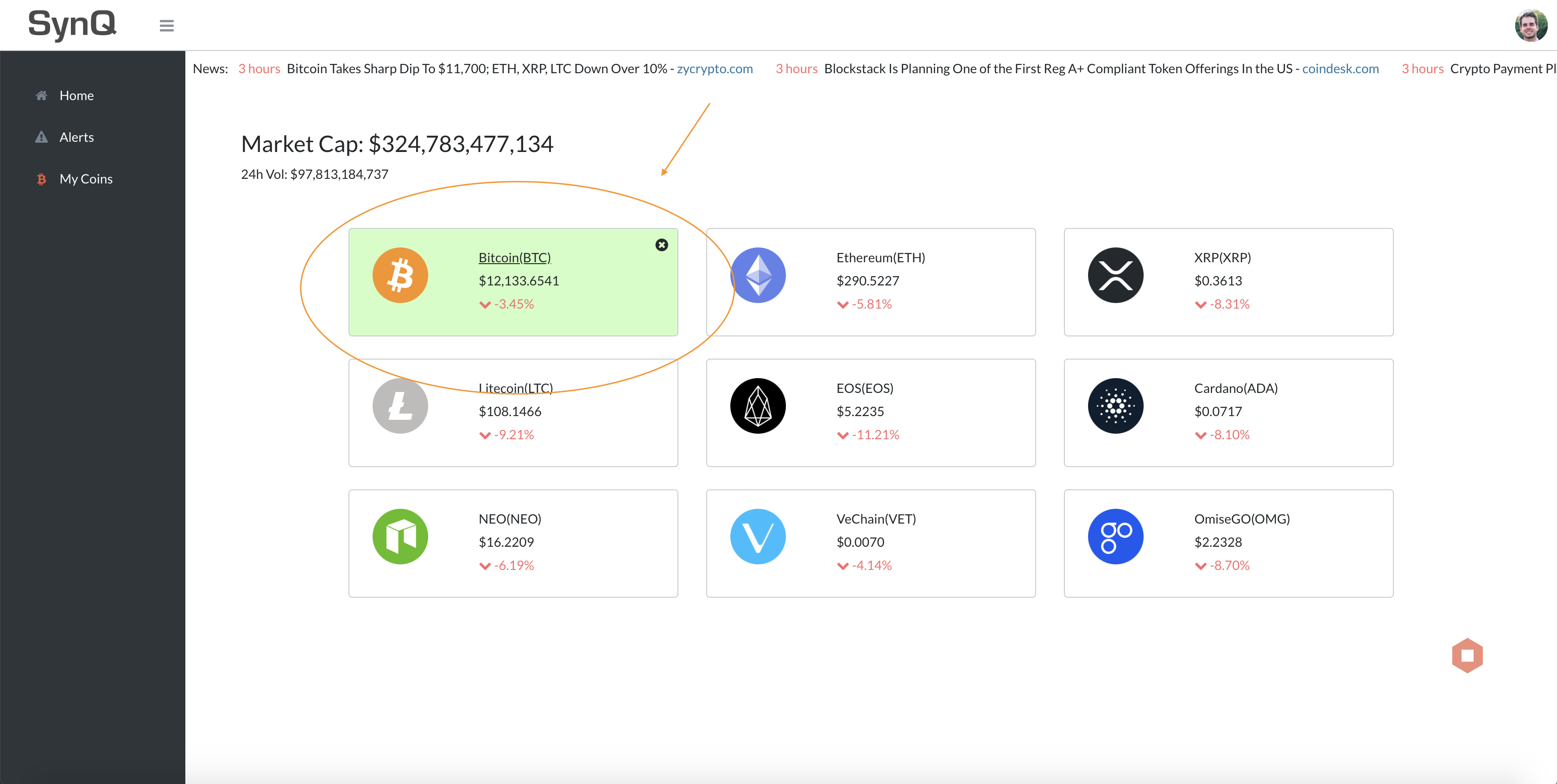 Once you have accessed a SynQ Coin Details page, you will see the SynQ Projections first (if they are a coin on your My Coins list) and/or the SynQ Data Visualizations. Below we will go through each of them.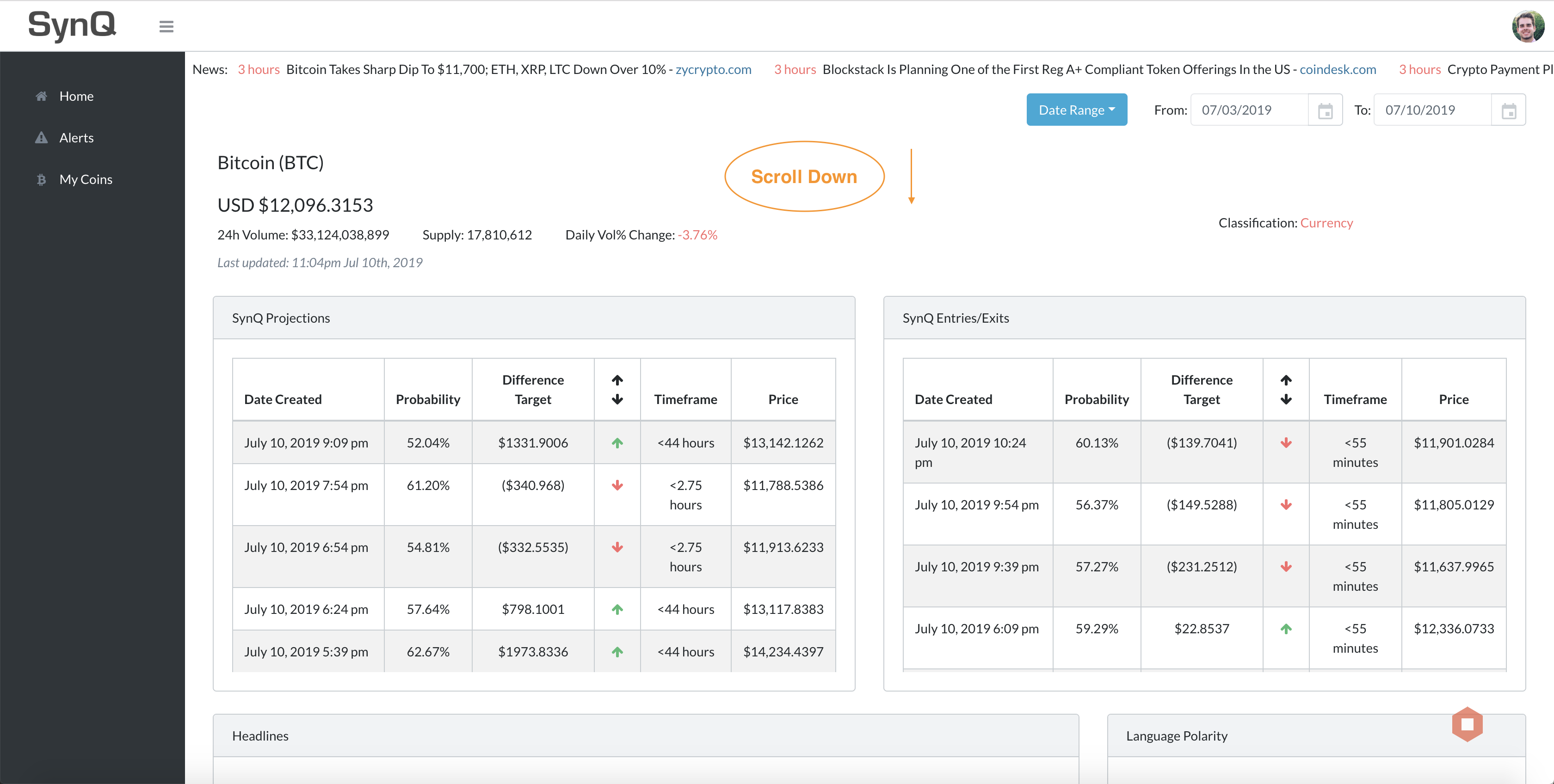 Social Influence and Buy/Sell Pressure
This section shows you two things: "Buy/sell pressure" and "Social Influence"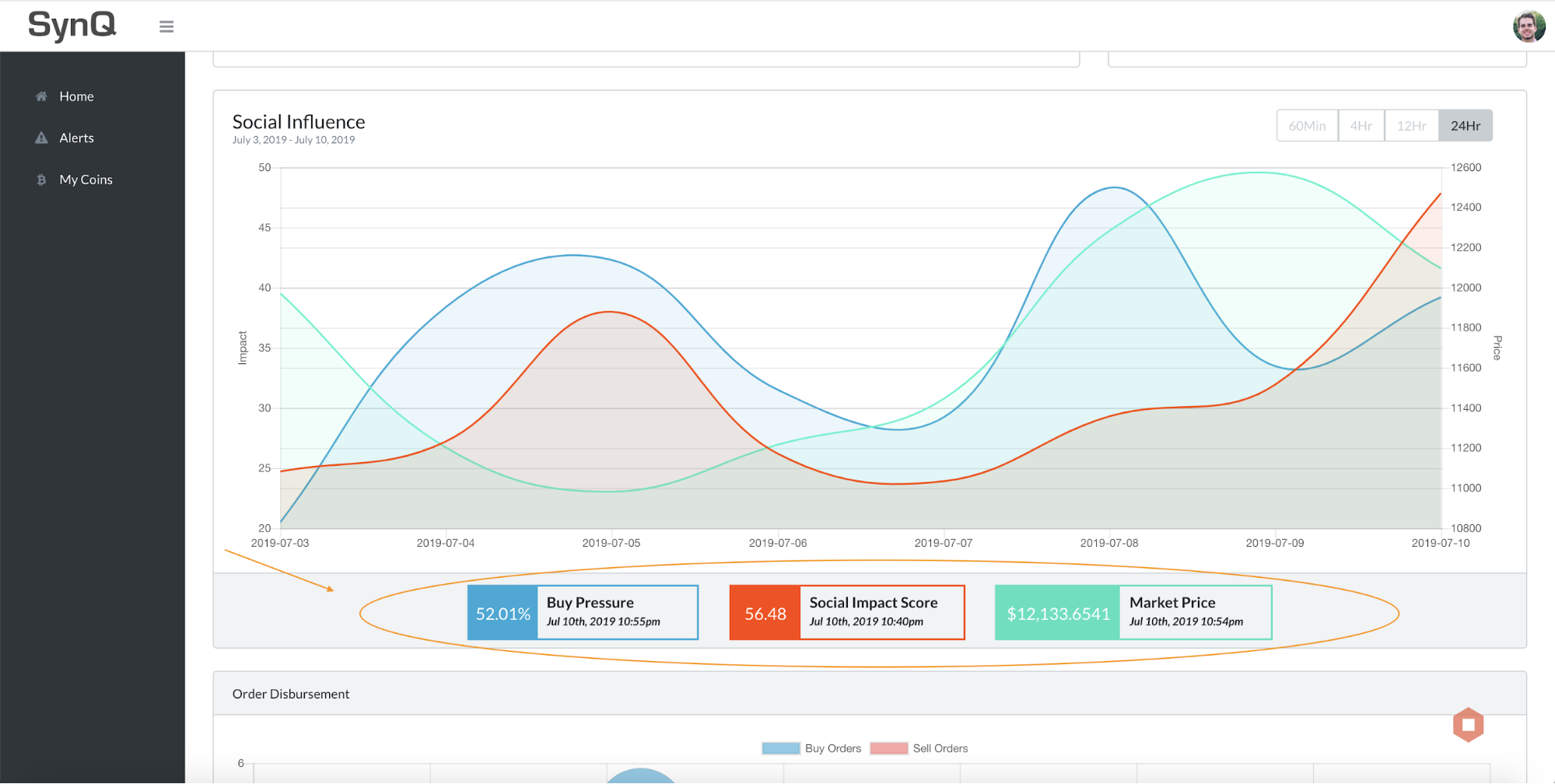 Buy/Sell Pressure
This is a bespoke correlated chart that factors in the pressure of the amount of buys and sells compared to the total orders. Buy/sell pressure can be used to gauge overall buying/selling interest in a coin, and it is generally a leading indicator for future price movement, depending if the pressure is high or low. So, if Buy Pressure is very high in relation to the price, the price is likely to go up in the future, and vice/versa
Social Influence
This is a bespoke correlated chart that factors in the sentiment and social scoring of a coin in relation to price action. Social Influence can be used similarly to buy/sell pressure. If the social influence is high, there is a lot of attention on a certain coin, and vice versa.
If buy/sell pressure are both high that is generally a great indicator of future bullish price movement
Order Disbursement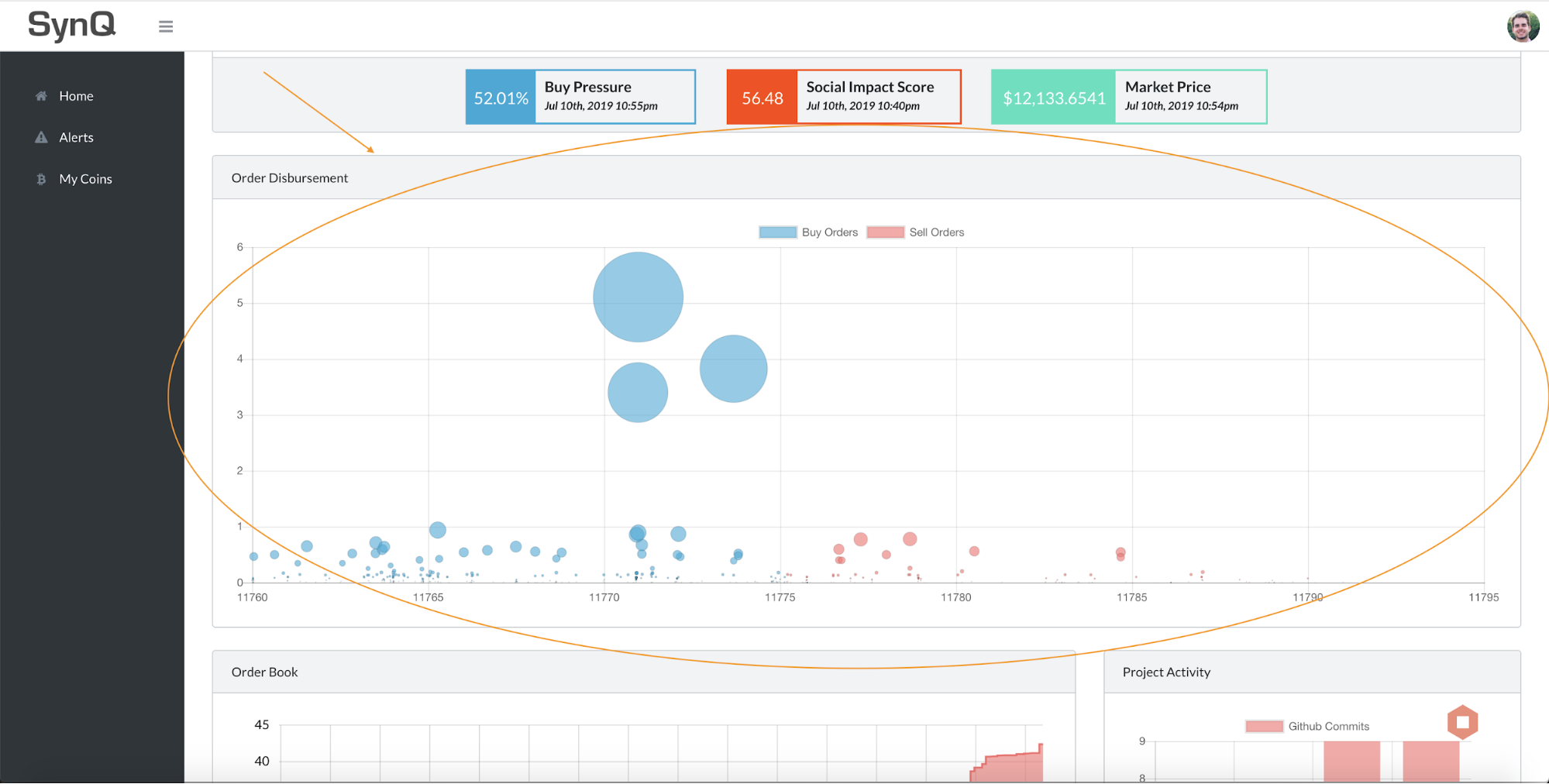 Order disbursement gives you the actual disbursement of orders across the order books. You can see exactly how many units of each coin are being sold and what price. This can help set buy/sell orders accordingly.
SynQ currently only receives 1000 orders/trades at a time per asset request, due to API limitations. Should you see a lack of Orders Disbursed (only blue) the buy pressure is exceptionally high at the time, and the demand is going to reflect potentially bullish behaviors in SynQ.
News Headlines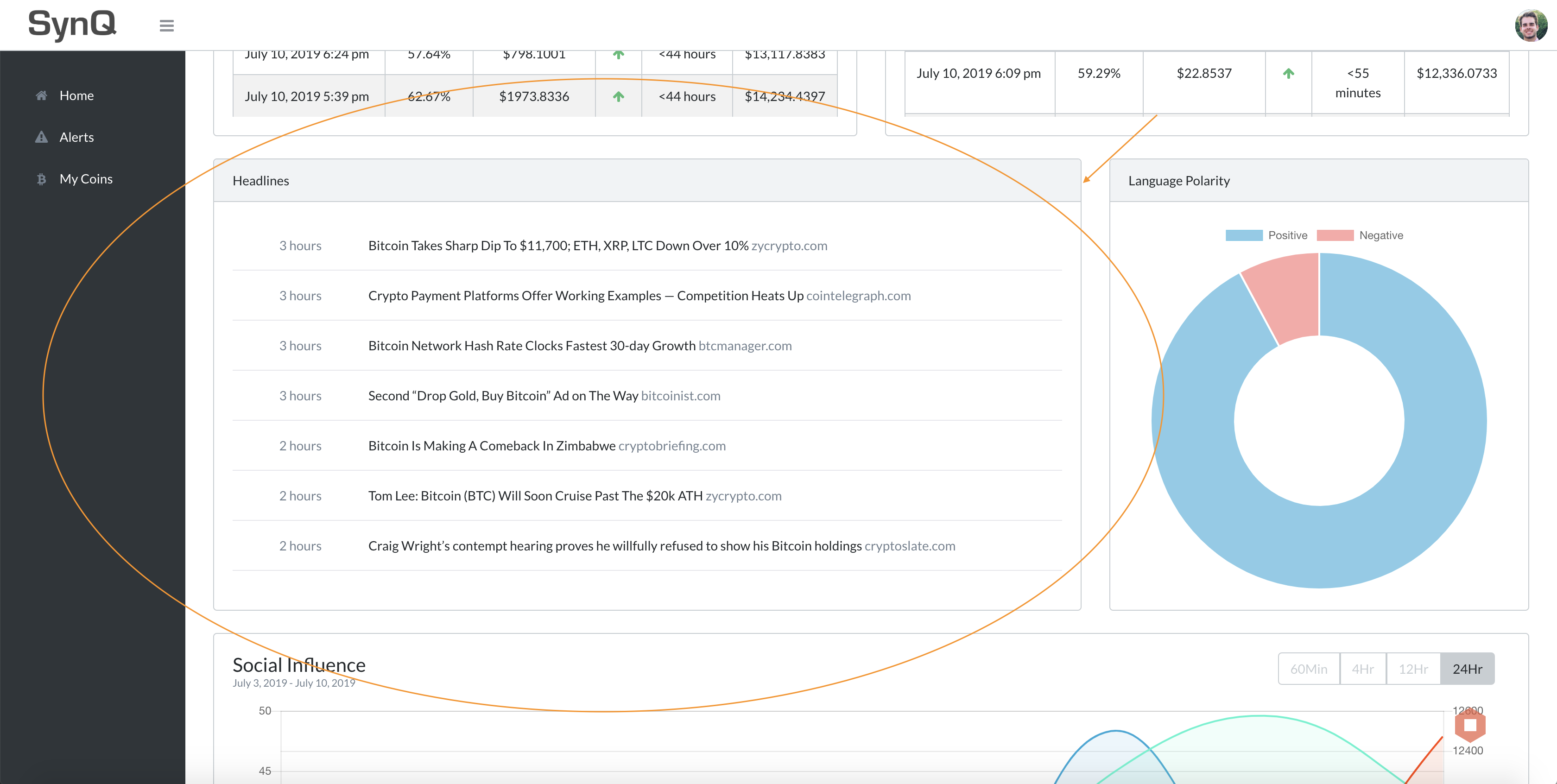 This gives you the most recent news of a certain coin so you can stay up to date on the action
The Rest
Order book data, project activity, and social mentions are all helpful charts to help you build a better story. Seeing that a project is posting updates and getting lots of mentions on social media is helpful to understanding the consumer's mindset.